Camera for security system – A Smarter Choice for Business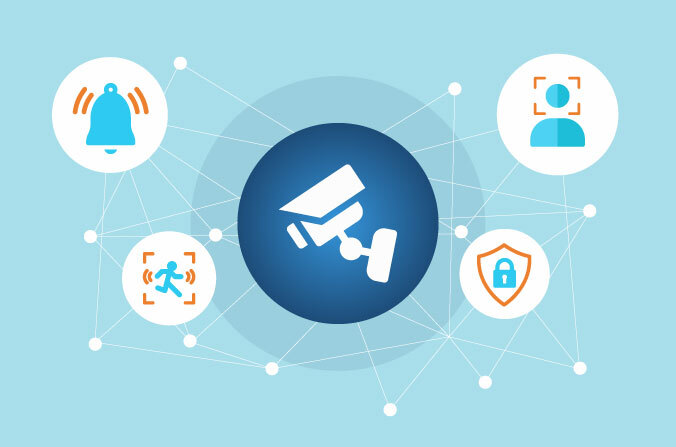 Organizations and individuals are moving towards digital transformation at a faster pace today. Camera for security system purposes is not a luxury, but a necessity these days.
Did you know the camera market is expected to grow with a CAGR of about 27.16% in the period from 2016 to 2021?
When it comes to protecting your home or business, a security camera goes a long way towards preventing crime, theft, vandalism, and most importantly in providing crucial evidence.
The prevalent use of camera for security solutions has surged in recent years, given benefits such as remote access, live-streaming,  real-time alerts, and reducing theft that make camera security solutions a popular choice for efficient security and safety.
A camera for security system provides many useful benefits to safeguard your business. It offers the ability to capture the footage at multiple angles while surveying a wider arena. These systems are highly effective and widely used by people around. These cameras can be used in numerous places to avoid any mishaps or threats. Such as:
Banks
Restaurants
Warehouses
Retail Stores
Manufacturing Sites
Schools or colleges
WHY IS IT IMPORTANT TO CHOOSE A CAMERA SYSTEM WISELY FOR YOUR BUSINESS?
To ensure that you are getting the most out of your setup, your cameras must support the features that best suit your business needs.
Identify the requirements that you need in a camera system from features like these:
Real-time streaming
24/7 on-the-go Access with Mobile App
Cross Line Detection Technology
Intelligent Alerts and Alarm Notification
Viewing and playback via Smartphone or tablet
24/7 recording and playback
Motion and detection with push alerts
IMPORTANCE OF CAMERA FOR SECURITY SYSTEM
Flexibility and Scalability
Camera for security has the provision for real-time alerts connected anywhere around the globe at any time. This allows for easy collaboration and sharing among users in different locations. Multiple cameras can be installed at different sites to get better access to footage.
Continuous Monitoring
Camera helps to monitor SOP compliance within business procedures to improve efficiency and also enhances security of your premises.  It helps your business with advanced analytics on your devices to lower costs, boost efficiencies, and reduce environmental impact.
Ease of Installation
The camera for security system is portable and easy to set-up. It can be mounted anywhere because it does not require network cables and wiring to run. Installing an IP camera is easy and saves a lot of time and efforts. It needs a Wi-Fi connection and a power source to function.
Increases Safety
IoT based camera systems are positioned throughout the premises to help businesses reduce thefts, vandalism, shoplifting, and increase employee safety. The camera setup helps to safeguard your business by providing 100% security coverage. The system also helps to improve security by detecting and preventing fraud even before they occur.
Smart Alerts
Camera can be customized to give you alert whenever motion is detected by a camera on your premises. These smart alerts allow you to always have an eye on your business without having to spend hours watching nothing happen. It can remotely monitor your assets and receive real-time updates on detailed insights about the condition of the assets and its status.
Remote Access
Multiple cameras can be installed at different sites to get better access to the video footage. The camera for security system lets you monitor your business from anywhere using mobile application. It saves a lot of time in retrieving a video of a former instance by access to the database from a remote location. It enhances productivity and ease of operations in identifying any deviations.
Motion Detection
Camera for security system can keep an eye on all the important things. You can set specific motion detection areas that will notify and send alerts when something is in that area. With motion detection feature, camera will alert you the moment that the motion sensor is triggered. This helps you to stay aware of your business's security.
Video Analytics
Through intelligent video analytics, one can get useful insights into the task operations to identify improvement areas and take actions to avoid inefficiency and mishaps. It helps ensure SOP adherence by the employees to maintain efficiency across operations. It also improves productivity, ensures safety, and enhances customer experience.
Live Video Feeds
With camera security setup, you can view the live video feed from any cameras at anytime you want.  Live video system lets you monitor your business as to what is going on at your business, from anywhere. It allows access to live footage on a remote platform, making it an effective choice for businesses.
Reduce Theft and Vandalism
Camera systems help your business by reducing shrinkage and deterring theft. With the system in place, you can also watch your employees whether they are adhering the compliance. This system has the provision to look at any accidents that occur inside or outside your premises.
Cloud Storage
Video recordings are stored to the cloud server and secure footage in the database that can be accessed easily by authorized users from anywhere. Cloud storage leads you to access the same camera recording from multi-devices, anytime.
COMMON MISTAKES WHILE INSTALLING THE CAMERA SYSTEM
Poor Positioning
It is important to make sure that your camera is pointed at the best possible angle to get the best results. The cameras should be installed in a zone that has a solid Wi-Fi connectivity.
Not Installing Enough Cameras
It is essential to ensure that you have placed enough cameras to cover all the areas which have to be monitored. Cameras should be placed both outside and inside of your business premises to safeguard your assets from any mishaps.
Remote Access
Not all cameras offer remote control options and sneak peek features. It is quite simple to ensure that you are purchasing a camera that includes remote access features, though finding a camera with a preferable access mode might need some effort.
COMMON SECURITY CHALLENGES
Privacy Is Issue
Privacy is always an issue to watch for when putting up cameras. There have been a few incidents in the past where cameras have created disputes, especially in the professional layout. There have been cases where customers and employees have objected to being under surveillance without their permission and indicated that their privacy was invaded.
Costly
Price is usually an essential factor in decisions on camera security systems. The installation of a camera system for security and safety can be unaffordable for some people. The maintenance cost of the cameras can also be expensive.
Cannot Stop Theft
Cameras can deter criminals, but they cannot stop theft when it is in process. They can only record the video footage acted as proof or evidence to aid an investigation against any security-related incident.
Recordings Destroyed
Wi-Fi network connection should be secure to protect the videos stored in the cloud storage. Though video recording is considered as proof of evidence and can retain for the long term, it can still be hacked and can also be destroyed. Poor Wi-Fi network connection and secured cameras make it easier for the hackers to get a hold of the recordings to his advantage.
Camera for security system has few challenges, but you need to remember that it also has several advantages that can help your business grow. You can see there are several benefits to watch out for when looking for a security camera. New technologies and devices continue to transform business operations, providing leading enterprises a more reliable and cost-effective solution. A camera for a security system is more powerful and useful since you can adjust them as per your business requirement to fit your surveillance needs.
To know more about the camera for security, contact IGZY.