7 Reasons How CCTV Cloud Storage Cameras Can Save You from Security Annoyance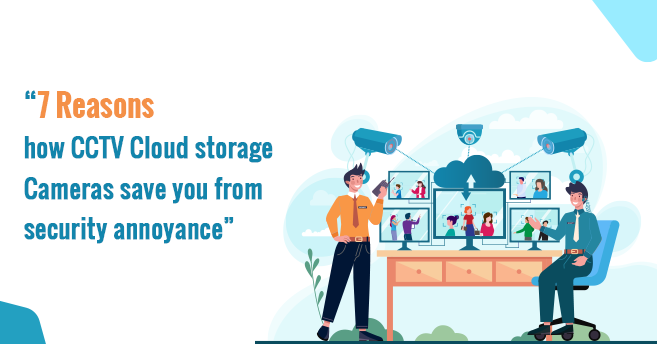 CCTV Cloud storage cameras used to be a thing that was only for tech-savvy people and security experts who knew what they were doing. But now, those characteristics have changed with the ever-growing rate of crimes like thefts, robberies, pilferage, and so much more.
Everything is moving online, from e-commerce to social media, communication apps to gaming platforms. Similarly, the surveillance industry also. The current market for Cloud CCTV services aren't cutting edge, but practicability and flexibility.
Especially regarding safety and security measures, cloud CCTV or surveillance solutions with CCTV cloud storage are gaining immense popularity these days.
So, here are why Cloud CCTVs have become one of the top choices to stay protected against any kind of security threats and annoyance:
1. Remote Access with Cloud CCTV Cameras
The cloud is simply a remote server to which camera footage can be uploaded. The cloud camera allows you to do that directly from the camera to the server with the help of an internet connection.
All you need is a cloud camera and a good internet connection. The cloud CCTV is connected with the router to transmit the footage to cloud storage. Once it is properly configured, it is good to access it remotely. You can have a live view, watch previous footage, and control it in your hand with the help of a mobile application or software for a desktop.
For security and privacy, the router also contains a firewall that prevents unauthorized access, i.e., if anyone is using the internet and trying to access your network, the firewall keeps it safe from cyber attacks.
2. 24*7 Monitoring with Real-Time Alerts
Cloud CCTV is an innovative security solution providing end-to-end video surveillance. This offers high coverage and can be helpful for commercial, institutional, residential, and domestic properties.
With the help of the Cloud CCTV solution, there is no need for manual supervision. The feature of cloud storage for CCTV is not just a viable option for storing and securing your valuable CCTV footage, but it is also capable of intelligent detection. 
For instance, the Igzy video surveillance solution provides real-time incident-based notification and footage snippets sent to the concerned person. This proactive approach can significantly reduce the effect of any mishappening at the time it occurs. 
A camera is not working or manipulated. In that case, the camera observes some suspicious activity, so an automatic will send a real-time alert. It can save money and reputation. It gives peace of mind.
3. Cloud Storage – Never lose your Footage to anything
Enterprises always want to know how well their video surveillance system is performing. When it comes to business security, high performance always counts. The traditional camera requires DVRs or NVRs to store video in some local storage. However, many businesses struggle with storing those recordings, usually kept on-premises on some local drive. With this, the threat of NVRs and DVRs failure or being stolen and manipulated is always a step away. If they are gone, YOUR FOOTAGE IS GONE!
 This is where the cloud security solution by Cloud storage for CCTV comes in handy.
Moreover, the CCTV cloud storage is based on a subscription-based model, which can be monthly or yearly. So it is a convenient solution for enterprises aiming to scale their business to a significant level as they get all the access at their fingertips and eliminate the additional cost of installing DVRs / NVRs and other hardware and installation charges.
What's the catch with cloud storage for CCTV? There are none. What you get is a centralized, secure, and easy-to-use Web-based video management system that lets you manage the security of your premise from anywhere in the world by integrating with any device.
4. Help you with evidence of mishaps
As we learned, local storage based on NVRs & DVRs is prone to theft, manipulation, and destruction. If these surveillance devices are gone, your footage is also gone. There is no other measure to recover it as the brain of your traditional system is not there. So in these cases, the businesses are left with nothing to provide as proof to either police or insurance companies.
However, in the case of CCTV cloud storage, the Cloud CCTV enables you to have all the footage with you remotely.  There is no possibility or manipulation of cloud storage as it is not at the site but on a remote server.
Now the question arises what if somebody tries destroying the camera itself?
Firstly

, as soon as somebody tries to shut the camera down or if a camera is destroyed, there

will still be the footage until the camera has been tampered with.

 

Secondly

,

as soon as the camera is turned off,

a real-time alert will be received

by the app holder or who so ever has access to the security of the premises.
Moreover, you will still have proof that some tempering or manipulation has happened at the time of the incident, which can very well be presented to the police and at the time of claiming insurance.
5. Smart Detection with Motion sensing & Audio recording 
It is becoming increasingly prevalent that security cameras are equipped with audio recording mechanisms. This way, enterprises can monitor employee behavior and regulate suspicious activity, aggression, or verbal abuse.
CCTV Cloud storage cameras are equipped with an audio recorder that records video in conjunction with the audio.
Cloud CCTV lets you monitor and manage things like
Employee behavior 

Regulate any form of aggression or verbal abuse. 

 Help as proof of criminal activities in case of perimeter intrusion.
Cloud CCTV with audio is a superb security mechanism, especially in retail settings where it protects your business belongings and deters criminals in any way possible.
6.
Flexibility to scale – Secure all your location
Large-scale usage requires cloud storage with an excellent combination of speed and security. Cloud storage is one of the best ways to create a scalable surveillance architecture, allowing as much (or as little) capacity as needed.
The beauty of CCTV cloud storage is that you don't have to worry about purchasing or renting hard drives. All you need is a cloud subscription and an access point, which can be installed anywhere in and with your Cloud CCTV system. Once installed, the camera displays live images from any building area. Moreover, the more location you have or planning to expand CCTV cloud storage can help you monitor all your places on one single platform with equal working efficiency.
7. Low Maintenance – Cost-effectiveness at its best!
Saving costs on space and physical storage of data is a significant thing to do. That's why cloud cameras come into action – they are cost-effective ways to ensure businesses can get the most out of their surveillance systems. Moreover, to stay ahead of the curve, the platform with CCTV cloud storage receives automatic updates over the internet with no hassles.
CCTV Cloud storage lets your business is self-finance, and you don't need to pay for any extra storage space or expensive equipment to collect and store data.
Final Thoughts
The costs of setting up a fully functional CCTV system came at a hefty price, but that is no longer the case. With CCTV cloud storage, this form of surveillance and security has spread to a market that was hidden for far too long. Now companies are taking this surveillance niche and exploring and enjoying its potential to its fullest.
If you'd like to know more about how exactly cloud cameras for surveillance work wonders for you.  IGZY Surveillance can help you get started with it. Contact [email protected] or click here, and team IGZY will be happy to connect with you.