Business Benefits through Technology
---
BUSINESS EFFICIENCY

Revenue
Enhancement

Pilferage
Control
People
Efficiency

Energy-Power
Control
SAFETY AND SECURITY MANAGEMENT
IT
Security

Smart Security
& Monitoring
Access Control
& Video Verification

Fire Alarm
Monitoring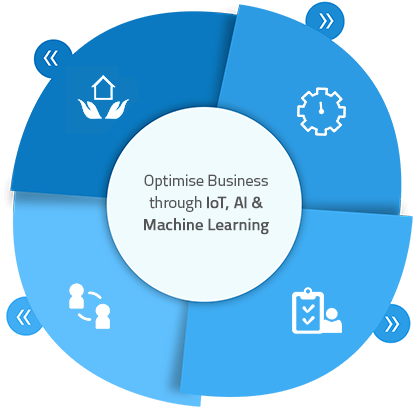 CUSTOMER EXPERIENCE

Brand
Audits

Customer Journey
Mapping

Asset
Utilisation

Process
Audits
HEALTH & HYGIENE MANAGEMENT

Hygiene
Audit

Temperature
Control

Air Quality
Management

People
Audits
How we do it
---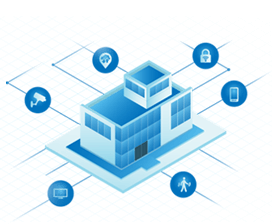 Sense
Sensing Layer that Monitors, Protects, Notifies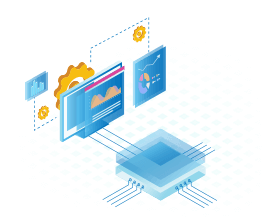 Analyse
Turning Mute Data into Actionable Intelligence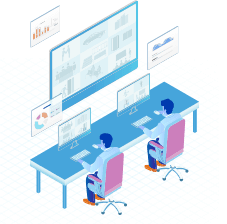 Act
Actions for Optimising Business Based on Insights
10-12am

12-2pm

2-4pm

4-6pm

6-8pm

8-10pm
Check conversion rate versus walk-in. Manage staff to get the best employees during peak hours.
People Counting & Conversion
Get comprehensive walk-in & customer engagement analytics to improve store performance. Test the effectiveness of display and promotions on different days & occasions. Optimise staff roster & identify improvement areas to get more conversions.

People Count
AI-based analytics to track number of customers who visited the outlet

Dwell Time
Machine learning helps finding out time spent by customers across areas in an outlet

Visit Frequency
Facial recognition technology to identify how frequently customers visit you

Conversion Rate
Analytics to measure conversion rates & sales performance
10:00 am

09:50 am

09:40 am

09:35 am

09:00 am

08:52 am

08:38 am

08:20 am
Store 1

Store 2

Store 3

Store 4

Store 5

Store 6

Store 7

Store 8

Store 9

Store 10

Store 11

Store 12

Store 13

Store 14

Store 15

Store 16

Store 17

Store 18
Real Time notifications on non-compliance to ensure consistent Customer Experience
SOP & Compliance Adherence
Keep a close look on parameters like opening & closing time, hygiene, dress code adherence, and get notifications for deviations in SOP. Maintain consistency across locations and uplift your brand image.

Opening & Closing Time
Opening & closing time reports to maintain standardisation

Task Execution
Reports on sequence of daily task execution & customer handling
Dress Code & ID Card
Check employee adherence to dress code & ID card

Communication Protocol
Map deviations in specified communication with customers
10-12am

12-2pm

2-4pm

4-6pm

6-8pm

8-10pm
Understand how LUX patterns impact purchase journey
Environment Control
(Humidity & Temperature)
Temperature & humidity, light intensity is known to impact consumer behaviour and keep stored items intact. Identify ideal LUX level to maintain a pleasant ambience and avoid an environment that hampers goods storage.
Server Room Health
Adjust server room temperature to avoid overheating of equipment

Condition of Goods
Analysis on ideal humidity & temperature level for storage of goods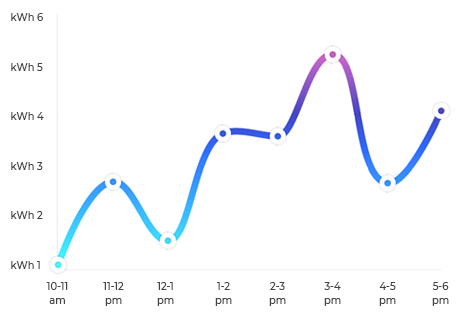 Understand Energy Consumption pattern of appliances and save on bills
Energy Efficiency
Identify ideal light intensity and schedule automated scenarios to set a friendly tone throughout the day. Understand consumption pattern of heavy appliances, get billing intelligence and take necessary actions to save energy.

Lighting Statistics
IoT-driven statistics for lighting management in response to dynamic daylight changes

Billing Intelligence
Machine learning based power consumption forecasts & billing estimates

Energy Loss & Heavy Appliances
Machine learning pinpoints the cause of energy loss & spots inefficient heavy appliances

Analysing 2 Million sq. ft.
Space

Largest Repository of
Connected Devices

Blend of hardware and
software solutions