How can Warehouse Security Cameras & Sensors improve Site Security, Performance & ROI? – A 12 Step Guide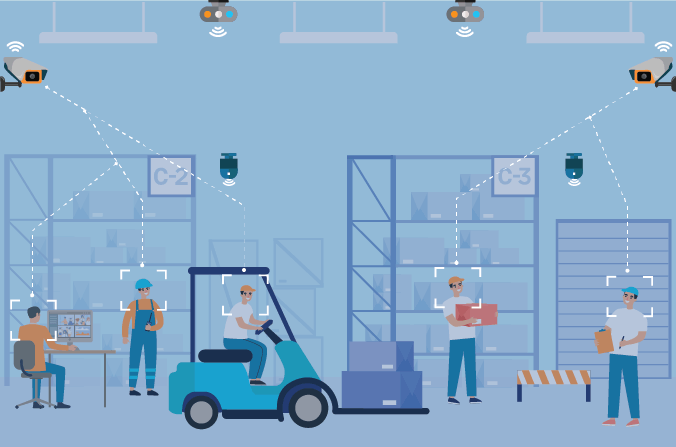 Warehouses play a crucial role for an enterprise. It is the most critical part of your business's supply chain. Valuable key assets are stored in these warehouses. The remote locations of most of these storage sites make them a target for theft. Warehouse security cameras and sensors backed by cloud storage, intelligent analytics & a unified platform help strengthen warehouse security.
These logistics sites also require a lot of human resources for management and heavy equipment to carry out the work efficiently. Heavy machinery and long hours of tedious work can pose a high risk of accidents and injuries. Any negligence can lead to a loss in the resources used for operating the warehouse. An intelligent, rugged warehouse E-surveillance Security system with intelligent sensors is essential to overcome these problems.
How do warehouse security cameras & sensors work?
1. IP cameras
IP cameras capture images & videos and transmit them over the network to broadcast live footage. These warehouse security cameras can be used via both wired and wireless connectivity. The IP cameras store footage over the cloud for anytime & anywhere access via a unified dashboard. These IP cameras provide round the clock surveillance, during the day as well as night.
2. Sensors
Intelligent sensors record data, detect anomalies and relay it to a cloud based server. Often used as integration with warehouse security cameras, these help detect motion, vibrations, fire or other hazardous gases in the air, etc.
The information transmitted to your dashboard is available for instant access, which means you can monitor all activities in real-time and make decisions accordingly.
CCTV warehouse security cameras and sensors analyse the data recorded and then transmit it to the cloud for storage. They can be trained to detect the presence of unwarranted objects or the absence of warranted ones and at the same time they maintain records of the total footfall and energy consumption of the premises.
1. Local storage
Local storage is when the video feed is stored on physical storage devices, such as hard disc drives (HDDs), solid state drives (SSDs), or external storage devices, such as thumb drives or discs.
2. Cloud Storage
Cloud storage is the process of storing digital data in an online cloud that spans multiple servers and locations, and can be accessed from anywhere, anytime.
10 ways to improve site security, performance & ROI with Warehouse Security Cameras & Sensors
1. Wide area coverage with PTZ cameras
A camera with pan, tilt, and zoom functionality is known as a PTZ camera. IP based warehouse security cameras are capable of changing their focus areas, zooming in to capture details or move in the instructed direction. This solution requires minimal CCTV cameras to provide optimal coverage.
If PTZ cameras manage a warehouse, this gives the security personnel a more flexible and functional surveillance system. In addition, fewer cameras are required to monitor the facility without loopholes as there is no area in the warehouse that is not being monitored.
2. Night guarding
Night vision cameras use infrared light to illuminate images in the dark. These security cameras provide exceptional image quality both during the day and at night. A sensor inside the device automatically detects when darkness falls and switches the camera over to night vision mode. Being able to watch the environment, the camera can help you stop security threats even at night.
3. Employee SOP compliance
Video analytics in IP based CCTV camera systems with integration of artificial intelligence and machine learning helps monitor employee SOP adherence. With advanced analytics touchpoints can be identified and this structured data can be used to take appropriate actions.
For example, to ensure that the site is cleaned regularly, at a specific hour, the camera can be trained to capture snapshots before and after the predefined time. The camera can then analyse the image and deduce whether any cleaning activities ensued. Through intelligent video analytics the managers can manage site performance, monitor compliance to safety protocols or closely watch the GRN table occupancy.
4. Managing energy consumption
Managing energy consumption is beneficial for the enterprise to reduce its cost and for the environment as well. The e surveillance system notifies employers via dashboard of the high energy waste points as per the energy meter readings. Following these daily readings, managers can find weekly or monthly consumption patterns, find problem areas and make amends.
It happens very often that machines are left running during breaks, which adds to the overall cost. Simultaneously monitoring employee activities and energy consumption during the day can give insights into such incidents and allow managers to warn employees for their negligence.
5. Single stop visibility with cloud
A single unified platform to access and analyze all the cameras and sensors saves up a lot of time. It also provides a centralized pool of all footage and sensor based data that one might need to monitor multiple sites. The cloud storage platform gives direct access to footage, real-time & historical, as long as you have authorized access to the dashboard.
6. Crime deterrence with two way communication
The most common crime occuring in a warehouse is inventory theft. This, along with other crimes can be deterred using warehouse security cameras and sensors with real-time surveillance in the warehouses. The cameras can also provide analysis of the captured data and send alerts.
Realizing that a majority of warehouses are located in remote areas, depending entirely on local authorities can be useless. To prevent thefts and other criminal incidents from taking place at your facilitiy, you can indulge in warning shot out via a two way audio system. This allows you to communicate with the intruder and warn them about the consequences of their actions.
This also becomes especially beneficial to validate such incidents. You can make sure it's not just an employee coming back to take his cell phone, before you call the cops on him.
7. Analog integration to cut down on investment costs
Less expenditure on guards, analog wiring, repairs & replacements- the security cameras and integrated security system proves to be very efficient and helpful in securing the warehouses. The 360* surveillance of IP based warehouse security cameras & integrated sensors cannot be executed via manual guarding.
The regular device health checks and reduction in hardware & wiring leads to minimal repairs & replacements.
These technologies prove to be economical in the long run, therefore giving greater returns on your investment.
8. Keep up the demand & supply cycle
Warehouse security cameras can detect when shelves are left empty, reminding you that you need to restock your facility. This allows you to keep up with the demand and supply cycle.
Doing a customary quality check on the products before they go into transit also reduce the frequency of returns. The smart CCTV cameras can be used to monitor whether employees are carrying out this operation effeciently, and can even be trained to detect damage detection to a certain extent.
9. Remote & real-time surveillance
Real-time monitoring is now a core aspect of any growing enterprise. It is continuously updated video feed streamed at low latency, through which each and every point can be analysed and the most vulnerable points can be spotted. It can assist security personnel and give them the ease to watch over and manage security of the warehouse much more efficiently.
10. Inventory management & movement
Inventory of a warehouse is the most important thing and has to be managed in the best possible way. Movement and management of the inventory can improve the warehouse operability. Various RFID and barcode scanners are used to keep track of the inventory. Along with these scanners, smart detection cameras are used to oversee inventory movement in the warehouse and help manage it efficiently.
Conclusion
The new era video surveillance offers the possibility of almost unlimited coverage in a warehouse and control as compared to others. With quicker and less disruptive installations, video analytics, cloud storage, app-based accessibility, instant alerts, & it's scalable implementation, warehouse security cameras and sensors help establish a secure facility. Not only that, but the transparent visibility into operations and insights to improve them help to improve the overall site performance and boost the returns on business investments.
IGZY's cloud video surveillance solution provides an integrated solution of warehouse security cameras & smart sensors that make your business smart, secure & flexible. To know about our solution, click here.