Improve business efficiency for your retail stores with IoT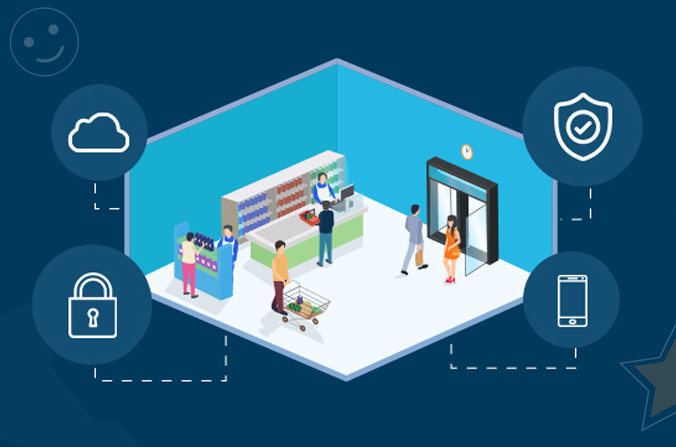 The retail industry is driven by consumer insights. With the advent of internet & e-commerce, it has been able to leverage these insights in a more effective manner and improve business efficiency exponentially. IBEF reports it is one of the fastest-growing industries in India. It contributes to more than 10% of the GDP and is valued at approximately $1.3 trillion in FY 2020. The potential for retail to grow in our digital is mind-blowing.
Yet, to grow, organizations today have to curate an experience around the buying journey of customers. For example, Levi's implemented an IoT solution in partnership with Intel to optimize its in-store efficiency. Using RFID tags to locate clothes after one customer tried it, it became easier for salespeople to place the item back and keep the store ready for the next customer. A gateway system powered by analytics ensured only relevant, contextual data was stored in their cloud system. This proof of concept solution helped Levi's in improving business efficiency. It helped them in avoiding losing sales and manage inventory with higher accuracy. It also facilitated a reduction in clutter and removal of unnecessary data.
IoT business efficiency offers a host of services to tackle key obstacles faced by the retail industry; inefficient footfall analytics, decentralized monitoring, high cost of power usage & inferior customer experience.
SOME IOT SOLUTIONS FOR YOUR STORES TO IMPROVE BUSINESS EFFICIENCY
1. In-store flow management
IGZY's devices like IoT enabled smart IP cameras to empower stores to understand peak hours of business. It helps to identify popular zones in the store for which staff can be allocated accordingly. Peak hours have a higher wait time for customers. Data collected from these devices can be adeptly analyzed to understand the average wait time and how to better manage them.
To manage customer inflow efficiently, IoT sensors guide businesses to design store layouts more effectively by understanding the space requirements of each zone and its optimum position. This helps to optimize the way in which a store functions. It helps to accommodate more customers inside the store at any given point of time. Amazon's automated checkout system uses image recognition sensors to identify which product a customer is buying. A customer just needs to scan their phone upon entry, pick their items and leave. This eliminates in-store wait time completely and accommodates more customers.
2. Footfall management
IoT technology facilitates an understanding of customer metrics across all stores. A business can use it to understand which product each customer is looking for and in which zone they spend most of their time.  For example, IGZY's expertise in footfall tracking senses movement across stores. It then helps business to create plans for micro-targeting different sets of customers.
This also allows managers ample time to restock popular products and supervise inventory to reduce fraud. Data collected is stored on a secure and encrypted cloud infrastructure facility which can be accessed anytime. U.S. retail company Target adopted IoT sensors in its stores to collect data about their customer's purchasing habits. This provided real-time insights and aided managers in utilizing marketing budgets more effectively.
3. Power efficiency
One of the biggest cost drivers of a retail store is power. IoT devices can automate the distribution of power throughout the store. Depending on the footfall of every area, these devices can also analyze and control light intensity. These functions can be remotely monitored and controlled by store managers on IGZY's secure cloud-based platform to ensure power distribution is optimized throughout the store which, in turn, leads to a reduction in cost.
Actionable plans can be drawn from the automated reports on equipment power consumption patterns and usage insights. This data helps to improve the functioning of stores and use power efficiently.
4.Optimum temperature control
Favorable temperatures in the store is a subconscious factor that affects the purchasing decision of a customer. IGZY's devices with in-built temperature and thermal sensors constantly analyze the airspace inside the store to ensure desirable temperatures are maintained throughout to improve business efficiency. It is also important that optimum temperatures are maintained to keep the quality of items intact. LHT sensors (Light humidity and temperature) scan the ideal humidity level that is best for storing goods and constantly act in favor of maintaining it.
Room temperature is monitored 24×7 and detailed reports can be generated to engineer the atmosphere inside the store for the benefit of customers as well as goods.
IoT platforms and devices are at the apex of monitoring and providing valuable insights to improve business efficiency in a way that drives traffic and leads conversion. They're designed to amplify consumer experience and simplify digital services for retail stores. Powered by Artificial Intelligence & Machine Learning, the IoT technology facilitates remote troubleshooting services to weed out hurdles in the consumer buying process.
Incorporating an extensive & scalable IoT strategy helps monitor all stores dynamically and provides customized data for each store. These devices help to capture even minute details about your clients and provides a detailed analysis to understand what novel strategies need to be applied or if existing ones need to be modified to ensure they are in line with customer requirements.
IGZY's framework of sense, analyze, act provide a trustworthy & holistic approach in deriving the best results for your business and reap superior benefits. IGZY's platform adapts itself to the ever-changing environment of the retail business and is supported by a dedicated command center working round the clock to ensure scalability of operations.
To know more, get in touch with the IGZY team.