Industrial IoT applications in 2023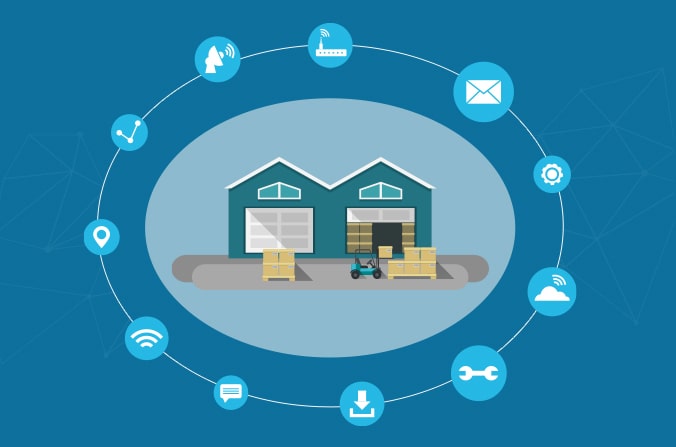 Industries worldwide have invested in various IoT networks and devices to fit current technology trends. Upon noticing rapid growth in industrial IoT applications, it is estimated that the Industrial IoT market's size will reach over USD 770 billion by 2026.
The new range of sensors, platforms, software, analytics, and other applications have transformed the industrial sector by driving operational efficiency.
What are industrial IoT applications?
Every industry operates to fulfill a specific goal, whether providing services to other industries and enterprises or the public. Industries employ IoT applications that drive them towards operational efficiency through analytics, automation, and network connectivity.
Industrial IoT refers to all the connected sensors, programs, software, machinery, and all infrastructure that promotes industrial progress.
What are the types of industrial iot applications?
Predictive maintenance
Predictive maintenance with the power of AI (artificial intelligence) and machine learning enables real-time updates if a machine needs to be repaired or replaced. IoT network extracts real-time data from sensors and devices to predict the failure of a machine's component before time with the help of machine learning. It increases the uptime of devices and reduces maintenance costs.
By leveraging current technological advances, IT personnel can diagnose problems and restore system settings remotely. IoT remote troubleshooting aids the quick restoration of settings, even in the absence of the responsible personnel.
Inventory management
Commonly applicable in warehouses, inventory management with IoT, integrated with AI analytics and machine learning provides real-time updates about the facility. It helps businesses gain better visibility on inventory and align operations with consumer demand to increase efficiency.
Real-time monitoring
The lack of transparency over business activities comes out as a massive challenge for enterprises, leading to increased inefficiency. Real-time visibility over operations, assets, management helps monitor the timely execution of tasks and responsibilities. It helps determine the leading causes of inefficiency and improvement areas, thus reducing the wastage of resources.
E-surveillance with video analytics
Real-time monitoring with e-surveillance cameras provides 24/7 safety and security to businesses with instant threat notifications and footage retrieval through a cloud platform. AI-enabled video analytics in e-surveillance helps track SOP adherence to ensure timely execution of tasks that increase productivity.
Implementation challenges of IoT
Compatibility
As per the market analysts at Mckinsey, 40% to 60% of the total values lie in our ability to achieve interoperability between different IoT systems. Due to different vendors and service providers, it becomes challenging to maintain compatibility between various IoT systems. The compatibility of advanced sensors and networks with legacy machines is a common challenge in IoT implementation.
Connectivity
Network connectivity is one of the most significant issues in IoT implementation. Due to warehouses' remote locations, the system has to face several internet connectivity issues that disrupt data transfer by sensors and devices and visibility issues in real-time monitoring and tracking of assets.
Benefits of IoT application in industries
Operational efficiency
Real-time monitoring with IoT-enabled e-surveillance systems provides SOP tracking and insightful data from business operations. It helps business heads analyze their improvement areas and make better decisions that increase operational efficiency. It ensures timely delivery, execution of tasks, and safety of goods and staff. Remote IoT device platforms enable consistent connectivity between sites and the supervisors, keeping all operations under direct scrutiny.
Energy efficiency
Businesses face several issues due to the lack of energy consumption monitoring systems that lead to inefficient distribution of energy at different sites. IoT devices monitor and provide insightful, actionable data into energy consumption and distribution, such as off-hour consumption, inefficient areas, and heavy appliances. It helps reduce energy wastage and ensures efficient distribution around the sites.
24/7 security of business sites
IoT-backed e-surveillance and sensors deployed around and inside business premises ensure round-the-clock security. Video analytics and machine learning capabilities ensure intrusion detection, motion, and vibration detection to get real-time alerts of a security threat. It prevents unauthorized access, theft, and robbery in business premises with proactive notifications on the platform that help deter crime within time.
Reduced downtime
The downtime of security devices and machines due to system failure, error, or tampering can lead to a massive loss for businesses. Instant notifications on device downtime to the platform with remote troubleshooting through AI and machine learning prevents extended downtime of devices and ensures 100% uptime for maximum security and operational efficiency.
Conclusion
The best industrial IoT applications help enterprises with a smooth flow of data and information from different locations and operations. IoT solutions that can be customized as per the business need align easily with business goals to provide a better view of ineffective areas and increase efficiency, productivity, and revenue enhancement.
IGZY's platform for IoT applications has established efficiency and optimized business operations across industries.
To know more about IoT applications which will help you scale your business, Contact us today.