THE ADVANTAGE OF HAVING IOT RETAIL SOLUTION FOR SECURITY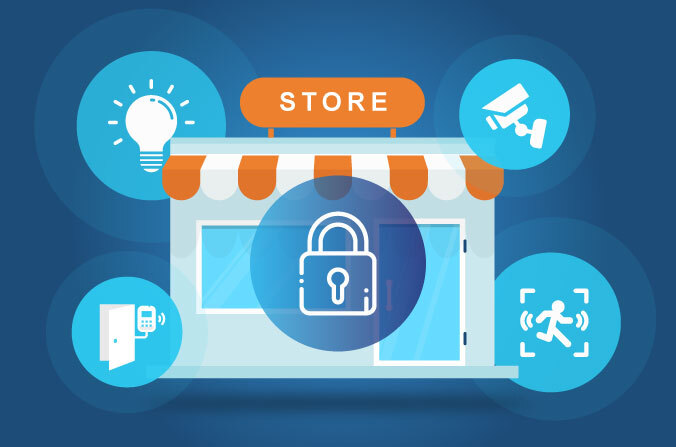 The Indian Retail space is one of the fastest booming industries. According to McKinsey the potential economic impact of IoT in retail environments will range from $410 billion to $1.2 trillion per year by 2025.
The key to the future of the Retail Industry lies in the adoption of IoT. Effective implementation of IoT can provide valuable insights into key business areas that can result in reduced operational costs, higher efficiency, and improve overall performance. It has become important to implement IoT in the retail business to get an insight into improvement areas and patterns to enhance quick decision-making.
Today, IoT in retail can be used in cost reduction to unlock new revenue streams and make production processes transparent and visible through the smart cameras and sensors across their operations to enhance customer experience and improve business efficiencies.
CHALLENGES FACED BY RETAILERS
ACCESS TO MULTIPLE STORES
Retails stores have multiple sites spread across the globe. Security heads face various challenges in accessing video feeds on a real-time basis to ensure the safety and security of their stores.
INTRUSION DETECTION
With huge premises and multiple stores, frequent intrusions are often observed as one of the most common challenges by retail security heads for their sites which can cause huge losses.
FOOTFALL ANALYTICS
The struggle for retailers is real. When it comes to in-store traffic, retailers are continuously aiming to increase the conversion rate as everything revolves around the sales and customer interaction.
ENERGY MANAGEMENT
Retail stores face several challenges in managing an effective distribution of energy. Ineffective distribution of energy can lead to wastage by spending excess energy on inefficient areas.
SOP ADHERENCE
The retail industry follows a stringent protocol list of sops to ensure timely deliveries and safety-related protocols are maintained. With large sites spread across the country and thousands of employees working, monitoring sops becomes challenging.
FOOTAGE RETRIEVAL 
The lack of a platform to store video footage is a challenge faced by the retail industry. The monitoring videos create no benefit if they cannot be retrieved at the required time.
HEALTH AND HYGIENE MANAGEMENT
Keeping the quality of retail stores intact by providing a suitable temperature and monitoring staff activities when no one is around is time-consuming.
How Does IoT Solutions Help?
The adoption of IoT based sensors and smart cameras for security system have boosted the level of retail security. IoT can help enhance the business and assist the retailers in competing more efficiently with global brands. There are numerous IoT-related benefits to the retail industry, but here, we will hone in on the ten most important ways that IoT can enrich the retail sector:
1. Customer Journey Mapping
Customer journey mapping helps the enterprise to understand what customers go through and improve the quality of customer experience, ensuring consistency and seamless experience. It gives actionable insights to store managers regarding the shelves or spaces in the store which saw the most traffic and the areas which were most visited by customers. These insights enable the manager to make more informed and strategic decisions based on data regarding the placement of the products at the store, the orientation of shelves, etc.
2. Shrinkage & Theft
IoT in retail acts as a deterrent to malicious or suspicious activity before it turns into something disastrous. Moreover, these systems ensure that employees are aware of the constant monitoring and consider the consequences before taking any untoward incident. Camera positioned throughout the stores helps businesses to reduce thefts, vandalism, shoplifting, control inventory shrinkage, and increase employee safety. IoT-based solutions can save a retailer from the monetary damage due to shrinkage, theft, or vandalism.
3. Customer Experience
IoT in retail not only deters theft but also ensures customer experience, especially in the absence of the owner. With increasing competition, every retailer needs to put some extra effort into the unparalleled customer experience. IoT-based solutions allow you to keep track of employees to make sure they're delivering exceptional service to the customer when you are not there. If you notice inappropriate actions by employees, you can take timely action to prevent issues with customers. Additionally, you can also view the footage in case of any customer complaints about any security-related issues.
4. Centralized Monitoring
IoT can help enhance the business and assist the retailers in centralized monitoring across distributed sites for business efficiency and customer experience. Through IoT solutions, one can get useful insights into the task execution to identify improvement areas and take actions to avoid inefficiency. A notification alert to the administration heads on SOP deviation provides real-time updates and visibility. It improves productivity, ensures safety, and enhances customer experience. With centralized monitoring, the retailer can purview on a customer's journey to identify their needs and concerns better. It gives you an overview of all of the touchpoints between brand and customer.
5. People Counting
People counting are of paramount importance to a retail business. People counting with the help of IoT solutions provides a hint of consumer behavior like what do the customers do in the shopping area, their shopping habits, how many people shopped at a particular time. It captures real-time insights and data to help the retailers to make actionable decisions in framing the marketing policies. It provides deeper insights into consumer buying behavior and popular products among the consumers. The marketing team can use this information to upgrade their CX strategies to make it more personalized and relevant with the advanced analysis obtained from footfall tracking.
6. SOP Compliance
Access to real-time alerts and updates on SOP deviations enables security heads to prevent a threat within time and analyze improvement areas to minimize loss of productivity. SOPs like dress code compliance, store opening or closing time, greeting customers, handling of goods, etc enhances brand reputation and customer experience. SOPs of all employees make it easier to conduct performance management reviews. IoT based solutions make sure that the Standard Operation Procedures are diligently followed by the employees regularly throughout the day.
7. Internal Threat
Internal theft is a challenge for every retailer. IoT solutions integrated with artificial intelligence and machine learning helps to monitor the overall health of the retail store's operations. Fire safety, intrusion detection, infrastructural issues, and other such nuances can be better managed with an IoT security system in place, and allow you to take proactive measures to tackle problems in time.
8. Store Hygiene
The retailers can easily maintain the hygiene of the store by monitoring various parameters like the dress code compliance, store opening, or closing time are adhered to or not. These small details can make or break the retail brand image and can have an impact on brand labeling.  IoT sensors can track the levels of hygiene and cleanliness maintained at a particular store. It includes checking whether the store is clean or not, if the air quality inside the store is within the acceptable range, if the temperature is controlled and managed to a comfortable level, and if the lighting condition inside the store is adequate.
9. Asset Tracking
IoT will improve the tracking of assets like machinery, equipment, etc, using sensors and connectivity, which helps the organizations benefit from real-time insights. The real-time data can be obtained from sensors by using IoT to monitor and improve efficiency. IoT cameras can detect the roadblocks like maintenance or the downtime of inventory and report them, making it easier for store managers to implement actions to mitigate such occurrences.
10. Energy Management
IoT solution helps retailers to reduce energy spending and operating expenses and minimize human resources. You can predict the consumption pattern and accordingly, spend and plan. A smart energy management solution for retail stores optimizes the energy consumption pattern, environment, and collect data to compare the performance of different stores and different types of equipment. IoT in retail can actively track the power usage at any store and can also manage it for better power utilization and to reduce wastage.
Other Benefits of Iot Solutions in retail
Here are some more benefits of IoT in retail that you must consider for the smooth running of your business:
Remote monitoring
Single window visibility
Real-time notifications and alerts
Flexibility and scalability
Live video feed for continuous monitoring
Air quality management
AI-enabled video analytics
Safety and security management
As IoT solutions become widely available, retailers will use technology more for streamlining the business process. It will track all parts of their operations, improving business efficiencies, and enhancing the customer experience.
IoT has immense potential that can harness to revolutionize the retail sector and especially empower the offline stores that often struggle to compete against the online retail stores. IoT in retail can provide the respective business owners with actionable metrics and insights that can help the business run more efficiently.