Why every retailer should focus on leveraging retail analytics in 2023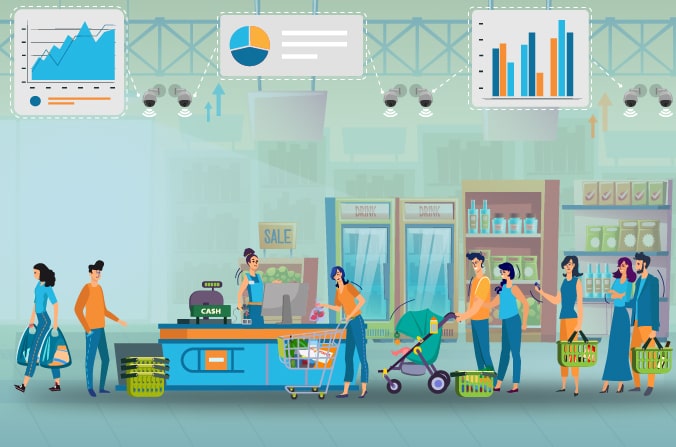 The retail analytics market has witnessed immense growth in the last decade. Projected to reach USD 17.87 Billion in 2027 from USD 4.12 Billion in 2019, the market is expected to exhibit a CAGR of 21.4% during the forecast period. One of the major driving factors for this has been the expansion of e-commerce in the retail industry. No longer dominated by the big retail enterprises, even small upcoming businesses have taken over this channel of reaching out to their customers.
Introduction
Retail business is always in swing. New products and better facilities drive this industry. Ever since the initiation of e-commerce, retailers have found more means to reach out to a wider customer pool. Following big retailers like Amazon and Flipkart, every upcoming entrepreneur is trying to benefit from these different communication channels.
However, with more channels of communication, the data pool for an enterprise increases substantially. Analyzing this data empowers retailers to manage, optimize and customize their operations; an inability to do so only leads to wastage of actionable resources.
Retail analytics – use cases
1. Store health analysis
An on-premises retail dashboard provides information about inventory, customer footfall, employee performance, among other things. An integrated solution that can track data from multiple channels gives an even more efficient business image.
The traffic visiting the retail site, the products bought most often, and the products browsed for but not bought are areas where retail analytics can provide valuable insights. This solution enables employers to monitor employee performance during work hours, their adherence to opening and closing store times, and their fulfillment of hygiene and cleanliness protocols.
2. Energy management
Every retail store has multiple energy consumption requirements, such as computers, lights, air conditioners, and electronic signages. With various sites to monitor, retailers use AI analytics to find areas of excessive energy consumption and use these insights to improve their consumption patterns.
3. Demand forecasting
The retail dashboard contains considerable information regarding who buys what and when. Breaking down this data into analyzed insights allows retailers to make impressionable changes in their average revenue. This information will enable users to personalize their promotions and product suggestions and discount coupons according to individual customers.
The historical data stored on the platform can enlighten you about your loyal customers, what they buy and how often they buy it. Closely observing customer behavior can prepare you for future trends and demands.
. Optimal Planogram
Cameras and sensors installed on-site follow every movement made by customers, calculating the time stamp when the store has maximum footfall. By monitoring the areas that people spend more time at or analyzing their purchases, retailers can find products in demand and optimize shelf layout to support customer interests.
. Purchase Behavior
The analytics solution helps track past customer purchase behavior and predict future buying patterns. Finding out who bought what and how often can give you insights into your customers' preferences.
. Customer lifetime value forecast
The solution allows you to know your customer's future purchasing behavior and the profit associated with each of them. Keeping in mind the types of products people purchase, especially loyal customers, you can estimate future purchases and find aggregates of how much money they would be spending at your store.
. Market basket analysis & trends
Customers often add products to their carts but do not go through with the transactions. Analyzing the products left behind, retailers can plan their product promotions accordingly. Reminding customers of the products in their carts and sending them personalized offers can lead to better sales.
4. Inventory management
Managing inventory is one of the significant areas of concern for retailers. It is essential to know which product is more in demand and thus requires swifter stock replenishment practices. On the other hand, knowing which commodity is outdated or is not a hot trend of the season can save managers much time, effort, and space while storing stock.
Without requiring employees to decipher the information collected manually, retail analytics solutions can display stock on hand and inventory levels with a single click. Your inventory overview would lead to lesser scenarios of deadstock or out-of-stock situations, automatically improving customer experience.
. Retail analytics-based inventory management includes:
– Forecasting stock-outs
It allows you to manage stock across sites, preventing the store from running into an out-of-stock situation. Products that are high in demand but not available to the customers can disrupt customer relationships.
– Forecasting deadstock
Analyzing the customer demand demographic, retailers can get insights into which products are less in demand. Regulating the stock based on analytics rather than guesswork can help them maintain a balance.
– Shrinkage analytics
The discrepancies between the level of inbound and outbound also get reported directly to the owners via the retail analytics software. These reports, along with a stringent surveillance system installed across the entire premises, notifies owners when there is a loss of inventory.
5. Customer journey and segmentation
When a customer enters a retail store or its online portal, the retail analytics solution begins mapping their journey. On-premises in the store, the solution leverages AI-based sensors and cameras to monitor a customer's journey across the store. Once a transaction is completed, the customer data is stored in the system. This data, historical or current, is used to analyze a customer's shopping habits and demands.
Customers can be segmented according to the similarities in their demands so that personalized marketing strategies can be used to attract new customers into building long-term relationships with the brand.
6. Predictive customer analysis
What a customer buys regularly or browses online is a good indication of the type of commodities that interest them, e.g., purchasing a facial serum will set off several recommendations of products that go best as a routine. Knowing that a serum usually lasts somewhere between a month or two, the exact product gets recommended after equal intervals. And guess what? Most customers that receive these reminders and special holiday discounts tend to form long-lasting relationships with the brand.
Predictive analytics reduces the dependency on instincts or guesswork when it comes to decision-making. Keeping in mind the general behavior of customers on-site or online allows retailers to modify their services.
An integration between data from all channels also reduces the chances of duplication of efforts. It also notifies retailers about the preferred mode for individuals and unifies the data collected.
Conclusion
Retail enterprises have witnessed an influx of new customers who were previously out of reach. Overcoming geography barriers and indulging in commercial activities over the internet have opened new avenues of growth.
Retail analytics solutions enable retailers to optimize their operations by leveraging emerging technologies like AI and cloud solutions. These intelligent solutions help retailers analyze customer behavior and deducing actionable insights to increase their revenue and productivity.
Retail analytics finds its application in a wide variety of use cases. These solutions ensure greater efficiency in business operations and optimize returns in the form of revenue. In the competitive world that we live in, an organization must utilize all possible commerce channels to stay relevant.
To know how your business can benefit from IGZY's intelligent retail analytics solution, click here.