Security Solutions For Retail 2023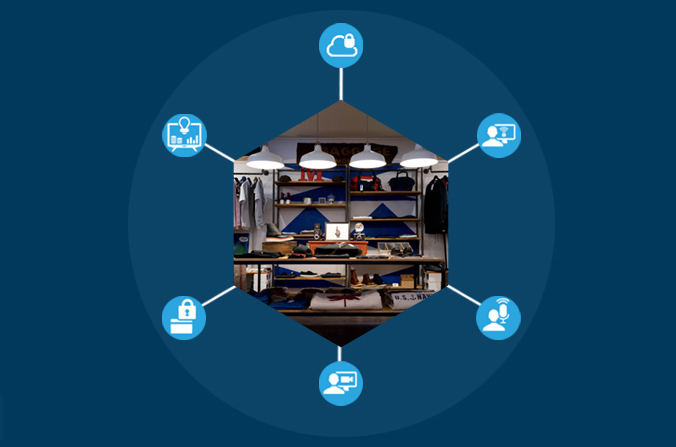 Retail is an industry that has grown exponentially over the years. It has been successful in capturing audiences in the brick and mortar setup. It now has a huge market share online as well. India Retailing reports that the country's retail sector is expected to grow to $1400 billion by 2024, backed by revenues from brick & mortar stores as well as digital sales. The flourishing millennial population & rising income of the middle-class population are key driving forces behind the Indian retail sector becoming the 4th largest in the world.
Technological advancement in the past decade has revamped the functioning of the retail industry. Applications of Artificial Intelligence (AI), Machine Learning (ML) & Internet of Things (IoT) have assisted a majority of the companies to reap superior benefits. Amplified sales, enhanced customer loyalty, augmented personalized experience and optimized inventory are basic deliverables of a well-founded IoT system. Yet with the growth in technology, the level of threat has also grown rapidly. Data is susceptible to cyberattacks. Hence, companies are looking for enhanced security solutions for retail to ensure genuine protection of such invaluable information.
Challenges for which security solutions for retail have become necessary are:
Increased shoplifting
One of the most common security challenges, most retail stores struggle to combat theft and shoplifting. According to a Deccan Herald article, every month stores lose between Rs. 50,000 and Rs. 1 lakh to theft. This is a huge burn in the profits for small and medium-size stores.
Network Intrusion
Any unauthorized activity on a computer network can lead to a breach of personal data and the loss of important client information. Even a single breach can allow multiple hackers to access company protected information. Intrusion of network puts data of all the stores at risk.
Data leakage and theft
Unauthorized transfer of classified information can expose sensitive company data to the outside world. Theft can happen via physical devices like USB drives and theft of company registered laptops. This allows perpetrators to access financial records or confidential information that can damage the reputation of the business.
Absence of a robust unified infrastructure
Most retailers do not have a strong network infrastructure in place to process huge amounts of contextual data. This leads to loss of data as well as opportunities to grow revenues. This leaves the store's data exposed to various sorts of risks at the cost of its operational efficiency.
The best way for retailers to combat such significant concerns is to make effective use of technology that provides superior business solutions. IGZY's all-inclusive approach to combat security challenges ensure businesses are provided the latest security equipment to fortify their stores.
Here are some of the benefits of IGZY's security solutions for retail:
1. Intelligent safety devices
IGZY's smart IP cameras ensure the best-in-class monitoring services. The surveillance feed is relayed over a secure, encrypted network. The IP cameras have superior visibility and provide wide-angle coverage which can capture granular-level details. IOT Based security solutions for retail allow managers to monitor any wrongdoing in their store and terminate criminal activity instantly. Smart devices with built-in people counting sensors and crowding sensors scan for dangerous activity. The feed is stored on a secure cloud network that store owners can remotely access to retrieve video clips of any crime being committed in the store. This smart security system simplifies the process of tracking and helps to ensure the rate of theft is minimized, in turn boosting revenues.
2. Secure Cloud Infrastructure
IGZY's smart devices store data on a secure and encrypted cloud infrastructure. It is designed to be user friendly and easy to access. Having a cloud platform allows companies to store all kinds of data ranging from financials to inventory updates and customer-related insights. With its AI and Machine Learning capabilities, businesses can analyze this data to optimize their operations and boost revenue opportunities. Using a secure cloud structure reduces the chances of data leakage and theft. Sensitive company data is stored on an encrypted platform which can be accessed only after proper user authentication. Even in case of theft of registered devices, access can be remotely restricted or removed to block data leakage. This ensures confidential company data is secured at all times.
3. Unified V-SaaS Platform
A single, simple unified platform provides end-to-end services to businesses. Through this platform retailers can operate all its smart IoT devices, monitor and analyze data collected from its sensors, and access its cloud infrastructure. A unified platform simplifies decision making and speeds up operational efficiencies as every bit of information is securely stored on the system and can be accessed anytime, anywhere. This makes retail stores technologically more capable to handle security threats and unwanted intrusions.
4. Centralized Command Center
IGZY's 360° service ensures 100% uptime of its platform which is constantly monitored by a dedicated team of professionals running the command center. Our helpline is active day & night to tackle any queries businesses may have. Security engineers operate 24*7 to monitor threats to the store and immediately notify managers of any developments. With expertise in intelligent video analytics, our team supervises the movement of customers across the store, delivering proactive notifications in case they notice any dangerous behavior.
5. SOP Adherence Management
With the changing COVID – 19 situation and new norms related to social distancing, IoT sensors will play a major role where AI-backed cameras & other hardware will identify whether SOPs are adhered to or not. This will also include regular disinfection runs and monitoring hygiene standards of cloud kitchens & restaurants. While the government is looking at relaxations in areas of retail and supermarkets; it's vital that these norms are strictly followed for the safety & security of masses.
With the growth of technology, implementing IoT solutions can provide invaluable information to businesses to boost return on investment while providing proper fortifications for your data. It is the next step for businesses to arm their stores with IGZY's latest security solutions for retail to ensure long term safety and security of company assets and human capital.