Checklist to establish Server Room Security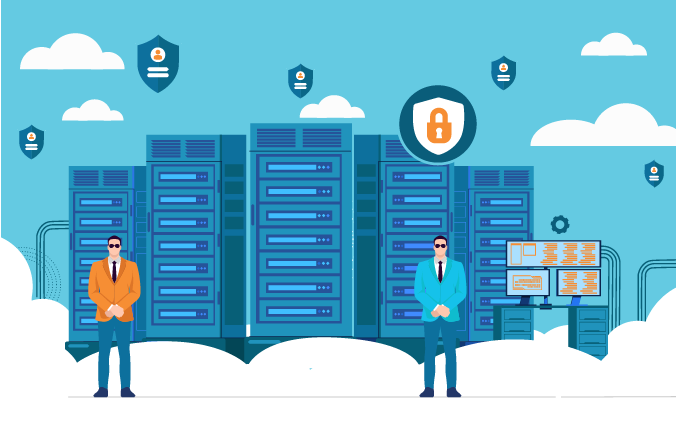 The blog will take you through the key points that must be kept in mind while you are trying to find the right esurveillance security solution for your business's server room. We will try to highlight some essential devices, platforms, and support capabilities that are critical for a security solution and are often overlooked. The objective is to enable you to make a well-informed decision.
But before that, let us look at a few challenges that your server room faces today.
Security Challenges Faced by a Server Room
Break-ins

Server rooms house sensitive data that is a target for many assailants involved in leaking data, hacking, sabotage, and espionage. It is critical to safeguard the server room from people with such intentions physically.

High temperatures

Complex computing machines run hot and can heat up a room quite fast. This temperature rise, if left uncontrolled, can cause permanent damage to this equipment. It is, therefore, reasonably necessary to accurately maintain various parameters like temperature and humidity in server rooms.

Vibrations

Vibrations that are otherwise overlooked pose a severe threat to computing devices like routers and hard disks. Even the slightest vibration can lead to a small scratch and a lot of corrupted data.
Must-have devices
Here, we will list down a few devices that provide a host of benefits and are a must-have for any server room security system.
IP camera

Server room security cameras are an essential part of a server room's security system and provide multiple functionalities. The most basic service they provide is E-surveillance, which monitors the server room inside and out and keeps track of each employee's activity. They also play a vital role in supporting the various intelligent sensors by verifying any alert.

Access control systems

Server room access control systems are used to restrict the movement in and out of the server room. They are used at the entry and exit points to verify the identity and authority of a person either through biometric measures or through smart cards. Based on the authority level, the system can automatically grant or deny access to the employee.

This helps in controlling the flow of people into the server room but also helps in keeping a log of all the people who entered the room. A company can use this information to find the responsible employee in the case of an issue in the future.

Motion sensors

The computer equipment like hubs, switches, and routers in a server room is exceptionally delicate. The most negligible physical damage can cause them to fail, leading to severe losses for businesses. A smart motion sensor can measure the minutest of vibrations that otherwise might go unnoticed and instantly send alerts to the concerned authorities preventing severe damage.

Energy control devices

The equipment in the server rooms runs hot and is sensitive to temperature and humidity. Moreover, these are closed rooms with no natural ventilation. This means that these rooms need to be continuously monitored and controlled to maintain optimum temperature and humidity levels. Energy control devices and simple LHT sensors can help monitor and control various parameters like light humidity and temperatures autonomously. Moreover, they can also control lighting according to the number of people present in the room.
Platform capabilities
The platform you choose must also have certain basic capabilities essential to any server room security system.
Some key capabilities have been explained in brief below.
Instant Alerts

It is crucial to receive an alert as soon as possible to take the necessary action. Therefore, it is critical to make sure the platform you chose can do exactly that. The platform should have the proper measures set in place to verify a threat and alert a matter to the concerned authorities as soon as the threat is validated.

24/7 monitoring

A server room is online throughout the day, every single day of the year. So, the system responsible for monitoring the server room must also work round the clock without any interruptions. These systems are critical during nighttime when there is a reduced staff and response times are longer.

Remote access

The platform should be accessible remotely from any location, preferably from a browser-based platform, so that it can be easily accessed through mobile devices. This can help you monitor multiple sites at once and have the peace of mind that your servers are well protected.

Unified platform

The platform should be unified in the sense that data from all the devices like server room security cameras, sensors, and server room access control systems are visible to you on the same platform. This improves the ease of use and makes it less cumbersome to switch between devices.
Support capabilities
Decision-makers often don't give support capabilities enough weightage while evaluating different solutions. However, these are the things that will matter the most after your purchase decision. You must make sure the solution provider offers adequate service and support capabilities for a seamless experience.
Real-time health monitoring

Smart devices can be checked for their health remotely in real-time. The device's online/offline status and errors can also be seen, and action can be taken without minimum downtime.

24/7 support staff

These security solutions are vital to business continuity, and the slightest delay in any unresolved error can lead to a serious loss for a business. It is necessary to have support staff on call any time of the day.

Remote updates

You will have facilities in diverse geographic locations and having a physical support team to update your system will be tedious and expensive. You must make sure the solution provider can update their devices remotely via over-the-air updates.

Pan-India presence

Your business will only grow with time as geographic expansion is inevitable. This means you will set up new facilities across the country. And your solution provider must be equally capable of extending their solution Pan-India along with service and support capabilities.
Conclusion
Choosing a server room security solution is one of the most critical decisions a business can make about its security. It is a decision that will determine the safety of your entire business and its IT infrastructure.
Want to know more about finding the right server room security system for your business? Contact us!