How crucial are SOPs in warehouse for optimizing operations?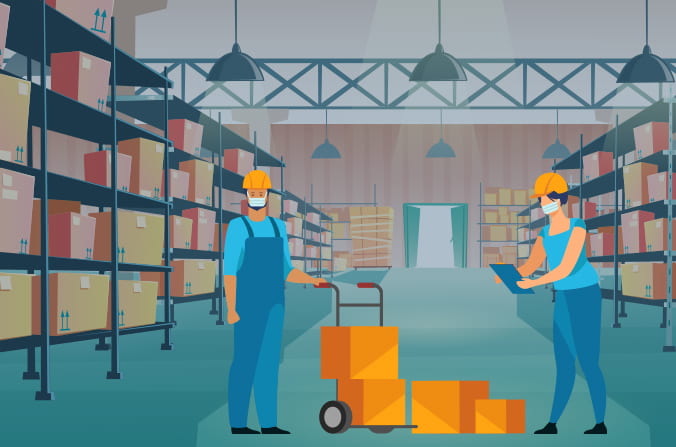 Posted On: December 3, 2020
Whether you're starting a business or trying to improve an existing one, you have to understand how things are going to get done.
What tasks do you need to do? Who needs to do them? What are the best ways to approach these tasks?
Working out how these questions can be answered is the first step towards systemizing your business. The creation of processes and workflows will define the way in which your day to day activities function.
One popular approach to this is the creation of standard operating procedures. The simple definition provided by IBM is, "A set of instructions that describe all the relevant steps and activities of a process or procedure."
Defining and formulating a good set of standard operating procedures should be one of the first things you do if you're striving for continuous improvement and success.
SOPs are usually to be treated as an ongoing improvement process, rather than rigid rules to be followed. Regular revision of the SOPs can result in extreme efficiency and productivity.
Standardized procedures not only ensure consistent product quality and equipment availability but also ensure consistent and optimal cycle times and throughput rates. Furthermore, if everyone follows a standard process, product defects and costly rework can be prevented.
SOP guidelines may include specifications regarding the opening and closing time of the warehouse, routine security check, the movement of goods to and from the warehouse, inventory management, proper handling of goods, and timely shipment along with staff hygiene protocols.
The SOPs cover all the processes for warehouse and inventory management up to the point where the inventory items are released from the warehouse for distribution.
Importance of SOP in warehouse
The development and use of SOPs are an integral part of a successful quality system. It provides information to perform a job properly and consistently to achieve pre-determined specifications and a quality end-result.
Saves Time
Standard operating procedures, as the name states, are a number of guidelines and procedures to be followed for the smooth and standardized functioning of the warehouse. When certain guidelines have been stated for the personnel to follow, it ensures timely completion of tasks with minimal deviations. SOPs also provide a resource that can shorten the learning curve associated with performing a new role and gathering information related to a new job.
Safety measures
In times like the present, with the onslaught of covid-19, e-commerce is at an all-time high, making it extremely important for warehouses to follow health monitoring and cautionary protocols seriously. SOPs provide employees with all the safety, health, environmental and operational information necessary to perform a job properly and safely.
Efficiency and consistency
With a standard operating procedure in place for working on specific tasks, warehouse processes follow outlined steps for completion. They support employees with the information necessary to perform their jobs and helps guarantee consistency in the quality of performance.
Reduction of errors
SOP is a written procedure with a certain set of instructions for performing a task. As long as the employees perform tasks as they have been stated, there's a greater chance of reducing error.
Accountability
When there are a set of clearly specified rules and procedures to be followed by different employees, a deviation in the process becomes easier to discover. SOPs empower the employer to know where the deviation took place and who is responsible for the same.
Flexibility
Opposed to the general misconception that SOPs create rigidity in an organization, SOPs allow organizations to save time and effort by providing them with certain routine procedures that need to be followed and allows them to invest their time and effort in creating innovative solutions in other areas.
The absence of SOP in warehouse management would cause too much of a chaos and hinder it from reaching its true potential of productivity. It would rid the organization of any structure and standard for quality. However, with the increase in the size of warehouses as well as acquisition of multiple warehouses by different businesses, keeping a check on the SOP adherence at all times is nearly impossible.
Just as with time the sizes and numbers of warehouses have expanded, so has their management systems. With today's IoT based smart warehouse management systems, employers can easily manage and direct their enterprises towards an efficient and effective work environment.
IoT based surveillance system and SOP guidelines
Smart video surveillance or IoT – based surveillance system consists of sensors, actuators, and cameras along with cloud services such as storage and real-time monitoring.
IoT based surveillance systems make it possible for employers to keep a constant check on the work of their employees even in their absence. It uses the best concoction of cloud-based cameras, sensors with AI and ML technology for the perfect blend of effective and efficient performance. The security system sends real-time video footage as well as notifications in the case of any performance deviation or protocol violation. This type of surveillance system also helps in reducing the OPEX that an employer usually indulges in to hire guards and managerial officers, that often, ineffectively keep a check on the staff's SOP adherence. IoT security solutions also provide the ability to customize the platform or devices as per the business requirements and benefits.
How IoT surveillance system improves SOP adherence
Through these smart surveillance systems, an employer can keep a check on the opening and closing time of the warehouse. Not only that, but the system can be equipped with voice and face recognition, ID card scanning etc; to grant or deny access to employees in certain areas of the warehouse.
The system can be trained to detect any form of deviation or delay in a particular process and thus help in the strict conformity of the warehouse SOP guidelines.
It can keep a track of the inventory, constantly updating the data with respect to the inward and outward flow of commodities, and thus is extremely beneficial in stock and inventory management.
This sensor equipped system can notify the employer or officer in-charge in case of any changes in temperature, elevation of carbon particles in the air, smoke etc, which automatically reduces the threat of spoilage or any disaster. This is especially crucial in warehouses that store inflammable or reactive products.
An IoT enabled SOP compliance system can count the number of people entering and exiting a vicinity, ensure physical distancing, monitor body temperature and warn attendees and managers of protocol violations.
It can also notify the security personnel or the person in-charge in case of the entry of any unauthorized person into the premises of the warehouse, thus playing an essential role in warehouse security.
Notifications can also be sent to the employer in case of any minor or major deviation in the performance of an employee. The instant notification and real time monitoring make it easier for the employer to recognise the point of deviation and the personnel responsible.
This e-surveillance security system empowers the warehouse with a higher level of security and a reduced number of security personnel. The constant vigilance over the work and performance also pushes the employees towards stricter adherence towards the SOPs.