Usage & Impact of IoT in Banks and Financial Institutes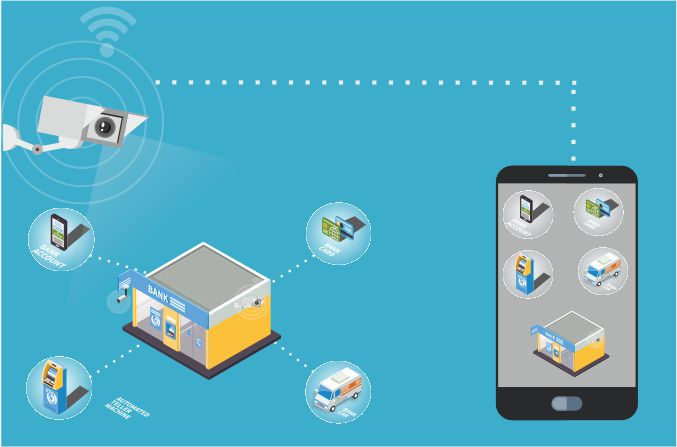 The Internet of Things is among the emerging tech trends that are widely embraced by modern industries. With rapid digitalization and mobilization in the banking and financial services industry, businesses are exploring the possibility of IoT in banks and finance to leverage data and minimize the risks to Banks and financial sector. However, thoughtful implementation of IoT can reward the finance sector with numerous growth opportunities.
Banks can use sensors and analytics to gather more information about the customers and can offer more personalized services.
Asset Monitoring
The internet of things allows banks to keep check on their own equipment, assess the assets of branch's uses and improves the quality of decision-making while providing loans, improve the efficiency of risk management.
Collecting data on ATM usage to ensure the machine is used to its peak efficiency. The internet of things will be able to collect information on how the machine is reducing its downtime.
Collecting real-time data on market fluctuations, allowing banks to increase the number of locations in a smart way.
IoT & banking unity enhances fraud prediction and improves the quality of borrower's activity and collateral monitoring.
Customer Insights
As businesses become more consumer-centric, it's crucial to offer personalized experiences to both new & regular clients. The internet of Things helps banks get insights into their client's behaviour.
Benefits of collecting consumer insights with IoT systems
Checking creditor's habits to precisely evaluate their creditworthiness.
IoT systems will help clients find a branch within their reach, thus saving time needed to get to the bank.
Gathering customer data will help banks to maintain a healthy relationship with their customers in a proactive way.
Personalized offerings and rewards:
Increasing customer engagement and loyalty by offering customers loans as well as investment options, based on:
The value of their assets,
Their spending habits and
Their periodic income
Will become much easier with the help of IoT enabled data analytics. Providing highly customized loan and investment options will increase the probability of the clients considering the product.
  Enhanced Fraud Prevention:
Fraud prevention is a prime concern for financial institutions, who constantly invest in and seek new ways of curbing misuse of their offerings. Misuse of debit/credit cards can be prevented by having IoT enabled security systems at points of use, such as ATMs, which have more personal and secure methods of authorization.
Improved Investment and Capital Market Visibility
Tracing the real-time market situation is vital as a part of improved investment decision – making.
Here are the main IoT applications in capital market:
Real-time data scanning for better investment assessment.
Gathering and generating trade plans, ideas, and commendations.
Internet of Things can play a major role in banking and finance. IGZY provides all necessary IoT features to enable end-to-end service.  To know more details, visit IGZY.