DISCOVER HIDDEN TREASURE WITH AI-DRIVEN VIDEO SURVEILLANCE FOR ENTERPRISES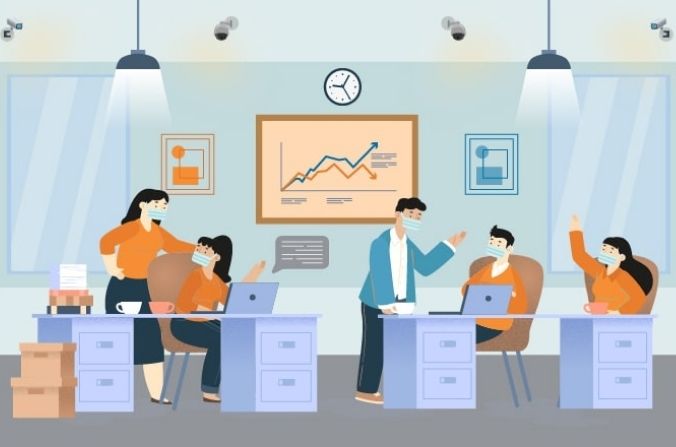 Video surveillance is a growing trend worldwide. Along with the rise in video surveillance, we are also seeing a massive increase in the analytics and alerting aspects of it. According to a Research and Markets report published in late 2020, the global analytics market was valued at $4.10 billion in 2019 and expected to grow at a CAGR of 22.7% to $20.80 billion in 2027, i.e. We can no longer just treat video surveillance and analytics as a buzz for tech hobbyists or enthusiasts, but bonafide trend businesses are adopting at ever-increasing rates.
Google and Amazon are the behemoths in the AI and analytics space, especially in image and video processing, but they are not all. In India, several companies, including IGZY provide video surveillance and analytics services. India's investment in warehousing, infrastructure, and logistics has catalyzed the need for native providers of video surveillance and physical security.
The enterprise and business sectors in India also see the need for physical security, which are now increasingly accomplished by using IP (Internet Protocol) based cameras connected to sophisticated Internet of Things (IoT) systems. These cameras capture video in digital formats and store the digitized feeds in the cloud.
Video surveillance gets smarter with Artificial Intelligence
Enterprise video surveillance, to be most useful, needs to do well on three major fronts: surveil and identify threats, inform security teams, who in turn resolve them before threats escalate into something larger.
Artificial Intelligence (AI) driven video surveillance is truly coming into its own in India. Simply monitoring video by assigning more eyes to the task is no longer the only arsenal enterprises leverage. Today, smart enterprises use AI-based video surveillance provided by IGZY to minimize risk and proactively prevent crimes, thereby reducing costs and saving lives.
Overcoming challenges of video surveillance for enterprises
A common misconception revolves around the costs associated with installing a video surveillance system. Outfitting all locations of an enterprise with video surveillance can be a major CAPEX project, but solution providers such as IGZY offer Video Surveillance-as-a-Service (VSaaS) or a pay-as-you-go model where video analytics, cloud video storage, and IGZY's platform are charged via subscription on a quarterly basis. This model helps in reducing the upfront costs to enterprises, while being flexible enough so enterprises can add camera types based on need. In addition to reduced costs, ease of use, and data and video security are other major considerations. The video saved can be reviewed from anywhere on the internet, and only by people with the authorization and access to access it.
No longer does a video feed need to be captured throughout the day. By making use of sensors, video need be captured only when the sensors are triggered. But even so, a video surveillance system produces voluminous amounts of data.
Video analytics to the rescue
And this is precisely the problem video analytics can solve. Analytics, when layered on top of AI, help enterprises make sense of the high volumes of data that the security systems produce on a minute-by-minute basis.
Artificial Intelligence (AI) and Machine Learning (ML) algorithms scan through the data generated to identify patterns of threats and false alarms. They can also translate these learnings to actionable insights and best practices that the enterprise can then apply. The data is then used to analyze if the captured video represents a threat that needs a response. If yes, alerts and notifications are sent to the security team, according to notification rules set up by the enterprise.
The other big advantage is the video surveillance provider can harness the analytics at scale, using anonymous data gathered from other enterprises to give your organization insights not just of your own business, but similar-sized companies in the same or similar verticals.
In malls or other retail locations, surveillance cameras with analytics can identify shoplifters and alert security personnel to take action as the crime is in progress. In an enterprise setting, video surveillance can measure employee hotspots, monitor sensitive areas for trespass or loitering, and so much more.
Rules for behavioral analytics can also be incorporated in enterprise settings e.g. an alert can be triggered if visitors or employees dwell for too long in specific areas, or frequent them too much, without a valid reason. Two-way communication such as enquiring if the person needs assistance, or dispatching a security guard to check on a potential crime scene may be enough to deter the crime from actually being committed.
Beyond security, there are other areas where this data can come in handy, e.g. to identify inefficiencies in layout of a retail store or bottlenecks in the floor plan layout.
It is clear that AI and analytics-based video surveillance systems aid crime detection and prevention. Video and data storage and associated technologies need to be operational at the highest level for these systems to be successful. Video obtained on-site must be transferred quickly and at sufficient quality to the cloud. Video recording quality must be highly reliable, and AI algorithms should be able to quickly analyze the video to deliver any alerts.
In a sense, large quantities of video data are written to the cloud, as the footage is transmitted from edge computing devices to the cloud. This data is then analyzed in real-time, as algorithms are run to detect, identify, and deliver insights. One configuration is to have AI-enabled NVRs and appliances on the devices. This helps security officers to be notified immediately in the event of an emergency. Processed video can then be sent to the cloud for mid to long-term storage.
IGZY – India's trusted source for video surveillance & AI analytics solutions
IGZY is a perfect partner that can assist you with all your enterprise video surveillance needs. Our proven Sense-Analyze-Act framework helps enterprises not only capture and act on data but also analyzes the data into actionable insights, which enterprises can leverage to optimize their processes and procedures and educate personnel on best practices and standard operating procedures.
When your enterprise is totally secure, there is tremendous peace of mind for all stakeholders – from your board to your employees. We can help transform your business with the right blend of physical and digital video surveillance technologies and deliver AI-driven security solutions your enterprise needs to be safe, efficient, and competitive in 2021.
We've done it for ICICI Bank, Vodafone,Myntra.com, and many other enterprises across India.
We want to help and do it for you too. Get in touch with IGZY today.