Smart Warehouse Monitoring System- Key to Take Your Business to Next Level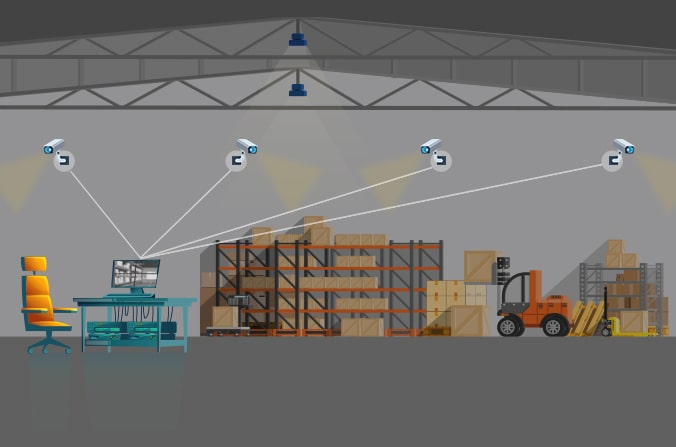 Smart Warehouse Monitoring System using IOT – A warehouse is a heart of any enterprise. This is where the valuable goods and equipment of any business are stored. It has evolved from just being a storage and inventory facility. Its prime goal is to ensure safety and continuous flow of items. Businesses rely on warehouses for seasonal or surged demands, for security, transportation, and supply chain management. So, warehouse monitoring and management can't be ignored in the expansion story of an enterprise.
Traditional warehouses used to be tiny in size which could be easily monitored, managed and controlled by individual beings. But with the growing size of business, warehouses have grown to an extent where it is not feasible to monitor the whole warehouse by humans. General warehousing industry is expected to be at a rate of 10% to reach $295 Billion by 2020. Efficient management of such huge scale warehouses is not possible by only humans. Therefore, implementation of smart warehouse monitoring system makes managing the processes easy by providing all the necessary data to humans as well as to other machines.
Components of a smart warehouse monitoring system using IOT and the problem it solves
Smart warehouse monitoring system involves a matrix of many complex machinery and equipment connected to the mains system. All these should be installed at the right place to ensure optimum utilization of the systems. These are some of the important components required for a smart warehouse depending on the industry it operates in and the different problem it solves.
Surveillance Cameras
Video surveillance through cameras is the first and foremost step in the security of any place be it house, hospital, shopping centre and warehouse. Cameras nowadays, are evolved from just being devices of video capturing. They are used to read the text, identify motion and heat and so on. Analogue cameras are sort of obsolete now because they can only be connected to DVRs and NVRs. High tech IP cameras with HD capabilities are prevalent today which are compatible with CMVRs also. Coupled with AI, these cameras can be programmed to do any task virtually. For example, camera footage can be analyzed by AI to check the clean or unclean status of an ATM. Tasks like people counting, scanning vehicle number pates, checking the availability of inventory and compliance of SOP becomes easy with smart surveillance systems. Tracking of lost or misplaced shipments is also made effortless by smart cameras.
Set of Sensors and other hardware
Wireless sensors are a great way to keep an eye on the enterprise's activities without having to manually move anywhere. Sensors like LTH (light, temperature, humidity) helps in maintaining proper light and temperature. Humidity and temperature can be very important factors for cold storage warehouses where inventory needs to be in the correct environment and little deviation in temperatures can spoil the products. They are capable of detecting smoke and alerting in case a fire breaks out. Motion sensors track the movement around. Whereas in certain industries air quality needs to be regularly checked to avoid any ill effects. IoT and data from sensors together abolish the need to adjust operations with changing environments manually.
Alarms Systems
In widespread warehouses, it's really difficult for individuals to know what's happening everywhere. Alarm and hooters quickly notify if something bizarre happens. It can be integrated with any security or surveillance system. Like hooter goes on if temperature changes beyond a level or motion sensor detect some unusual movement or glass break sensor detects any forceful entry. It quickly makes everyone aware of what's happening and timely action is made possible. Smart alarm systems also have a feature of engaging or disengaging the alarms with user's discretion, which makes them flexible to use without causing any inconvenience. The warehouse alarm system can also be paired with a smartphone to give real-time alerts regardless of the place.
Cloud storage
Cloud is the new generation storage preference. This is a smart storage option for HD cameras which makes the task of storage, hassle-free. Compared to traditional hard drives and DVRs, CMVRs are pretty flexible and cheaper to maintain. This eases one from changing drives to expand storage as simply bigger plans can be subscribed in the case of cloud. All the data uploaded only can be easily accessed and shared via the provided API. As the cameras directly connect to the cloud via the internet, all the mess of cables and wires is not a thing to be associated with it.
Access Control System
There are certain sites in a warehouse which are restricted to be used by only a few people. So there's always segregation of rooms within the warehouse. To efficiently monitor that, sophisticated RFID locks or face or voice recognition hardware is installed to have limited access. This replaces the need for keys and also keeps an extensive record of traffic in and out of that area. This guards certain valuable items or data against being stolen and reduces wasteful movements. These can also be installed at loading and unloading areas to permit only the called for vehicles. When installed at entry and exit points gives the data of workforce present in the warehouse at any given point.
Centralized Intercom System
A wireless or a wired intercom system installed across the warehouse let managers and employees communicate with each other and saves from traveling to far areas in and around a warehouse. It gives managers the ability to unlock doors, manage deliveries and dispatch shipments remotely even from off the premises. It can be integrated with security cameras in vast and noisy warehouses to make communication much easier. It opens the remote management of inventory and SOP adherence through communicating with the workforce. An extensive network of intercoms all around the warehouse can make controlling the warehouse from a single place possible as any task can be assigned and protocol can be enforced without physically visiting the area.
Energy Management System
Energy bills are one of the main expenses for a warehouse. Due to the size of the warehouse, even minimal improvements results in large amounts of savings in a year. So, to run a warehouse profitably, managing energy costs is very essential. Main factors that put load power consumption are unmonitored use of lighting, heating-cooling systems, use of outdated electrical devices and appliances running of even when not in use poor power factors also result in energy being wasted. The energy management system consists of several phase meters and sensors embedded between the electrical circuits to track energy flows. This provides with customized reports and data regarding energy used and trends. This smart system is then capable of predicting future patterns and ways to efficiently manage current consumption.
Unified IoT Platform
Unified IoT Platform is certainly the most significant component, which manages all the other components of a smart monitoring system. In a smart warehouse monitoring system, every device is integrated with the IoT platform where the data is processed and instructions are given. Also, this is the platform from where the user controls every other hardware in the management system making it easier for them to make a decision as well. It is a challenging task to record everything and organize paper documents for the reports and the data. The working dashboard in the platform is where the user can make all the decision by analyzing greatly saving time and the need to maintain paper documents.
When choosing a smart monitoring system for the warehouse using IOT, one should consider these main factors
1. Location of the warehouse
With locations being on the outskirts of the city makes it more vulnerable to offensive activities. So, the security and surveillance systems should be chosen wisely.
2. Number and variety of inventory
With different types of inventory comes different responsibilities. So, managing and monitoring different type and requires some special set of equipment. Moreover, the number of SKUs, a warehouse handles also alters the systems.
3. Level of automation required
More automation requires more complex equipment. Moreover, automation also affects the way each device communicates and responds.
4. Number of sites
Having multiple warehouses increases the distance and can cause delays in exchange of data and information. So the monitoring systems should be set in a way keeping in mind sites across different regions and the cost and time factor associated with it.
5. A working model and employees
Monitoring systems should be installed keeping in mind whether the enterprise is capital intensive or labour intensive. Moreover, the quality of skilled labour to operate those systems should always be taken into consideration
6. Warehouse area
The area in which the warehouse is spread directly affects the type and number of systems to be deployed. Large warehouses require some extra equipment to manage that extra area.
7. Financial Aspect
Lastly, one should have a check on his pocket. Deep pockets can fetch more complex and tailored systems.
Planning for a personalized monitoring system for your warehouse, contact IGZY for all your unified solutions.