Pro Tips: How to get your warehouses ready for eCommerce in 2023.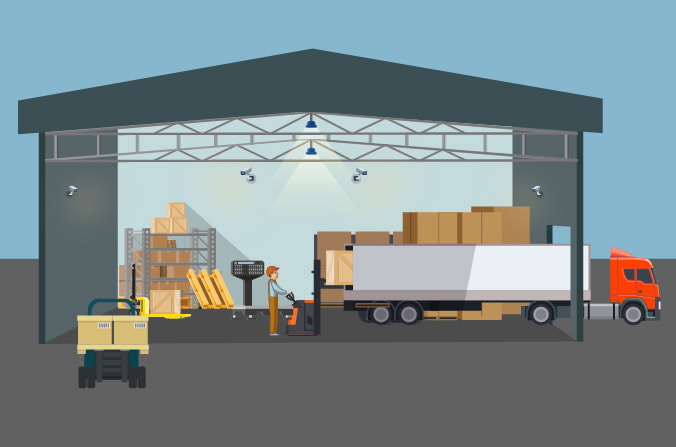 The eCommerce boom we are witnessing in India has gone hand in hand with major changes in the warehouse and logistics sectors.eCommerce has picked up in India in a big way.It stood at USD 38.5 billion as of 2017, and is projected to rise to USD 200 billion by 2026. With global events like COVID-19 heavily influencing consumer behavior like never before, we can expect this triad of sectors to only grow more.
Warehousing allows eCommerce businesses to store physical goods before sales are made via the online marketplace. A large warehouse in India houses thousands of products, representing crores of rupees. Products and inventory are easily the biggest investment for a warehouse owner. Therefore, it requires careful setup and design, and warehouse owners and managers need to focus on efficient management along with proper surveillance to realize the full potential of a top-functioning warehouse.
In this blog post, we delve into how warehouse owners and managers can prepare their warehouses to be ready for eCommerce in 2021.
Resources needed to set up a warehouse
Warehouse design and setup is an area that needs careful thought, largely because we now stand at the cusp of modernizing them. As eCommerce and warehousing sectors explode, warehouse operation design, optimization, and scaling will increasingly be needed in order to meet demands.
Some considerations for a well-functioning warehouse include:
Inventory management for inventory and equipment.
Regularly maintaining and reviewing records, such as inbound and outbound shipments.
Keeping people, products, and equipment secure.
Adhering to safety regulations and guidelines.
Trained warehouse staff.
Use technology for superior inventory management
As warehouse sizes increase, there is increased complexity in managing them. Owners and managers have come to realize that mere human oversight through floor personnel will not be enough.
Technological growth and the growth of the cloud-based solutions has sprung robust warehouse management solutions which offer superior inventory management.
Inventory management can also help you track when shipments arrive, who they were received by, where shipments are placed in the warehouse, and when outbound shipments leave. In these inventory management systems, you can also set up rule-based alerts to notify your stock teams when items are nearing low stocks.
An inventory management system must be coupled with appropriate procedures being followed by warehouse staff. E.g. if 100 pallets of kids' clothes arrived in the loading dock, but your receiving staff had it placed in a location different from their normal location, products can be "lost" despite being present in the warehouse. An inventory management system can help prevent these occurrences by flagging such issues and alerting managers or team members to them. It can serve as a central repository too, keeping track of where products are placed.
For larger warehouses with multiple facilities, an inventory management system is imperative to manage far-flung facilities.Having an inventory management system in place also helps in scaling operations as your eCommerce business grows.
Optimizing warehouse operations for efficiency
An efficient warehouse layout can lead to optimized operations which translate into less time spent picking products, so your personnel can move through orders quickly.
When laying out the warehouse, it makes sense to place products in areas where workers intuitively tend to look for them. E.g. if a large segment of your eCommerce customers order ties and socks also when they order shoes, it makes sense to keep these items together.
AI-based warehouse management systems can provide analytics and reports on such pairings/product bundling, so you can enhance warehouse layout.
They can also provide meaningful analytics and dashboards, which help you identify any areas for improvement in operations.
Smart warehouse e-Surveillance solutions
While warehouse management solutions are great, they also need more time investment to train and implement. As a result of this, warehouse managers are turning to Internet of Things (IoT) and e-Surveillance solutions.
These solutions provide a big picture view of what's happening in the warehouse, without necessarily tying up staff. e-Surveillance solutions can also help pinpoint any flaws or bottlenecks in your operations and inventory management.
Artificial Intelligence (AI) driven e-Surveillance solutions i.e.IGZY provides intelligent reports based on video footage.
Warehouse e-Surveillance has multiple benefits. An obvious area where e-Surveillance is critical is in the security benefits it offers. The other major area is in operational intelligence.
24/7 monitoring is crucial
IGZY e-Surveillance services help you monitor your warehouse at all times of the day or night. Even if security personnel are not on the ground, overseeing warehouse operations, alerts and notifications, along with footage retrieval over the internet can alert you to unexpected events.
Reduction of internal shrinkage
Shrinkage is a huge problem in warehouses as employees or other personnel may engage in theft. This can cause severe losses due to internal theft. A smart e-Surveillance solution i.e. IGZY will monitor employee behavior and notify you of any incidents that require review.
Ability to monitor multiple locations with a single view
A large warehouse complex spread across multiple facilities can be monitored from a single location using robust e-Surveillance services i.e. IGZY. Regular reviews of the security footage, along with AI-based identification of intrusions or events such as flooding, fires, etc., assist with your security needs.
Real-time Notifications and Alerts
IGZY e-Surveillance solutions can be set up to provide real-time alerts or other visual/audio notifications. These alerts can be set up to be escalated according to your SOPs, and multiple personnel can be notified at once, in order to ensure that emergencies are noted and acted on immediately.
How to choose the right partner for your warehouse e-Surveillance needs?
When choosing a partner to handle your warehouse's e-Surveillance needs, you need to consider a prospective vendor's track record.
When you do your research before you sign the contract, you can address questions such as:
Does the company have anextensive client base?
Do they have experience in your sector?
Do they employ industry experts on their staff?
Are the needs of your business' key stakeholders addressed when you approach them for a potential partnership?
Is their solution customizable to your facilities?
How will they handle scaling if and when you expand your business?
Based on these areas of research, you can make an informed decision based on the credibility of the vendor.
Download our checklist to get started with your research on how to choose the right e-Surveillance partner for your business.
At IGZY, your security is our priority. Our smart warehouse security systems are equipped with remote e-Surveillance and AI-based cameras backed by a unified Internet of Things (IoT) platform that helps in reducing the risk of theft, burglary along with ensuring SOP adherence, as well as considerable financial savings using energy management.
Leading brands in India i.e. ICICI Bank, Airtel Payments Bank, Vodafone, Myntra.com, MJ Logistics, 20Cube Logistics, etc., trust IGZY to keep their warehouses and businesses safe 24/7.
Are you ready to empower, protect and scale your business?
Talk to IGZY today.