What type of Warehouse Video Surveillance Solution is fit for your Storage Facility?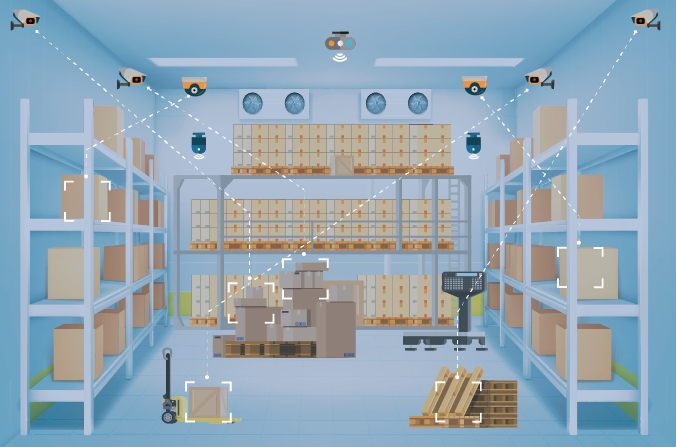 Every warehouse and delivery center has different surveillance requirements, depending on a number of factors. These factors include the size, location, number of stores, the type of commodities, amongst others, and they influence individual surveillance solutions for your business. In this blog, we will try to take you through the various warehouse video surveillance solutions available and which one of these will best suit your business.
Finding the right Warehouse Video Surveillance Solution for your Storage Facility
A warehouse video surveillance solution uses a variety of devices to monitor and protect your warehouse, including IP Cameras, smoke sensors, vibration sensors, motion detectors, access control systems, etc. These devices can be added or removed to provide an optimal solution depending upon a business's requirements. These systems are extremely customizable and can be designed on the basis of individual needs. You can opt for cloud storage if you want to get a completely new surveillance infrastructure set up for your warehouse. On the other hand, if you recently made a big investment in local storage for your surveillance system, you can use a combination of both local and cloud storage. The option to choose is entirely in your hands.
The right Warehouse Video Surveillance Solution depends on a multitude of reasons. We have mentioned those below:
On the basis of size
Warehouses vary significantly on the basis of sizes. A warehouse acting as the hub for an entire city can be over 800,000 square feet in size. Whereas a local warehouse supporting last-mile delivery may barely be 25,000 square feet in size.
This means the warehouse video surveillance solution for them will also differ. A small warehouse may only use 4 to 5 strategically placed cameras along with a minimal number of sensors to provide effective security and protection from threats. Whereas, a big warehouse may require an elaborate video surveillance system with more than 100 cameras along with dozens of sensors and access control systems.
Larger facilities have more area that needs to be monitored along with more entries and exits. Not only this, but a larger facility has a much bigger staff and inventory that needs to be monitored carefully.
On the basis of Geographical location
Geographical location plays a more important role in determining the warehouse video surveillance system that a business requires. For example, a facility located within city limits might not require a very stringent perimeter intrusion system because these areas are already well lit with multiple CCTV cameras and quite safe in general.
On the other hand, a warehouse outside of city limits in some remote locations will need to put more focus on door sensors, glass break sensors, shutter sensors, and cameras for maintaining comprehensive perimeter security.
Another key difference comes in terms of the night guarding. Response time for authorities is usually very long for remote out-of-town locations. So, such facilities should invest more towards night guarding solutions like night vision cameras and motion detectors to provide quick alerts.
On the basis of the products stored
A smart video surveillance solution can also help you in managing your inventory rather than just providing security. The surveillance system can be set up depending upon the kind of inventory you are storing. For hazardous materials like chemicals and gases, we can use an LHT sensor to make sure they are at the optimum temperature and away from direct sunlight.
For Refrigerated items, we can use energy monitoring systems to make sure refrigerators are functioning properly thus preventing these items from perishing. Warehouses primarily storing electronic products like phones, televisions, laptops, etc. need excess security as they are extremely expensive and are targets for pilferage and thefts.
Recently two Ex-Amazon employees were arrested for stealing 78 iPhones worth Rs 1 Crore from a warehouse over a period of two months. Such cases of pilferage are prevalent and lead to significant losses over longer periods of time.
On the basis of the investment & approach
No matter whether you opt for manual guards or smart virtual guards, both will have some cost attached. However, with virtual smart guarding you get a much better return for your investment. This is because of all the added functionalities and services it is able to offer over manual guards.
A security camera warehouse solution can cover the entire facility at once unlike manual guards and can continuously monitor while running live analytics to prevent intrusions and break-ins.
Depending on investment constraints you can use a combination of both and only have smart solutions in sensitive areas of the warehouses. For example, you can use access control systems for places where you store high-value inventory items. While you can have manual guards for the main entrance and exits with just IP cameras. As these systems can be re-configured easily, you can add more and more automation tools over time while making smaller investments.
On the basis of the number of warehouses
It is also important to consider the number of warehouse facilities you are managing. If you only have one or two locations to manage, the variety and number of device installations come marginally down. There is no major need for a cloud platform for centralized storage and surveillance, the solution can be well facilitated with a local network video recorder.
If the number of locations is more than that it becomes critical to opt for centralization of data storage across sites and integration over a single cloud based platform. This would make it easier for you to remotely monitor any site you wish instantly. It will also make data storing and managing activities easier by removing the need to have individual local storage devices at each facility.
On the basis of data storage
You can also make the decision of choosing your warehouse video surveillance solution simply on the basis of data storage. If you wish to have storage exclusively on the cloud you would need to use a CMVR (Cloud Managed Video Recorder).
You can use an NVR (Network Video Recorder) if you want to go for local storage paired with IP cameras for analytics. You can also opt for an XVR (Hybrid Video Recorder) for compatibility between existing analog cameras and IP cameras.
On the basis of how smart you want the site to be
Lastly, the warehouse video surveillance solution will depend on how smart you want your site to be. There are several features and functionalities that you can opt for in order to automate your facility.
You can choose to go with cloud analytics for energy management, employee non-adherence detection, rodent detection, etc. or you can go for a basic solution that notifies you in case an intruder breaks in or a fire breaks out.
Conclusion
 Throughout the blog, you can see that warehouse video surveillance solutions offer versatility to users depending on their individual needs and requirements. These security camera warehouse systems are effective for the security and protection of warehouses.
Not only that, but we also saw that these can also be used for more than just security like managing inventory and employee SOP adherence amongst others. The most important thing that should be taken away from this blog is that one understands the kind of warehouse they run, what they want for their warehouse, and what kind of a smart surveillance system can help them achieve this.
Curious to know which video surveillance solution is fit for your business? Contact us and we'll help you make the right decision.