CCTV Camera System and How It Changed Over Time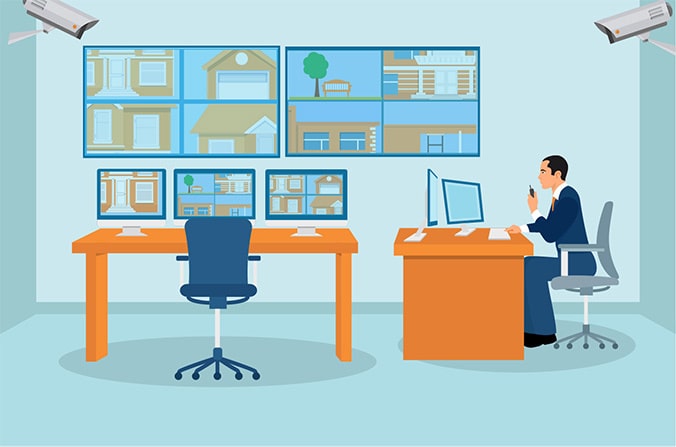 CCTV stands for closed-circuit television. The signals from CCTV camera system are not broadcasted publically but are monitored by a limited set of viewing device only. These cameras allow monitoring the exterior as well as the interior of property by converting the recorded footage into electrical data and transmitting the same to the recording device and the monitor. Recording devices prevalent today are DVRs, NVRs, and CMVRs. The display can be on a single or a set of monitors. This transmission can be through a wire or via a network.
How CCTV camera system evolved
Once a luxury has now become common hardware across businesses and residential areas. In the beginning, CCTV was employed as just a security tool. One could only monitor the footage or pull the recordings to see what happened after the incident. But now it has evolved into a combined security-operational tool with so vast applications that one could only imagine. From surveillance, to view live from anywhere in the world to disaster detection to detect heat to read text and images and so much more. CCTV has come a long way from big bulky and expensive equipment to cutting edge internet-connected cameras. The earliest use of CCTV camera system can be dated back to 1942 when cameras were used to observe the working of military equipment and rockets. The only equipment used was a simple camera and a monitor that could only project live captured information.
Then came the technology of VCR and multiplexer. VCR enabled the storage of the recorded footage which could earlier be viewed only live. VCR made it possible to record an event and then view it later. And multiplexer made viewing multiple cameras on a single monitor possible. The classic screen dividing concept was initiated by multiplexers only. But the technology was still very complex and cumbersome. Tapes for storage needed to change or written daily to record new data. This either meant maintaining a huge library of tapes or losing some old data. The tapes acted as proof in case of any crime or event.
After VCR, CCTV entered the digital age with the introduction of DVR (Digital Video Recorder). DVR completely replaced VCR and multiplexer as it is capable of storing and well as transmitting the data via cable. All the data recorded in the hard drive built-in the DVR with limited storage. The maximum time duration for data storage depends on the resolution of cameras and the size of the hard drive. The data is stored digitally and organized for convenient search. DVR only supports the analog camera.
With the current advancements, the hardware is turning simpler and cost reliable. The latest NVR (Network Video Recorder) doesn't even require cables to transfer data. With IP cameras (Internet Protocol), NVR wirelessly transfers the data to multiple registered devices. But the data is stored on-site, in storage drives just like DVR. The only difference lies in the transmission where DVR uses cables connected with cameras and NVR uses network connection. IP cameras used with NVR has more resolution and results in clearer and sharper images.
New age recorders are just popping up in the market. These are called CMVR (cloud-managed video recorder). Cloud storage provided by CMVRs comes very handily. Instead of storing all the data in hard drives, the data is uploaded to centralized managed data centres using the internet. All the data is stored off-site, thus saving the user from all the hassle of managing storage. Unlike DVRs, additional storage can be installed just by changing the plan with the cloud provider.
What started in World War II for learning about weapons has now become an indispensable part of security surveillance.
Analog and IP CCTV Cameras
CCTV is the backbone of any security surveillance system. With so much development in technology and systems, many types of cameras are developed, leaving consumers with so much choice to customize their system according to one's needs. Despite all the functions, all the cameras are broadly classified into two segments – Analog Cameras and IP Cameras.
Analog cameras are the most commonly used cameras. These have been used for over 30 years in the industry and is still used by many consumers. Coaxial cable is used by analog cameras to transmit the data to the recorder. Due to old technology, these weren't capable of HD resolution recording. To record HD resolution videos by using same analog system hardware, one can opt for HD analog cameras which is a pretty new thing.
Benefits of analog camera
Cost
The main reason behind its adoption is its price tag. These are significantly cheaper than its counterparts because of the outdated tech used by it. It doesn't offer any high-tech feature offered by IP cameras. These are slowing becoming obsolete because of its reducing applications. New age world demands the latest features for efficient operations and the analog camera is cheaper and this can only increase the camera count.
Simple Working
Analog cameras are fairly easy to set-up and run. There doesn't require any technical knowledge to run. These require only installing and then connecting the cameras with a power source and a coaxial cable from the recording device. The recorded analog footage is sent to the recorder which is converted into digital data and stored in the drive.
Disadvantages associated with analog cameras
Video Quality
Generally, the image quality of analog cameras is not at par with IP cameras. These only support SD quality recording. The image is not sharp and clear which makes it unusable at outdoor and high motion areas. Less dynamic range results in over or underexposed videos. Less frame rate also results in choppy and blurry videos.
Security
Analog cameras are not built-in with encryption which makes it vulnerable to data attacks. There is always a risk of potential data leaks. Moreover, everything is connected through wires and anybody could damage or alter these wires making analog cameras less reliable.
Flexibility
Analog cameras are very less flexible when installing at a premise. Their uses can't be modified and these need to be installed at very specific places. In case of expanding the site also, it requires more cabling to be done to ensure coverage. This decreases it's adaptability to different conditions.
IP cameras are the new generation cameras capable of transferring data wirelessly over the internet. These cameras do all the work analog camera do but with greater capabilities. Network capabilities give these cameras an edge over analog cameras as they can be connected to the cloud server.
Benefits of IP cameras
Video Resolution
This is the foremost and the most important feature of IP cameras. Image quality is what matters the most in case of any event because details need to be checked. IP camera records in high frame rates with either HD (720p) or Full HD (1080p) resolution. Frame rates can be altered according to the network connection. Moreover, the WDR (wide dynamic range) makes its videos more colour accurate.
Remote Access
The convenience of access the data anywhere is provided by IP cameras as these are connected via a network connection. Real-time footage could be viewed from anywhere in the world on any device, be it a mobile phone, PC or a tablet.
Ease of Installation
IP cameras requires minimal equipment to run. These CCTV camera system doesn't even require a cable to send data. What it requires is a separate network cable and this problem is solved by PoE (Power over Ethernet). A single Ethernet cable supplies power as well as connects it to a network.
Intelligent Sensors and Analytics
Todays IP cameras come with different sensors out-of-the-box. For example a motion sensor or a fire sensor. Moreover, IP cameras can compress data and can be programmed to provide any sort of analytics. If installed in a place like a retail store, these can be programmed to calculate footfall or check empty shelves. Or it can be installed in casinos with facial recognition software. Specific areas could be separated by marking on the CCTV camera system and it can give alerts if someone enters that area.
Disadvantages of IP cameras
Cost
The initial cost of setting up an IP camera system is little high when compared to its counterparts mainly due to expensive cost of IP cameras itself. But the overall comes down because it requires less equipment when installing the whole CCTV camera system. Once set-up, it is easier to scale and customize the system.
Storage
IP cameras generally record the video in high resolution and high frame rate. This result in larger files being created. So the owner has to plan storage drives and locations accordingly.
Do you have any questions in your mind regarding CCTV camera systems? Don't hesitate to contact IGZY for any clarification.