How AI in retail helps unlock critical insights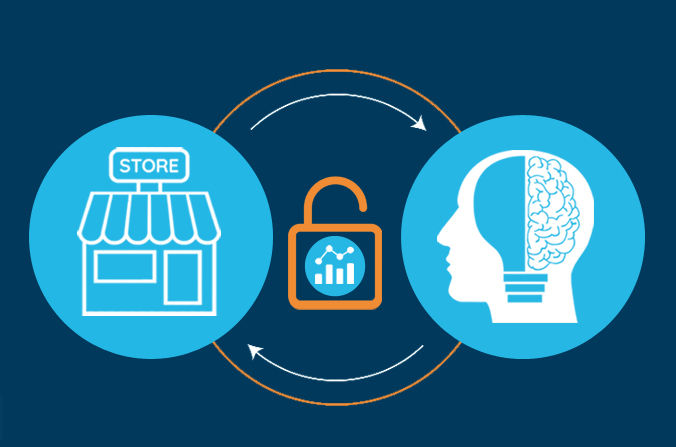 Artificial Intelligence (AI) has had a huge impact in bringing innovative changes across multiple industries. Working behind the curtains, it has made interesting advancements in retail as well. AI in retail helps businesses reimagine every strategy through which it communicates with customers and operates its outlets. It allows managers to synergize technology and function, a crucial requirement in today's world to gain a competitive edge.
Retailers today collect huge volumes of customer-centric data, which when processed through AI algorithms, provide actionable intelligence to improve security and in-store experience of customers. It enables retailers to set themselves apart and create sustainable value. For example, Domino's Pizza is testing AI-powered delivery vehicles to make pizza delivery autonomous in several countries. Combining Domino's GPS tracking data with AI technology, they are striving to make delivery more secure while completely revolutionizing customer experience. Amazon's initiative to use drones to deliver orders will significantly reduce delivery time and maximize customer experience. These hybrid drones function on AI technologies, powering them to react independently, even in unforeseen circumstances.
Here's how AI in retail will help businesses evolve in the future:
1. Superior Security
Machines function with higher precision than humans. They tend to capture details that the human eye may miss due to long hours of work and fatigue. Implementing AI-powered systems ensure every minute detail is captured. It enables 100% uptime of security platforms ensuring no threat or unauthorized activity goes undetected and information is stored safely. During these challenging times of national lockdown, the security of retail outlets and company assets inside them become vital for retail businesses. IGZY's AI-enabled smart devices provide uninterrupted monitoring services that facilitate the remote safety of business premises. Our AI temperature sensors remotely monitor optimum temperature during lockdown and instantly alert managers in case of changes.
2. Higher accuracy in analysis
With the help of neural network-based algorithms, AI systems provide granular level insights that tend to keep improving as they are repeatedly used over time. These real-time insights aid organizations to optimize business processes and deliver exceptional customer experience. Companies use AI in retail to predict what a customer has an interest in by analyzing parameters like demographics, social media activity, and recent purchasing patterns. With such a high level of accuracy, it allows businesses to develop hyper-personalized marketing strategies and improve the shopping experience for each customer. IGZY's intelligent devices are at the forefront to help brands analyze and understand each customer's buying journey and make every touchpoint more dynamic.
3. Enhanced In-store Engagement
Intelligent suggestion devices, digital shelves, and even robotic staff are a few devices that are powered by AI. Adopting such devices in a store helps retailers extract valuable information even without directly conversing with customers. It also keeps them engaged and interested in the unique offerings of the outlet. In the back end, IoT enabled devices with AI sensors helps retailers track various customer metrics and parameters. To embrace the new future with stricter social norms, retailers will have to make the best use of these sensors to ensure businesses survive. For example, using IGZY's people counting sensors, retailers can keep a check on the number of customers inside their store. While using our crowding sensors, an outlet can track and regulate optimum distancing between visitors from time to time. These steps will reassure customers of the brand's commitment towards safety and foster a deeper sense of loyalty.
4. Demand Forecasting
While AI is used to understand present customer requirements, it's applications also allow retailers to predict future trends in the industry. Retailers can utilize AI to operate their demand forecasting, using data obtained from consumers, competition, and the industry. Machine Learning algorithms have the power to consider many more variables to provide information in much more detail than traditional methods. This enables organizations to proactively prepare for industry shifts and modify business strategies accordingly. Proper forecasting has an array of benefits for any retailer; optimized logistics planning, improved inventory management, refined deals with suppliers, and preparedness to meet future consumer demand. These benefits, in turn, facilitate cost efficiency and improve the accuracy of SOPs.
Every player in the market has a range of technological choices to improve business functioning. It is in the correct application of it that can help businesses derive innumerable benefits. AI in retail has the ability to not only provide business intelligence, but also deliver it at lightning speed. It is needed to synchronize an organization's online and offline retail channels, i.e., provide a superior omnichannel retail experience for its customers. Using AI helps retailors minimize costly errors and weed out operational inefficiencies to boost revenues in the long run.
IGZY's AI system can adapt itself to generate insights by analysing differing sources of data and converting them into consumer-benefitting strategies. It works to create a seamless shopping experience and ensure growth in business. We provide 360° support from initial setup, to repairs and uniform maintenance post-implementation. Get in touch with our experts to understand more about IGZY's AI solutions for retail.