10 THINGS TO CONSIDER BEFORE ANY CCTV CAMERA INSTALLATION IN WAREHOUSES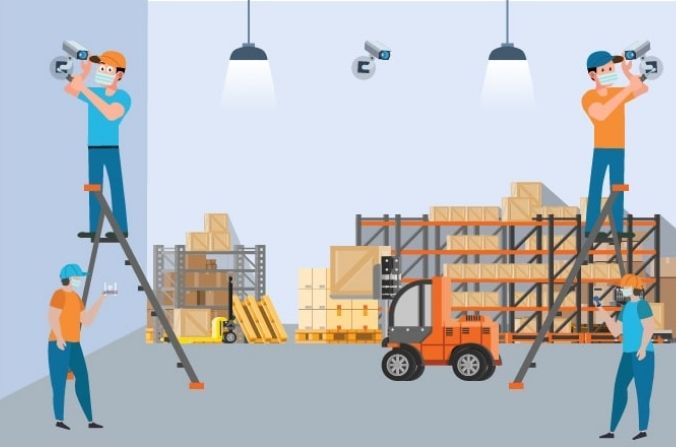 The Indian warehousing market is expected to be an estimated $20 billion industry by 2025 driven by the country's flourishing manufacturing, retail, FMCG, and logistics sectors.
Furthermore, in 2020, the shifting consumer preference from an offline mode of shopping to online due to the COVID-19 pandemic has created more demand for the warehousing industry in India.
For manufacturing or trading companies, warehousing or storage facilities are the most important assets. The fact that inventory is considered as a current asset, makes their security even more important. Any theft or damage of inventory can ruin the balance sheet leading to financial loss.
CCTV camera systems provide surveillance capabilities used in the protection of people and assets. These systems are often used to support comprehensive security systems by incorporating video coverage and security alarms for barriers, intrusion detection, and access control.
For safeguarding your warehouses, it is extremely important you choose the right CCTV camera installation partner based on the crucial factors listed below.
Choose the right CCTV camera Installation Partner
1. Number & types of CCTV cameras
Before you decide the number of CCTV camera installations and the type of CCTV cameras, we suggest you consult your installation partner to design a comprehensive CCTV camera installation system for your warehouse. Clear requirements, a comprehensive site survey, and proper equipment selection and installation must all be considered when designing this plan.
Following a sound design process enables your company to make purchasing decisions that result in the procurement and installation of a CCTV camera system that meets functional and operational requirements.
You will find many types of cameras in the market i.e. C-Mount CCTV cameras, bullet CCTV Cameras, dome CCTV cameras, pan-tilt-zoom cameras (PTZ cameras), etc. Based on your requirements for a good CCTV camera installation for warehousing, you can choose cameras that enable remote viewing, providing night vision functionality, high definition imagery, and so on.
2. Night vision
Does your warehouse need a CCTV camera installation night vision cameras?
Infra-Red LEDs are small bulbs located on the sides of the lens at the center. These provide infrared light at night for night vision. Greater the number of LEDs, better will be the quality of recordings at night. Contrary to popular opinion, night-vision footage does not have to be the poor quality green-tinted footage you're used to seeing on TV. CCTV camera installations with night vision capabilities of today produce high-quality footage and can notify you of any warehouse security breaches as they occur.
3. Image resolution
Warehouses are busy areas where unloading and loading takes place throughout the day with multiple people entering and leaving. Monitoring these places of high activity requires a CCTV camera installation with high definition cameras that captures and identifies every tiny detail. High definition IP cameras are not just limited to event identification, their crystal clear images help you easily recognize who was the culprit in case of a negative event.
4. Efficient vehicle management
Lack of surveillance at specific hotspots or entry/exit points can lead to unknown vehicles entering the premises. In the absence of a Vehicle Management System (VMS), there are chances of people entering vehicles and stealing goods.
Lack of details about the vehicle will make it impossible to nab the culprit. Vehicle Management Systems keep track of every vehicle entering your premises. Its smart analytics automatically identifies the number plate, store the data, and take a snapshot at the same time. It also enables you to blacklist/whitelist vehicles so that only registered vehicles enter the premises.
5. Centralized control
Large organizations have multiple warehouses spread across different geographies. In the absence of a CCTV camera installation with a centralized management system, it becomes very difficult to coordinate multiple warehouses. As the warehouses are usually situated away from the city, coordination between offices and warehouse becomes difficult even for small organizations.
A CCTV camera installation with centralized control to multi-location warehouses enables a full view into processes taking place across the organizations. Monitoring options like mobile, tablet, laptop, video wall and multi-display allow monitoring all locations from a single place.
6. Smart playback & real-time monitoring
Many CCTV camera systems today come equipped with real-time video analytics, which can help with preventive security, and also use historic data to provide analytics for investigation e.g. if you mark precious goods by a virtual periphery. If anyone tries to move the goods, it will lead to instant notification via SMS/email/video pop-up. But, if this was moved for a legitimate reason, you can flag the event as a non-event to train the analytics software.
7. Perimeter security
As warehouses often occupy a large area, they have a large periphery from where criminals may intrude. Therefore it becomes vital to secure the warehouse boundary or periphery in order to have a foolproof security system in place. The placement of your CCTV cameras, the coverage of the cameras, and its infrared features play to your advantage in this case.
8. Consider going for an IP CCTV camera installation
You may see high-definition CCTV called HD (high-definition), IP (internet protocol), MP (megapixel) or network CCTV. They all refer to the same CCTV camera installation technology. This technology offers high-resolution recording and playback of security footage on a network system.
Below listed are some of the advantages of an IP CCTV camera installation:
IP CCTV systems offer far superior image quality
IP cameras cover a much wider area than analog CCTV cameras
IP systems offer much more powerful search functions
IP systems offer superior expansion and wireless opportunities
IP systems are likely to be the future of CCTV
9. Legit CCTV partner
It is said that many CCTV camera installations are illegal. Such illegal installations can make it difficult to avail warranty on product and services brought. So, make sure you look for a certified e-Surveillance company of repute before ordering any CCTV camera installation.
Also, if you choose to buy a few CCTV cameras from online stores, make sure that the images shown are real. It is highly possible that some products are showcased with misleading images and material descriptions.
IGZY is a certified systems integration partner for eSurveillance hardware and software platforms by global brands i.e. Panasonic, Eagle Eye Networks, HIKVISION, Amazon Echo, Yale, Somfy, Hanwha, etc.
10. Reliable & efficient installation partner
Global logistics is becoming faster and more complex with every passing day. Security and operations requirements are changing, while new technologies open entirely new ways to monitor and control the physical side of logistics. Smart video surveillance can help humans monitor security and operations along the supply chain in real-time.
IGZY is trusted by numerous well-known brands from the warehouse and logistics sector i.e. Myntra.com, MJ Logistics, Origo, etc., in addition to other verticals such as BFSI, Retail, QSR, and so on.
Make sure you collaborate with a highly efficient CCTV camera installation partner i.e. IGZY, who will take the time to understand your business needs, work with you to identify/solve all your security and safety problems, and also have a good track record of working with organizations in your industry.
We make your warehouse security our priority!