Modernize Your Surveillance System with CCTV Cloud Storage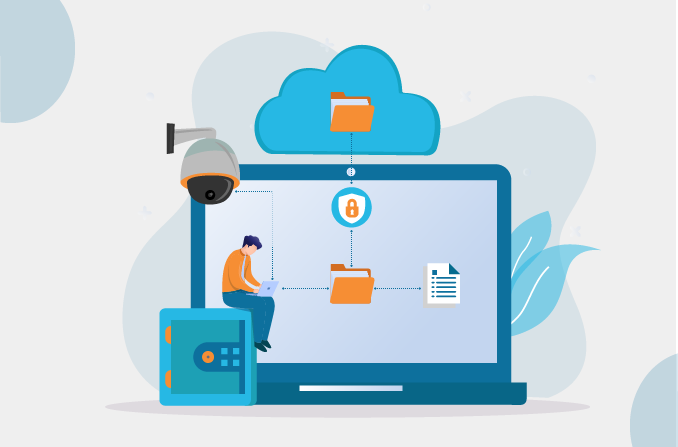 CCTV cloud storage is a comprehensive programme that allows users to store camera-related footage remotely without worrying about storage capacity on-site. It is fairly simple to set-up and requires minimal equipment. And even gives the comfort of upgrading existing traditional cameras to cloud as state-of-the-art NVRs support a wide range of hardware. With cloud gaining a lot of popularity these days, new age video recorders are gaining traction in the market- CMVR i.e. cloud-managed video recorders. With keeping cloud needs in mind these are designed with no physical recorder on-site and there is just a bridge appliance connecting all the cameras with the cloud data center directly with no human interaction in between.
CCTV Cloud- Everything you need to know
Storing camera files to the cloud offers peace of mind to the user. Despite being a complex process, much of the work is handled by the system itself leaving humans with negligible labour. Storing data off-site is safe and secure and the files from the cameras are automatically logged in with date and time for effortless extraction. Hybrid cloud storage systems also provide an option to store some latest data on site storage devices to solve latency issues and the rest in the cloud. It doesn't require any bulky equipment to upload data onto the cloud.
When considering to upgrade an existing CCTV system or installing a new cloud CCTV system, below are the components used in a cloud based CCTV system and the working behind it. These points should be kept in mind for smart surveillance decisions.
1. IP Surveillance Cameras
Cloud surveillance begins with IP cameras. These cameras are much like ordinary cameras in recording stuff but also are capable of converting the footage into data and sending that over the internet (hence the name says Internet Protocol). These cloud storage CCTV cameras record HD quality footage – HD (720p) or Full HD (1080) but the frame rate can be adjusted according to the project and one's requirements. Another factor which impacts the quality and frame rate of the cameras is the internet connection or broadband service, which is talked about further.
2. Footage Recording Devices
When it comes to surveillance there are three types of video recorders used – DVR (digital video recorder), NVR (network video recorder), and CMVR (cloud-managed video recorder). But when it comes to cloud storage, cloud-enabled NVR and CMVR are only used. When using CCTV cloud services, there is no need for internal hard drives but hybrid NVR has little storage for keeping the latest files. Footage recorded is sent to the video recorder via secured network and then uploaded to the cloud. CMVRs, on the other hand, allow direct upload of data from the IP cameras to the cloud servers using a bridge.
3. Network Connectivity
A reliable and high bandwidth broadband connection is a basic requirement for uploading the data to the cloud. The recorder constantly needs to send the footage to the cloud and any drop in the connection can result in choppy footage. With an increase in the number of cameras, the speed requirements for the internet increases. For instance, when using a camera of 256 Kbps speed for cloud recording, for a set of 8 cameras the recorder would need a minimum speed of 2 Mbps. Any drop in the speed and the user could lose some quality or frame rate. Moreover, in the case of NVR, high bandwidth connection is also required for the IP cameras to upload the footage to the NVR itself as the cameras are wireless.
4. Video Management System and API
A VMS software has all the functions and that is needed to run security surveillance and manage the cloud storage. All in one platform provides users with unlimited access to the cloud-managed footage. All the functions like viewing, downloading, analyzing can be operated from the platform and can be integrated with other security systems as well. As the footage is stored off-site with no hard drives and local storage, users can access the cloud footage from virtually anywhere in the world. APIs are generated by the cloud service provider which can be used to view, download, and share the well-arranged files from the cloud account.
5. Active cloud plan and storage
When deciding to shift to cloud-based CCTV, one has to evaluate the needs of the premises to choose the apt cloud storage plans. This can be done by consulting a trained technician about the area to be covered, the number of cameras to be deployed, and the amount of cloud storage needed by keeping an eye on the price plans. An organization could have less cloud storage plan if they need to keep files in the cloud for less time and vice-versa.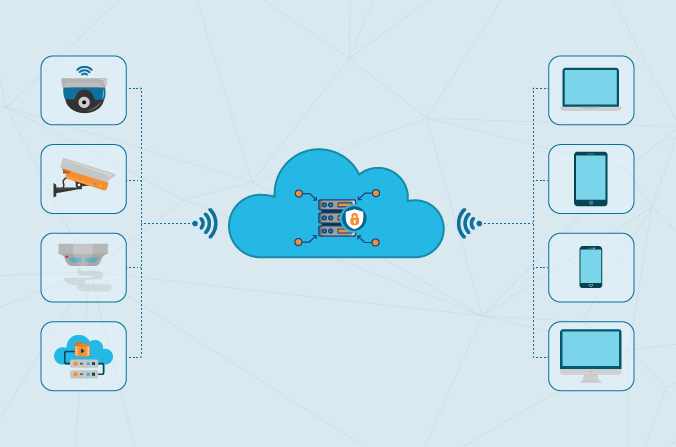 Surpassing on-site capabilities with cloud storage
1. Easy installation and maintenance
Installing traditional on-premises storage options requires huge capital investments in large storage devices, wires to connect them, and IT staff to install. This makes it a lot tedious. This substantially increases in the case of multiple sites. Whereas installing cloud servers is relatively easy with just using software to configure all cameras at once to the cloud server. Moreover maintaining hard storage devices requires robust IT infrastructure and a lot of time whereas no technical staff needs to manually check the cloud system. It is all taken care by remote health checks and updates provided by the cloud service provider directly and the user is notified about the same via SMS or E-mail. Due to negligible physical parts, there are fewer chances of storage failures and frequent repairs. If our cloud servers can't connect to your camera, you'll receive an alert that something could be wrong.
2. Convenient accessibility
Remote access is not a priority for traditional storage systems as they have hard drives and data can be directly accessed from it. Whereas CCTV cloud storage options are based on the internet connectivity. Remote access is the only way of accessing the data no matter where it is retrieved. This gives users the convenience of checking the data from any place and he is not bound to be on the premises to manage things. Using the cloud for storage gives users the freedom to make any device with a digital interface their monitor, be it a smartphone, tablet, smart TV, or computer.
3. Safe and secure storage
Unlike the traditional storage options, the cloud-based CCTV storage is less prone to be damaged because of the simple fact that these are not physically present on the premises. They don't face the risk of being stolen or vandalized in case of an emergency. Moreover, cloud storage also creates backups from time to time to ensure the availability of the footage even in an extraordinary situation. Cloud data centers are also professionally backed up by guards and systems keeping a constant vigil. There is no risk of data being hacked in transmission from camera to the cloud servers as video transfers are completely encrypted so that no unknown can view it.
4. Flexible storage capacity
The total length of footage that can be stored in an on-site storage unit is limited by the hard drives installed. And because of the storage constraints, some data has to be deleted to store new data. Cloud storage provides the option of changing the storage retention with just one click from the system. It also solves the problems by providing flexible storage plans according to one's need and can be switched or upgraded if anything changes. This also helps to scale easily as plans can be easily upgraded for more storage and new cameras are pretty easy to configure to cloud storage with just one click.
5. Economical investment
With less equipment needed to set up CCTV cloud storage for IP cameras and a further reduction in maintenance cost makes cloud-based alternative a lot cheaper option saving the owner's hard-earned money. When compared to its counterpart, there are substantial savings in the initial investments and ongoing running costs. This is because there is no need for on-site expensive servers, storage devices, and excessive wires & cables. Moreover, the cost of expensive IT technicians in the maintenance of the system is also saved as all the updates and health checks are done via the cloud. Cloud storage providers just charge a monthly subscription fee for all the services starting from providing storage to updates and health checks. The cloud data center is shared with others as well and this makes economies of scale possible impacting the overall costs.
Cloud storage options are the best companions in scaling and managing the surveillance efficiently while regulating expenses.
Still not impressed with the CCTV cloud storage option?
Contact IGZY to get in touch with our cloud storage specialists and make CCTV cloud storage a part of your growth story.