Control humidity temperature using checkpoint temperature monitoring system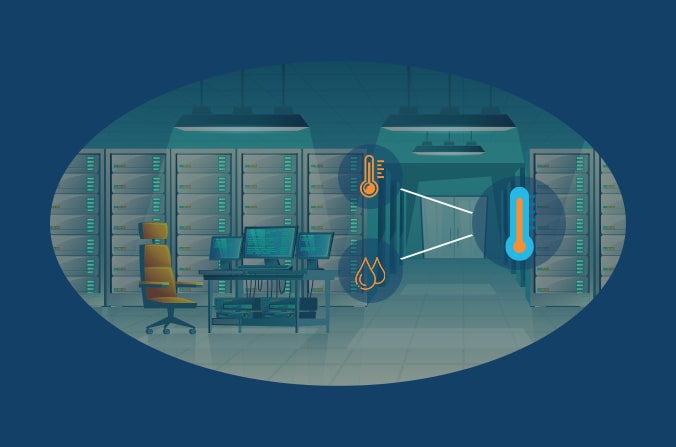 With the emergence of technology and increasingly sophisticated devices, we are on the cusp of a new era of productivity with IoT solutions. The Internet of Things technology has been growing rapidly and has already bypassed conventional systems in terms of features and functionalities. Its applications in the field of remote monitoring and advanced analytics are revolutionizing businesses and are offering exemplary benefits to them. One such application of IoT is a checkpoint temperature monitoring system.  A checkpoint temperature monitoring solution is immensely beneficial to industries where temperature plays a crucial role in defining the quality of their products.
Moreover, in a cold chain warehouse, a temperature monitoring solution allows a logistic manager to monitor and regulate the temperature of the item being transported in real-time. Get real-time alerts and instant notification on your devices anytime whenever if there are any deviations in the environment with our temperature monitoring security solutions. Automated IoT based temperature monitoring solutions detect any deviations and allows you to take preventive actions. By using this platform, administration head or security can remotely monitor the temperature of the system to efficiently manage the compliance record.
Use cases of checkpoint temperature monitoring
1. BFSI Industry Compliance
Overheating-related hardware malfunctions decrease as a result of real-time temperature monitoring. The temperature monitoring system can be installed and programmed to detect and ascertain possible cooling system failures.  These sensors could alert administration and security teams whenever a movement is detected.
2. Retail Industry Compliances
To help maintain comfortable internal environments, retailers can use wireless temperature sensors to monitor and regulate air quality. It can also remotely access and review temperature measurements from faraway locations. Any deviations can be notified immediately and preventive actions can be taken.
3. Food Safety Compliances
A major challenge for the food industry is to maintain hygiene and ambience management. Our smart sensors provide real-time alerts on change in ambient temperature, air quality, smoke levels etc. Our sensors can also help to know whether all safety protocols are adhered to build a pristine brand image.
4. Warehouse Management
Some products are sensitive to humidity & temperature and need to be stored in a temperature-controlled environment to prevent corrosion. By using IoT based platform, a manager can track and remotely change the temperature of the warehouse. This reduces inspection costs and helps companies to maintain the quality of their products.
BENEFITS OF TEMPERATURE MONITORING
1. Instant notifications and alerts
Our IoT platform offers instant alerts and notifications in real-time. It tracks the environmental parameters on a secure web/mobile-based platform to alert users to take corrective action to protect stock and save money thus elevating quick decision making for safety and security.
2. Advanced analytics
The data gathered from the temperature sensors can be used to create statistical reports for decision making. These insights will include the time duration during which products deteriorate and details associated with the temperature readings. This will help the organisations to improve the reliability of their business.
3. Accessibility
As IoT encompasses advanced telemetry capabilities, remote temperature monitoring from distant locations is also possible. The data gathered through temperature monitoring sensors can be accessed from faraway places on a web application or a mobile app to ensure ease of operations and efficiency.
4. Transparency
A temperature monitoring system can transfer the data to several profiles simultaneously in real-time. This increases the visibility to monitor the parameters through remote locations ensuring total visibility and safety of all your business sites with IoT enabled system.
5. Air quality maintenance
This feature ables to detect temperature and humidity which can be used to monitor the air conditions in different environments and determine their quality at any time. Filters out harmful smoke and grease from surrounding air for a healthy environment
The use of checkpoint temperature monitoring systems has enabled and regulated the change in affecting the quality of the products. Their implementation in different sectors has empowered the efficiency of a company. This solution of the sensor allows companies to monitor the temperature of their products and integrate corrective actions with their existing facility management solutions.