How to choose the best cloud camera solution for your enterprise?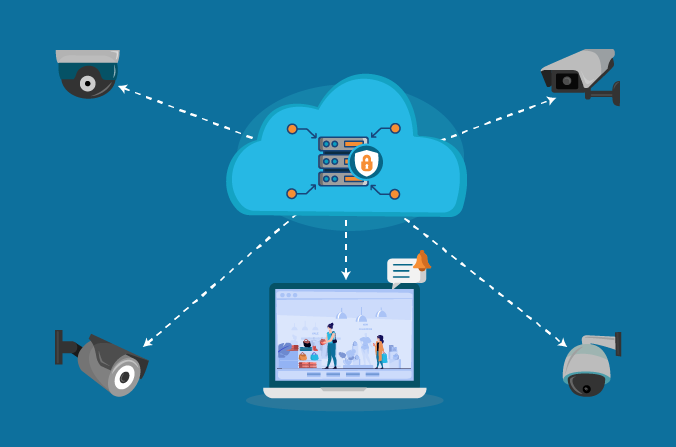 Video Surveillance with cloud IP cameras is a must to ensure the overall safety of your valuable assets and of the employees working for you. With a wide range of cameras available, choosing one that would be a good fit for your business is also crucial for the enterprise.
CCTV cameras have been one of the most common forms of surveillance available. With the explosive growth of E surveillance, leveraging on AI, the use of IP cameras has taken over the surveillance scene. The numerous benefits of IP-based video surveillance to a company's safety have led to this switch between technologies, where the basic idea is to deter & protect rather than just record.
To monitor, detect and deter potential threats and injuries while enjoying cloud storage & analytical facilities, the video surveillance industry is switching to IP cameras.
Introduction
Massive cloud adoption, lower upfront capital & economies of scale offered to businesses with the adoption of IP installations has made operations easier to manage. The movement from traditional CCTV surveillance technology to IP surveillance solutions provides enterprises access to a much broader functionality.
Cloud based security camera systems offer the possibility of almost unlimited coverage and control as compared to others. The solution facilitates additional cloud backup, easy setup & remote configurations, instant alerts & effortless centralized management of all analytics via a cloud backed unified platform.
While choosing the right IP camera for your enterprise, a few things should be kept in mind.
Type of camera
These got their name from their dome structure, providing flexibility & discreetness to surveillance solutions while being inherently unnoticeable. The low profile nature helps when trying to avoid vandalism. The camera lens is also protected by the dome. These cameras tend to blend in with the environment near them and can be connected to the internet to view the footage. They can cover a massive area, so few cameras are required as compared to traditional CCTV cameras.
For an enterprise looking for cameras that aren't outwardly noticeable but also facilitate high-quality coverage, dome cameras can be the right camera. (Remember, the discreteness of your surveillance camera does not mean you can discreetly capture the footage of your employees. Your enterprise must have clear notice about the presence of a CCTV camera in the facility.
A PTZ camera is a camera with pan, tilt, and zoom functionality. Being able to move the camera means you can use a single camera to monitor a site from different angles and cover a broader range of visibility. With the ability to watch over & manage the facility with increased efficiency, security professionals can deter multiple security threats & injuries.
If you're monitoring large areas such as warehouses, a PTZ camera allows you to monitor the overall site and focus on suspicious activity. This gives you a more flexible and functional surveillance system, and lesser cameras are required to monitor the facility.
Infrared cameras let people see what their eyes can't due to low light present in the environment. These cameras are made for low-light surroundings, and they are immune to any visual limitation at night as compared to a traditional CCTV camera.
These cameras capture infrared images that can distinguish targets from their backgrounds based on the radiation difference, which works well in all-weather and day-night conditions.
Type of footage storage
Digital Video Recorders (DVR) have been used in the past to store data recorded via surveillance cameras but no longer fulfil the multiplying requirements of different industries.
These video recorders are compatible with analog technologies, limiting the benefits of such a reactive security surveillance solution. The cameras are incapable of processing the data, depending majorly on the DVRs for any processing or transmission.
The DVRs store data onto hard drives and do not provide the benefit of any cloud based back-up.
Network Video Recorders (NVR) provide remote accessibility and easy installation setup. NVR recorders are used for storing and viewing video footage, and they make use of Ethernet cables for facilitating real-time monitoring.
Facilitating IP cameras and related analytics, they provide high surveillance image quality as they send digital signals from the camera, remote access as they are connected to the internet, and easy installation as they are wireless. There is no need for cables for these plug-and-play cameras.
Cloud managed video recorders (CMVR) provide remote accessibility, cloud data backup, centralization across multiple sites and ease of communication via different channels like SMS, app based alerts or emails.
The CMVRs enable you to store data on-premise as well, allowing you to manage the data locally, scheduling data transmission onto the cloud and taking on multiple functionalities.
Hybrid Video Recorders (XVR) bring compatibility to the table, enabling both analog & IP cameras to connect with the video recorders.
These make your solution especially scalable without putting too much pressure on your wallets. Your existing hardware can be supported with these recorders, so that you can build on your surveillance solution with one product at a time.
Features you Need
1. Effortless central management  
Cloud storage is a significant use case required by enterprises. Keeping their data away from physical threats & storing it for longer durations enables the management to retrieve any data at any time. Added to this advantage is the management of all intelligent analytics on a unified cloud-based platform. All the data that is stored in cloud gets analyzed in real-time to provide management with accurate insights into the operations of the facility. These may include the energy consumption over a month across multiple sites, the fluctuations in temperature across sensitive areas, footfall of a particular store, etc.
The analytics also include smart sensors & camera-based detection like motion, smoke, humidity, etc. Any fluctuations in the opening & closing time of the premises or incompetency of employees during operations get notified on the platform for escalations to manage remotely, in real-time, or at a later hour.
2. Video analytics & Instant alerts
One of the main benefits of E-surveillance is real-time alerts. These alerts are sent instantly as app notifications, text messages, or email on detection of a hazard or accident. The alerts can not only avert a theft or pilferage but also help minimize the after-effects of an accident.
The video analytics include:
Footfall counting & heat maps
You can monitor all the people entering your premises, deducing consumer insights into products of high demand (with heat maps).
This cloud service notifies employers of the high energy waste points, allowing them to make amends after the total energy consumption levels of their premises are recorded via sensors
Easy setup & configuration
Easy setup and Configuration management is essential to keep accurate configuration records and to help organizations avoid potential challenges or problems within their connections. Company's should have a precise picture of their device connections.
3. Scalability of solution
Scalability is essential in today's video surveillance market. The explosion of new IP Cameras, and sensors is driving intense new scalability requirements for video surveillance systems.New eras IP cameras with cloud allows companies to expand their surveillance with experiencing expansion across their business, without additional costs.
4. Remote control via Web browser & mobile application
Web browsers and applications are required to view the footage remotely. So the company can act accordingly and for this web browser and app based accessibility is essential. IP cameras with Cloud storage video solution allows users to access the platform directly from their smart mobile devices, via applications or web browsers, in the presence of a secure network connection. With the proper credentials, authorized personnel can monitor all devices remotely.
Final Takeaway
There are essential features required for a camera in the new era of surveillance. These include easy app based visibility that is easy to set up & configure remotely, when needed. The solution must provide video analytics & related alerts in real-time, backed by cloud storage that enables central management of all analytics and big data on a unified platform.
IGZY as an e-surveillance provider has a solution to fulfil your diverse needs. From simple solutions that provide 24*7 recording to a single site to multi-site surveillance with smart analytics and cloud backup, we can provide you with your dream solutions.
To know more about our products & solutions, contact us today!