Shielding Warehouse with Cloud Platform Solutions to Detect Perimeter Intrusion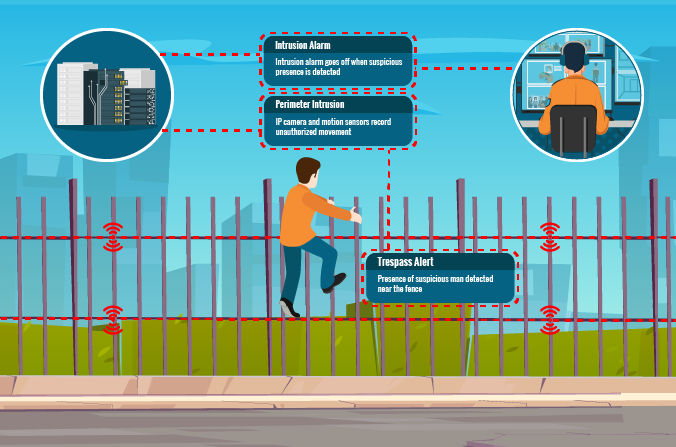 Logistics, as an industry, has been transformed by artificial intelligence (AI), which has created boundless opportunities for innovation in this space. Hence, the need of the hour is for intelligent, innovative warehousing technologies that apply suitable algorithms to complete tasks such as intelligent supply chain, inventory management, transit prediction and security.
While catering to increased demand in various markets, modern warehouses today face many challenges from tracking, sorting, and transit operations for seamless delivery. High-security risks are one of the biggest and most commonly encountered problems. These warehouses are usually set up in the city's outskirts with proximity to transit hubs such as railways and airports. Since warehouses have multiple entries and exit points, they are vulnerable to frequent attacks from trespassers, leading to financial losses for the company.
Perimeter protection is a highly integral aspect of warehouse security, especially if the warehouse has a large surrounding area and is located remotely. IP cameras, video verification systems, glass break detection and door protection, are critical elements of an optimal perimeter warehouse security system.
Industry statistics show that warehouse locations remained the most commonplace for cargo thefts. Many enterprises these days are looking for technology-driven, state-of-the-art, highly advanced surveillance infrastructure for one's warehouse to avoid security threats like theft, burglary, and vandalism.
With a highly scalable and robust Perimeter Intrusion Detection System (PIDS), which offers an end-to-end solution that includes:
Detecting persons who have been attempting to gain unauthorized entry into the premises and identifying the length of unauthorized stay
Capturing the image of the intruder
They identify suspicious activities (odd hours, scaling walls, unauthorized package removal etc.) around the warehouse premise.
IoT and AI-backed sensors attached can detect if a person is trying to break open in a warehouse or manhandle any equipment. In such a scenario, the perimeter intrusion detection system transfers an alert to the platforms and informs authorities about the perimeter intrusion and deter the crime before it happens.
Following is a 7 Step Guide to Warehouse perimeter intrusion detection with cloud surveillance solutions:
1. Cloud CCTV installations for security maintenance:
With cloud storage, video footage can be retained easily in remote servers and is accessible virtually anywhere with an internet connection. Unlike CCTV systems, cloud surveillance solutions don't require technical configurations (i.e. opening ports and firewalls) to enable remote accessibility, thus eliminating a significant amount of the security threats associated with traditional NVR- and DVR-backed video security systems. They offer easy remote accessibility, flexible Storage, and maintenance is easy.
2. Night guarding with smart devices:
Perimeter protection plays a crucial role in any physical security system for all businesses. The unreliability and inefficiency of guards can majorly increase the risk of intrusions and other incidents in monitored areas. The trouble is severe at night due to limited human involvement. Advanced cloud cameras are equipped with more advanced night vision infrared (IR) illuminators that can automatically adjust their brightness to the scene. This feature is called "Smart IR", and it matches the camera's infrared light output to the location. With Smart IR, the subjects appear adequately exposed and in full detail. If a camera cannot capture and deliver a properly exposed and sharp image during the day and at night, it has limited usefulness.
3. Intelligent detection with quad beam and motion sensors:
A motion sensor (or motion detector) is a vital aspect of any security system because it detects when someone is in your location when they shouldn't be. A motion sensor makes use of multiple technologies and detects movement in an area. If a sensor detects motion, it sends a signal to your security system's control panel, which connects to the monitoring centre. This system alerts the manager and the monitoring centre to a potential threat in the warehouse.
4. Cloud backup of security footage + local storage:
With the emergence of the Cloud, storing and backing up large amounts of data has become affordable and easy. The Cloud helps a user to store and access data whenever required. With the Cloud as the backup option, the CCTV Backup allows users to integrate their security system with cloud storage giving their CCTV security system an edge over local storage systems. Besides being a cost-effective CCTV backup solution, CCTV Backup is power-packed with several features. It enables easy integration with most CCTV security systems. It also allows remote access, which means CCTV footage can be accessed in real-time or later from anywhere using your PC, laptop or smartphone.
5. Real-time monitoring & live streams of multiple sites & angles:
When it comes to providing safety and security, nothing can be compared to a live video surveillance system. It must be noted that in this day and age, live video surveillance systems are an effective way to protect one's warehouse in real-time from numerous criminal activities such as theft, intrusion, and vandalism. These systems allow the manager to act immediately when an unwanted incident takes place. Immediate action is crucial for handling any such activities that may take place on one's business property. With an effective surveillance method that considers a wide-angle coverage, even the most remote corners of the warehouse can be protected easily.
6. Instant notifications on the platform, via SMS & email:
In Cloud Monitoring, an alerting policy describes the circumstances under which an enterprise wants to be alerted and how they want to be notified. Alerting gives timely awareness to problems in one's cloud applications to resolve the issues quickly. In Cloud Monitoring, an alerting policy describes the circumstances under which you want to be alerted and how you want to be notified.
7. A 2-way audio system to deter any unauthorized entry:
Two-way audio is a feature that allows you to communicate through your security cameras. The wireless security camera will then use wi-fi to pair with an app on a mobile device. Using the app, one will be able to access a live stream of what the camera sees. At any point, if the camera uses motion detection, one can access the video footage. Using the same app, one can listen to what is happening on the other side of the camera. If there is a need to talk to the person on the other side of the camera, it can be done through the two-way speaker.
Conclusion:
Perimeter Intrusion detection is an essential component in protecting critical assets and resources in a warehouse. While detecting unauthorized physical access, the algorithm is fed the video stream directly from the source, and it detects and raises an alert about the presence of any suspicious entity. The solution detects intrusion and raises the alarm on suspicious activities to notify the security guard or command centre. Hence, to ensure long term security and effectiveness of the processes in one's warehouse, it is highly recommended that an enterprise implements cloud-based surveillance either with a system in-house or partner with a vendor.
Curious to know more? Contact us here and we'll tell you all about our perimeter intrusion solution & much more!