CLOUD SOLUTIONS FOR SME SURVEILLANCE AND OPERATIONS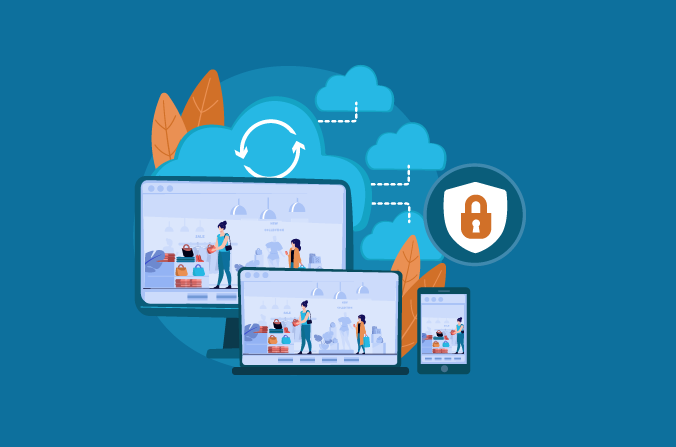 Small and medium enterprises usually have limited stocks and investment scope, putting them under tremendous pressure. With limited security budgets and resource restraints, these enterprises become easy targets for intruders and staff members trying to grab an extra penny without working for it. Cloud solutions are crucial in cases like these. Providing an integrated solution that expands security reach, improves enterprise performance, and enhances ROI.
DOING MORE WITH LESS
Cloud security solutions enable SMEs to employ their limited resources for optimizing results. Contrary to popular belief, cloud solutions do not require more investments than traditional systems. It's quite the opposite.
Cloud solutions provide a composite structure of surveillance that requires lesser investment in hardware, automatically reducing the cost of installations and on-site repairs. Along with being an economical solution, it allows users to plan and add more products to the solution in the future. All footage and data, as well as analytics to improve site performance, can be found at a one-stop control panel, making monitoring easier.
Diving into the benefits of cloud solutions for the security of small and medium enterprises, let's learn how video surveillance solutions can transform the way you carry out operations.
No more fragmented surveillance solution
An integrated ecosystem is one major attraction of cloud surveillance solutions. Rather than investing in separate solutions to fulfill diverse requirements that can go over your budget limitations relatively quickly, a modern surveillance solution integrates all these functions onto one platform. These enable a broad scope of use cases from site security, fire safety, and employee monitoring to energy monitoring, footfall analytics, and sale conversion rates.
No video recorders and storage devices on-premises
A cloud surveillance solution has erased the idea of local storage being the only possible way of keeping data safe. While on-premise storage is still beneficial, depending entirely on data stored on a hard drive, accessible by all employees may not be the best option.
Cloud solutions employ IP cameras that do not require a video recorder; these cameras can compress footage and transmit it directly onto the cloud via a network connection.
This solution saves the cost of hardware, wiring, and possible repairs and makes the data safe over password-protected virtual storage.
Cloud Storage
Storing footage on cloud ensures secure data retention for extended periods (package-based). Users can view, retrieve, download, and share the data whenever they want. Cloud storage is accessible by any authorized personnel, allowing them to retrieve data by simply logging into the mobile application or using the web-based dashboard. Long-term cloud footage retention enables you to retrieve real-time as well as historical footage, providing evidence in case of any discrepancies.
'Pay as you go' and get what you pay for. Depending on your needs, you can choose up to 2 years of cloud data backup.
Watch all camera views and sensor readings at one place of control
All camera and sensor recordings can be viewed, retrieved, downloaded, or shared via cloud-based platforms, which can be accessed through a web browser or a mobile application. This unified dashboard facilitates site performance reviews, not requiring you to jump between platforms to manage different devices.
Analyze all parameters on a single platform
Other than carrying out surveillance on-site, present-day surveillance structures provide you deep insights into the weak points of your enterprise by analyzing business data daily. For your retail store, it could mean monitoring the footfall to sales conversion rates; for your warehouse, it could be the energy consumption levels or the CO2 levels in your cloud kitchen.
Connect remotely with mobile devices and monitors
As the owner or supervisor of a facility, you may not be present on-site to follow monitoring steps. Cloud solutions have taken away this requirement by enabling you and all other authorized personnel to monitor the site from any place across the globe directly. All you need is authorization and a remote device with a sturdy connection.
Spend less while investing in hardware
Cloud solutions have limited hardware requirements, cutting down on your expenses. Combining its network connectivity and power supply over a standard POE line, the wiring costs are practically halved. The solution doesn't require an on-premise recording device (but can choose to have both cloud and local storage) as the data gets directly transmitted onto the cloud.
IGZY's Integrated Cloud Solution for SME Security concerns
The size or scale of a business does not represent the security challenges it might face. Grocery stores are still broken into; restaurant employees are attacked, students are bullied in coaching centers, opioid medications are sold to unauthorized people. Irrespective of the type of business, some measure to ensure the safety of the entire organization and all the people involved has to be maintained.
IGZY's cloud video surveillance systems integrate all possible security use cases into a single solution, enabling you to monitor every nook and corner of your enterprise at all times.
Intrusion Detection + Access Control + Remote Monitoring + Cloud Storage + Energy Management + Edge Analytics + Hygiene and Safety Protocols + Hardware Onboarding
Intrusion Detection
Monitoring who enters the premises after closing times or tries to force their way into sensitive areas with a perimeter intrusion detection system.
Motion Sensors – These sensors can detect any movement, and according to the parameters set, send alerts to surveillance staff.
Night Vision Cameras– These assist users during overnight watches. The Infrared cameras enable 24*7 monitoring, relieving you of the cost of investing in night guards.
Access Control
Monitoring anyone who opens a door or enters an area restricted to the general public or even some employees.
Smart Locks – Requiring a one-time password for access, these intelligent locks restrict entry to unauthorized staff and intruders.
Door Sensors – Every time a door is opened, the sensor detects and notifies responsible personnel, keeping tabs on the number of times the door is opened.
Shutter Sensors – Once shutters are drawn after hours, any forceful or untimely entry gets detected, and alerts are sent to the escalations as well as the command center that monitors your site 24*7.
Remote Monitoring
The cloud platform based solution lets all authorized personnel monitor their site's security and performance.
Web-based Dashboard– A single point of control for all cameras, sensors, analytics, and data retrieval to make site monitoring easy and hassle-free for you.
Mobile Application– Taking remote monitoring a step ahead, the mobile application enables you to monitor your site on the go.
Alerts and notifications– Real-time alerts are sent to you via emails, SMS, or app-based notifications, keeping you in the loop of all activities taking place on-premise.
Energy management
Energy meters installed on site can provide insights into high energy consumption areas, problem areas with greatest fluctuations or probable outages. The energy management solution monitors energy consumption across premises, and deduces areas that require modifications.
Edge Analytics
Besides securing a site from any external harm, you can monitor your site's overall performance and optimize efficiency.
Footfall Counting – The cameras and sensors are equipped to detect the number of people entering the premises, detect their genders and even tell them apart from the guards and employees(uniform detection).
Sale conversion – With sensors placed in different areas, you can find the exact number of people entering your store and the actual number of sales, deducing insights into sale conversions.
Staff- customer ratio– During rush hours, it is important to maintain the right staff and customer ratio, ensuring proper customer service. Cameras, equipped to count the footfall into the store can also segregate staff members based on their uniform, notifying you of the number of employees present.
Heat Maps– Finding areas that interest a majority of the customers can be helpful to learn about the product demands (depending on the products on shelf), the type of people in store(depending on whether they're buying men's beard oil or a dress for a toddler); and other similar insights.
Hygiene and Safety Protocols
IGZY's cloud solution monitors employees' adherence to safety and hygiene protocols like wearing masks, protective gear and maintaining an optimum site environment.
SOP Monitoring – The system can be trained to detect any anomalies in employee performance. These can include non-adherence to cleaning schedules, absence of safety gears, and monitoring site opening/closing times.
Smoke Detection – The intelligent sensors detect smoke or flames and send notifications to the surveillance staff, evaluating the situation and taking necessary steps.
Air Quality – Our air quality sensors detect the presence of toxic gases and send real-time alerts if the level goes beyond the accepted threshold.
Hygiene Management – Our proactive solutions auto-detect deterrence from hygiene protocols, such as absence of caps & gloves at production sites, kitchen or other operational areas.
Rodent Detection – Playing an important role in maintaining hygiene standards, the IP solution can be trained to detect presence of rodents and other small animals in kitchen and stores.
Hardware Onboarding
Businesses that have already invested in their surveillance hardware can integrate their devices onto our smart solution.
Hybrid Video Recorders (XVR) – This onboarding requires a hybrid video recorder compatible with both analog and IP-based systems.
IGZY's cloud solution helps bring you closer to a more efficiently performing enterprise without charging you a fortune or confusing you with complicated processes.
Our customizable solutions cater to your personalized requirements, and our PAN India presence ensures the long-term health maintenance of our installations.
To know more, connect with us today!