Dome camera: is it the right surveillance device for your business?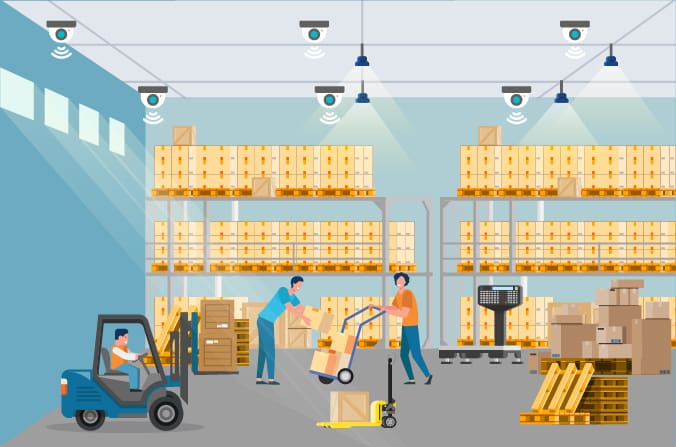 A dome camera can be used in a variety of settings, from indoors to outdoors. Being extremely versatile and weather proof, dome cameras have found their utility in a wide range of environments. While their discrete built and compact set up becomes inconspicuous to an intruder's eyes, its utility goes far beyond its size. These are capable of recording high-definition footage and audio, detecting incongruencies in different environments (depending on the model of the camera).
With their easy installation, suitable set up and varieties to choose from, the right dome camera can be the answer to your surveillance problems.
Why is a Dome Camera best suited for your business?
A business is always in the need of a surveillance setup that allows it to stay protected in lieu of a disaster and also adds value to its operations. Present-day IP surveillance solutions provide enterprises with their required solution and much more. Establishing an integrated setup, the edge devices monitor the premises and send real-time notifications to authorized personnel, who ensure that the premise stays secure.
These cameras with their discreet setup, vandal-proof housing, and night vision abilities make it suitable for application across all major industries and business setups.
Compact and discreet
Dome cameras have always been a favourite for enterprises trying to be discreet in their surveillance. No employer wants their employees to feel like a camera has been shoved onto their faces. At the same time, maintaining continuous surveillance over their activities is a basic requirement that employers cannot ignore.
With small and compact structures, these allow employers to monitor their offices and storage units, without worrying about being overly distracting. This feature not only supports indoor surveillance but also plays a big part when it comes to protecting premises from outsiders. For employers who prefer discreet surveillance of access areas or fire exits (or areas where outsiders might not expect to be under observation), dome cameras become their first choice.
Tamper and vandal-proof
You know what's more enticing than a discreet and compact surveillance set up? One that cannot be manhandled easily. These cameras are designed for a universal application, irrespective of the weather conditions or the rugged handling it might be subjected to. The solid metal base and vandal resistant polycarbonate plastic cover make dome cameras perfectly suitable for all types of areas, especially those prone to vandalism or tampering. These cameras, being completely enclosed and requiring special tools to open the dome cover, provide indisputable surveillance. This strong set up makes a dome camera perfectly suitable for premises like warehouses, banks, factories, and more.
Night vision
A dome camera is usually equipped with night vision capabilities, making it the right choice for enterprises that require round-the-clock surveillance. Cameras with thermal night vision detects thermal energy (heat) radiating from different bodies, detecting the minor differences in their heat signatures and displaying them as shades of grey or with different colours. In other words, these smart cameras detect and make images using the heat emitted from the bodies. Other dome cameras might project beams of infrared energy, detecting objects in its path and their distance from the IR source with the help of bouncing back (reflection) of light.
Suitability
A dome camera finds suitable application in diverse conditions, whether indoors or outdoors. Being weatherproof, no harm comes to these devices when installed around premises situated in areas with diverse conditions. Their rugged and vandal-proof structure makes them the appropriate choice for areas subjected to harsh conditions.
Variant deployments
While a dome camera is a type of surveillance device, it too has different types, making it more suitable for specific use cases. Depending upon the area to be monitored, the type of solution required, or the level of discretion needed, different dome cameras can be used to suit these requirements.
Analog dome camera
Just like any other analog camera, a dome camera requires external wiring and a local data storage that can be accessed at a later hour. The camera enables live streaming of the premises, allowing surveillance members to monitor the site in real-time. However, owing to its limitations, in the absence of human vigilance, this system is not equipped to analyse or transmit data directly to authorized personnel or alert anybody in case of any intrusions or mishaps.
IP dome camera
Internet protocol cameras can record, transmit and analyse footage in real time, while notifying surveillance personnel of any discrepancies in the environment. Making these surveillance systems more agile in comparison to analogue surveillance mechanisms, an IP dome camera provides better surveillance to any premises. This system does not require continuous human intervention and saves employers from investing in excessive infrastructure. With an on-cloud data storage, it reduces the chances of the data being manipulated, overwritten, erased, or stolen.
Fixed dome camera
Dome cameras, with their vandal-proof encasings and high-definition imagery, provide the perfect solution for the security of any premises, indoors or outdoors. These cameras, equipped with tamper detection features prove to be extremely intelligent and swift. Being able to withstand extreme weather conditions, tampering, and vandalism, a dome camera can be stationed around warehouses and production sites, especially those situated away from the city. Their ability to send real-time alerts when their field of view is blocked due to spray paint or any other covering over the lens, makes it a viable option for areas like banks and retail stores.
Mobile dome camera
While fixed dome cameras are best suited to provide surveillance to large buildings and set up, mobile dome cameras find utility in vehicles like trains and buses. Similar to fixed dome cameras, these too are endowed with rugged dome encasings that can withstand brutal conditions. Equipped to stay focussed irrespective of the movement of the vehicle or the fluctuating levels of light in its surroundings, these cameras ensure passenger safety.
PTZ dome camera
A pan, tilt, and zoom camera does exactly what its name denotes. These cover wider areas that require to be monitored and provide high-quality zoomed images that assist employers in case of any unprecedented occurrences.  While it allows employers to cover a wider range of field on any normal day, it can also restrict one's field of vision. When used to zoom into an area or tilt in a particular direction, it renders all the other areas unmonitored and thus at a loss of being broken into without being caught.
A dome camera is a surveillance device that allows employers to enjoy high-security benefits without having to worry about the camera being played with. Its rugged dome casing and metal structure makes it a reliable surveillance tool for any enterprise or even households. With most dome cameras being equipped with night vision abilities, they support organizations by providing round-the-clock surveillance. Whether it is the interior of an office building or the exterior of a bank, a dome camera is capable of securing any site (provided that the right type of dome camera is installed). Perfect for discreet surveillance, these cameras are often a winner for different outlets due to their aesthetic appeal, while others prefer it due to the uncertainty of where the camera is focussing.