How video surveillance is solving healthcare safety and security challenges in India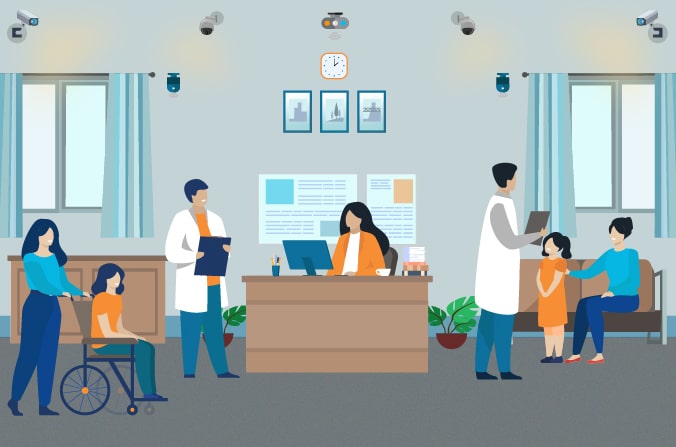 HELPING YOU PUT THE CARE IN HEALTHCARE
The healthcare industry in India is facing a variety of challenges these days. Hospitals and other medical facilities struggle to fully protect patients, doctors, nurses, staff members, and visitors from a diverse range of threats.
IGZY understands your industry and meets your needs with our intelligent video surveillance security systems. Equipped with high-level video surveillance technologies and AI-based CCTV cameras backed by a unified Internet of Things (IoT) platform, IGZY helps reduce the risk of theft, vandalism or fire, and ensure government regulations and hospital SOP adherence.
We understand your risks & challenges
Some of your risks may involve fire and life safety concerns, guarding sensitive medical records, high-value clinical equipment, research and clinical trial data, pharmaceutical and medical supply inventories.
Your challenges may include intrusion detection and prevention, CCTV device health management, energy management, perimeter security, visitor and vehicle access control, CCTV video storage and retrieval, etc.
IGZY is the single-source provider of security and fire solutions for medical facilities that can provide safety planning and risk assessment, systems integration, installation, service, and security monitoring across India.
How igzy can help you?
We don't offer you prepackaged solutions. We know you want solid advice, technical expertise, innovative thinking and consistent delivery performance that are scalable.
You can integrate our video surveillance solutions with other security systems, such as intrusion and access control systems. They can also be monitored 24/7 by the professional team at our central monitoring center.
IGZY provides a suite of solutions to help healthcare facilities deliver an added security level, peace of mind, and superior attention to its patients.
Whether it is keeping at-risk people from leaving the hospital unattended or a faster response by healthcare providers to a patient's request, or delivering an increased level of care and security to infants and their parents, IGZY can customise a solution that fits your medical facilities' needs.
Our smart tech solutions provide enhanced security & safety
In the past, the health and safety industry has invested in video surveillance solutions to assure staff safety while carrying out regulated high-risk activities.
Within the current Covid-19 environment, video surveillance can identify the proper wearing of facemasks, social distancing, and hand hygiene measures in medical facilities.
IGZY's digital video surveillance solutions offer basic and advanced high-definition IP security cameras, Network Video Recorders (NVR) or enterprise-level servers to record and manage video operations. From remote web management and viewing to cloud storage, you can access real-time and recorded video to help make security decisions anytime, from virtually anywhere.
1. Regulatory compliance & risk mitigation
IGZY can help you develop a comprehensive risk assessment, evaluating each of your sites for the different types of risks that could affect your capacity to deliver the highest level of care and imperil your ability to remain in compliance with government regulations.
Our integrated approach focuses on realising implementation efficiencies while minimising the impact on your staff, patients and bottom line.
2. Maternity ward & infant safety
Our video surveillance solutions help protect babies and patients in the maternity ward from the threat of abduction and baby swapping and provide real-time visibility and location monitoring.
Integration with access control and emergency communication systems provides a comprehensive security solution for one of the most vulnerable patients in hospitals – newborn babies.
3. Hygiene management & disease control
Good hygiene in hospitals plays a vital role in ensuring that patients do not catch dangerous infections and diseases while ensuring that germs and bacteria cannot spread to visitors and the general community.
From doctor-patient contact to waste disposal, video surveillance and analytics play an essential role in recognising and observing hospital hygiene SOPs and preventing hospital infections and the spread of disease.
4. Slip, trip & fall management
Slip, trip, and fall monitoring is helpful in hospitals. The video surveillance system can process images to detect if a person has fallen and inform emergency management staff when needed.
5. Fire & life Safety
By working with seasoned professionals on your comprehensive fire and life safety plan, you get the help you need in preparing you to deal with any challenges before they occur.
Working with IGZY means safeguarding your investments both in hospital staff and facilities.
Our extensive range of fire service offerings includes everything from installation to advanced monitoring services, inspection, testing, and maintenance from highly trained and certified specialists.
6. Intrusion Detection System (IDS)
When it comes to protecting your hospital from break-ins or trespassing, have you covered all your risks, or are there gaps in your intrusion detection?
We help you detect unauthorised access into your building with intrusion alarms.
Protecting your medical facilities is crucial, and installing a system that addresses your challenges and gives you the protection you need is a vital decision.
Working with a reliable partner you can trust, like IGZY, is critical.
We can help you protect your organisation with proven, reliable technology. Whether you are on-site or in another country, our state-of-the-art intrusion detection solutions and monitoring services give you peace of mind so that you can focus on running your hospital efficiently.
Instead of providing a one-size-fits-all solution, we design protection that takes the form of your hospital, helping you choose the most robust intrusion detection system with the most advanced technology.
7. Perimeter monitoring
In the healthcare industry, video is of the utmost importance in securing your external premises and entry/exit points. Whether your purpose is to keep unwanted people out of an emergency-care situation or prevent dementia patients from exiting a senior care facility, perimeter monitoring is essential.
IGZY's surveillance systems can alert security staff when individuals either enter or exit secure areas without proper identification procedures or utilizing facial recognition features to ensure that the person on camera who entered a secure site is the person they claim to be.
8. Access control
We help secure all of your entrances and exits, including visitors and vehicles with an access control system.
From reducing theft and violence to maintaining your facilities' security, there are multiple reasons for implementing effective access control. Trespassers, disgruntled customers, and dishonest employees pose significant risks to hospitals of any size, but access control systems installed and managed by a company you trust will help decrease these risks.
9. Business intelligence & reports
Our video and hospital security systems help you to enhance your business intelligence.
We help you make sense of the vast amounts of data with detailed web-based dashboards and reports so you can make better decisions. To make the most of your security investment, you need historical data and video recordings available at the touch of a button. You also need detailed reports that help you make sense of the raw data in real-time.
With IGZY, you receive the tools you need to view, manage, and analyse activity at all your sites to help you gain the most from your security system investments.
10. Audit compliance & forensic evidence
Video helps control operational costs and gives you an extra layer of protection to your hospital.
Our video surveillance systems can help create audit trails for compliance by providing visual documentation and forensic proof, particularly in highly regulated industries, i.e. pharmaceuticals, medical and healthcare services.
Whether your medical facility needs an IP-based enterprise-level solution with hundreds of cameras or a simple CCTV camera system, IGZY has the technological expertise and resources to serve your needs.
11. Video analytics
Video analytics allows you to understand the data behind visual streams. It can detect inaccurate processes performed by a staff member and alert the proper remediation.
You can use analytics to identify potential threats that might otherwise be missed by security personnel. Analytics will help hospital security teams identify suspicious baggage or human behaviours, mainly if these alerts are triggered in areas that should not have much foot-traffic.
We use advanced, pattern-based video analytics to cover high-threat areas in hospitals or specified zones. If your surveillance system is triggered, the alert and video footage of what caused the alarm are sent to IGZY's central monitoring center and your PC or smartphone.
A highly trained specialist from our monitoring center will then review the alert and verify the crime and call emergency services if required. Video records can be stored on the edge device, the cloud, or on-site using DVRs, NVRs, and IT servers.
12. Video monitoring
We can help secure your healthcare facilities with around-the-clock, professional protection with alert-based video monitoring. We also provide live security monitoring through our state-of-the-art central monitoring center.
Our digital video recording solutions include DVRs, NVRs, and networked servers that provide bandwidth-friendly solutions. They enable your security team with remote access to the surveillance system to examine and investigate incidents using analytics and tools that pinpoint video events.
IGZY's central monitoring services can help to increase your efficiency while mitigating your losses.
13. Integrated solutions
We know the value of combining your IT and security teams to help minimise risk to your hospital.
For healthcare facilities looking to optimise their defences' capability, IGZY helps merge your IT and security teams seamlessly. When these two teams unite, your entire hospital benefits through increased reliability, security, and cost savings.
Our solutions would be right for you if you need high-end integrated solutions linked with complex IP networked systems. Our industry-leading approach will help you attain topmost efficiency by combining technologies and customising solutions.
In many instances, IGZY's integrated solutions team may be able to work with your legacy IT infrastructure and video equipment, or we can help you upgrade your security and efficiency by building and deploying a state-of-the-art digital surveillance system.
14. Managed services
Managed services can help your hospital improve business processes, decrease network security risks, and improve your physical security. We help optimise your security programs with interactive remote video and custom-designed monitoring applications.
Managed services can allow your business to focus on its core competencies, while we help provide peace of mind by helping you keep your security systems ecosystem operating as expected – while your system is monitored, your hardware is checked, your software is updated, and your bandwidth is managed.
Through our partnership, you'll know that your company is protected 24/7, all while staying within budget.
15. Installation, inspection & maintenance
Protecting your business with advanced technology is our mission, and our skilled professionals understand the investments at stake.
We professionally install your system with certified hardware, conduct routine inspections, and stand by for any needed service calls or repairs. We plan, implement, test and support highly reliable, scalable, and secure network cabling and low voltage cabling systems that will help meet today's requirements and those of the future.
If you run a multifaceted hospital, we're just the partner you've been looking for. We meet advance security needs such as those of clients related to BFSI, Logistics, Warehousing, Retail, Hospitality, and other industries.
With a pan India presence, we are ready to serve you anytime, anywhere.
16. Customer service
We're passionate about delivering excellent customer service.
From resolving service calls promptly to providing the support of certified professionals at every point of interaction, we aim to deliver projects efficiently with least interruption to you and your hospital.
We've grown our technical competency to serve clients uniquely, with the scale and expertise to meet your needs throughout India.
IGZY – Redefining protection in the healthcare industry
Our customers tell us that handling a fragmented ecosystem of multiple security guards, fire suppression equipment, and CCTV camera providers aren't their ideal choice, and we can help solve those problems too.
IGZY can help you select the video surveillance system that is right, not only for your medical facility but also for your budget. Additionally, our high-level video solutions can be integrated with other technologies, including intrusion detection systems, to deliver a comprehensive strategy to secure your healthcare facilities.
Switching security providers may seem like a stressful task. We make it easy with our painless, reliable, and highly efficient onboarding process.
Our team of professionals is here to help.