IoT Energy Management and it's future!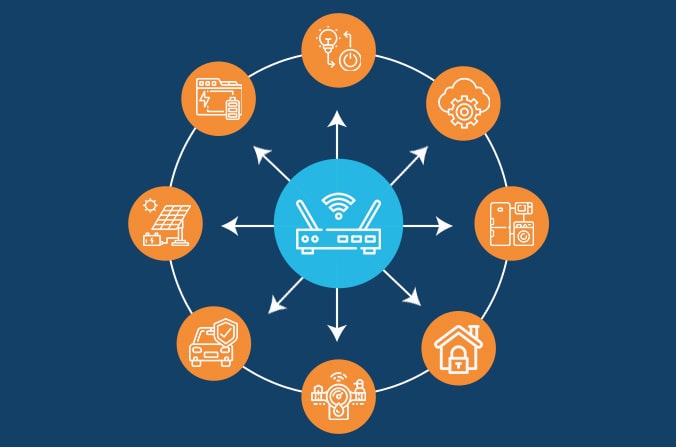 IoT Energy Management is a process that includes planning and management of energy consumption patterns in different industries. Internet of things Energy Management is designed to monitor and optimize energy compliance thereby improving better capacity utilization, boosting business productivity, reducing maintenance & man-power, and increasing the reliability of energy assets.
The global Internet of Things (IoT) in energy market size is expected to grow to $35.2 billion by 2025 from $20.2 billion in 2020 as per a market research report by MarketsandMarkets.
IoT-backed sensors keep an eye on consumption patterns and provide insights into inefficient areas which in turn help to analyze energy consumption usage and pattern. These solutions can be utilized to manage and optimize energy consumption patterns by taking complete control of energy data at the most fundamental and granular level.
Challenges in implementing IoT energy management solutions
Connectivity
The integration of your new IoT connection to an existing legacy system is a challenge due to technology generation gaps and modernization of existing infrastructure is required.
Privacy and data security
There is a high number of important consumer data involved in this type of setup which can turn out to be disastrous for the consumers and tarnish the reputation of the company.
Integration
Integrating IoT technology with existing platforms can be a big challenge for any company and the whole situation becomes even more difficult in the energy sector due to the complexity of existing infrastructure.
IoT Based Intelligent Energy Management Solution
Energy monitoring and benchmarking are important for energy management, as they enable decision-makers to identify improvement areas and to keep a track of the effects of their decisions on energy consumption use. IoT is set to become the ultimate driver of energy efficiency and sustainability in the coming years paving the way for conserving a tremendous amount of energy. IoT energy management systems help organizations establish an efficiently functioning business with marginally reducing operational expenditure.
1. ADVANCED ANALYTICS
IoT solutions based on artificial intelligence and machine learning can get intelligent actionable insights from the business. It provides transparent insights into the critical energy parameters such as power interruption patterns, voltage and frequency trends, etc. Advance analytics adds intelligence to this data making it decision-able, enabling real-time alerting, automate optimization, etc.
2. REAL-TIME ENERGY MONITORING
IoT solutions integrated with machine learning help monitor energy compliance within business procedures to improve efficiency. Application of IoT for energy management helps you with business analytics and energy quality control on your devices to lower costs, boost efficiencies and reduce environmental impact. It also helps in finding out the main causes of inefficiency and improvement areas, thus reducing the wastage of resources.
3. PREDICTIVE ANALYSIS
Predictive analysis with the power of artificial intelligence and machine learning enables real-time updates if a machine needs to be repaired or replaced. With the help of machine learning, the IoT network extracts real-time data from sensors and devices to predict the failure of a component of a machine before time. It increases the uptime of devices and reduces maintenance costs
4. CENTRALIZED DASHBOARD
Our centralized dashboard provides all the information related to the installed devices on machines on a single unified window. It displays the energy load throughout the day that project useful data in an intuitive and easy to understand manner. An IoT based energy management platform for industrial facilities or commercial settings provide single window visibility to monitor multiple sites, respond to alerts, analyze metrics and reports together.
5. SMART AND CUSTOMIZED REPORTS
The reports are readily available with just one click. Data related to specific parameters and device performance is continuously sent by the real-time energy monitoring system, which can be measured into analytical reports and calculated to develop efficiency-boosting operations. A customizable report on energy usage and consumption helps you to remotely identify & proactively assess issues to reduce maintenance costs and extend asset life.
The Benefits of IoT Energy Management Systems
Smart energy management solutions based on the Internet of Things have a wide range of benefits for the different industry verticals. Let's find out how the Internet of Things and energy efficiency can benefit each other for the different industry verticals:
1. COST SAVINGS
IoT energy management solution helps organizations to reduce energy spending and operating expenses and minimize man-power. You can predict the consumption pattern and accordingly, spend and plan.
2. HIGHER ENERGY EFFICIENCY
Data collected by sensors can be used to regulate air-conditioning and lighting levels in real-time. Application of IoT in energy management in the form of smart sensors and detectors reduces overall energy consumption.
3. REMOTE ACCESS
Cloud access allows those responsible to remotely monitor and regulate their energy systems in real-time.  It gives you the power to identify, track, and understand your energy usage and to report on your performance over time.
4. INSIGHTFUL REPORTS
Data related to specific parameters and device performance is continuously sent by the real-time energy monitoring system, which can be measured into analytical reports and calculated to develop efficiency-boosting operations.
5. CONSUMPTION PATTERNS
IoT provides reports, data charts, and visualization which helps you to comprehend the information easier. These reports helps to track operational inefficiencies.
6. ACCESSIBILITY
IoT energy management solutions provide easy accessibility, usability, management control to avoid any mishaps. You can also get proactive alerts for asset failure situations.
All the above benefits show how IoT and energy management can benefit from one another for more productivity and efficiency. At the same time, the costs for the organization are reduced to the minimum.
With the evolution of IoT, energy management has become smart and far more efficient. Internet of Things (IoT) seems a promising platform for smart energy management. With a wide range of use cases and ultra-reliability in energy management, IoT is considered as a pioneering approach in the area of energy management.
To know more about how IoT solutions can help in energy efficiency, get in touch with us!