How IoT platforms play an important role during a global lockdown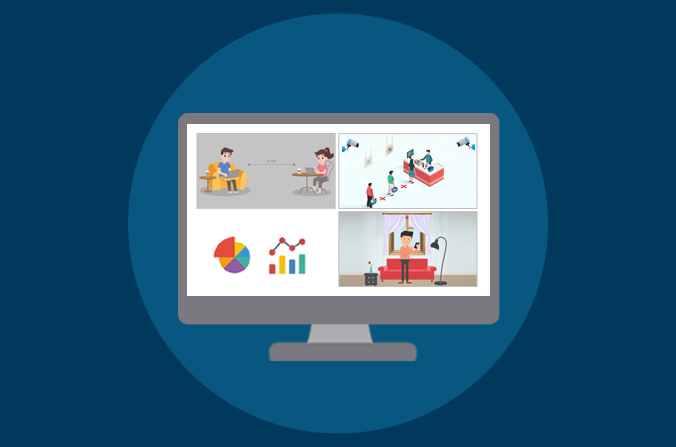 Today, we are facing an unprecedented situation. The COVID-19 pandemic has affected businesses globally. Yet innovation in technology is the best bet to get industries back on track. IoT Platforms backed with Artificial Intelligence (AI) and Machine Learning (ML) are at the forefront to provide proactive solutions in these trying times. These technologies help control the battle by better equipping our frontline workers to mitigate its spread. Economic Times reports a boom in the IoT market as more and more renowned tech companies are experimenting with this technology to get the best out of this situation and leverage its benefits.
Various industries can adopt an IoT system seamlessly into their current working environment. While it definitely upgrades the way we can track the pandemic at large, it can also provide real-time insights on how organizations are faring in terms of hygiene management within their own business premises.
Here are some ways how IoT platforms play an important during a global lockdown:
1. Superior Workplace Safety
The best defense against the COVID-19 is to curb the number of people infected. Organizations can make use of IoT and GPS enabled applications to monitor and track employee movement and gather contextual data to reduce the possibility of the infection spreading within the office. Smart devices and sensors can be installed in the workplace to monitor employee health and adherence to social distancing norms. For example, IGZY uses Machine Learning to ensure that all employees are following thermal checks daily. Our people counting sensors can enable businesses to regulate the flow of people and crowding sensors ensure employees, as well as customers, maintain optimum distance between them. Hence, a business can modulate and reduce the threat of spread via the unified platform.
2. Compliance Adherence
The lockdown and pandemic have kicked in new social norms that will soon become part of an organization's SOP. Managers will have to ensure complete adherence to these modified SOPs. For example, gyms and theatres will require automated sensors to maintain air quality and execute cleanliness checks regularly throughout the day. QSRs and restaurants will have to install disinfectant machinery to ensure hygiene levels are intact for all consumers. Cloud kitchens will need to implement food sampling analyzers that provide instant reports before making any delivery. Using IGZY's IoT-enabled smart IP cameras and AI-backed sensors, businesses can precisely monitor and identify how well their management and teams are complying with the new norms and where the new strategies are failing.
3. Managing In-Home Infections
People have become conscious about whom they meet and what they touch. There is widespread information available on the risks of touching various surfaces. People refrain from making unnecessary contact with doorknobs, switches, speakers, curtains, and so on. Automating such mundane household activities has become possible as IoT platforms. It allows users to unlock doors, operate speakers and switches, control machinery like washing machines and refrigerators via smartphones and other secure devices. IGZY provides holistic automation services as well as dynamic home security packages. Smart cameras with rule-based footage recording & availability on a real-time basis helps monitor household security remotely as well as capture distancing patterns. People can promote no-contact delivery by using these platforms to notify the delivery person to leave the package outside and use the smartphone interface to unlock the door to collect it.
4. Superior Business Security
Going forward with a new future for the workplace, a large chunk of the human capital will resume work by logging in remotely into the company's secure network systems. A handful of the workforce will operate from offices. Hence, businesses will have to look to ramp up their cybersecurity as well as the physical security of properties. With IGZY's simple, single unified platform, businesses get a holistic view of multiple security solutions ranging from operating safety devices, energy management insights to infrastructure management tools. The platform ensures confidential data is backed-up, increases cyber awareness among employees, and provides 24*7 support from our team of veteran engineers. Robotic Process Automation (RPA) healing ensures higher uptime of safety devices, facilitating improved security of properties more vulnerable during lockdown. It provides an overall security solution to ensure superior protection from all kinds of threats.
The current scenario has accelerated the need to adopt advanced technologies to achieve operational efficiency. To ensure sustainability and continuous growth, companies as well as home-owners are driving the use of IoT platforms. While it provides a new direction on how businesses can viably operate, its power to capture huge volumes of data and analyze it to produce superior business results remains a traditional motivator for its implementation. IoT has positioned itself to become a necessity going forward and IGZY is at the forefront to provide custom-made solutions to its clients that improve business efficiency.
To know more, get in touch with experts.