6 MAJOR INTERNET OF THINGS (IoT) SECURITY CHALLENGES IN INDIA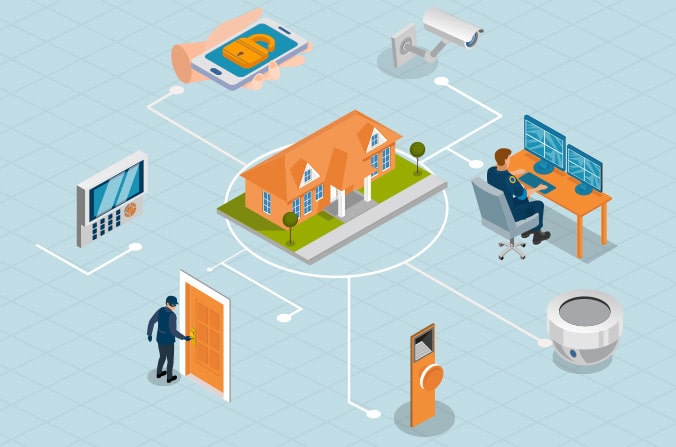 India is currently a rapidly growing hotbed of IoT infiltration. As per the conditions, it is fair to say that this growth will only expand across the country in the next few years. According to a Goldstein Market Intelligence forecast, the Indian IoT market is expected to grow at a CAGR of 17.1% for the forecast period 2017-2030.
With new startups emerging every day and big corporations investing heavily in technology, the rapid IoT take-over is inevitable. IoT devices in India have found significant applications across industries, with the construction and manufacturing industries taking the lead.
Despite the increasing demand for IoT applications across industries, Indian enterprises are still running low to implement, operate, and finance IoT implementation for several reasons. Other than the implementation, there are multiple security issues in IoT devices and networks that can lead to data breaches or disruptive data flow from origin to the platform. The IoT security challenges demand users to select a reliable and compatible architecture according to the business requirements to ensure a secure flow of data and communication.
IoT security and implementation challenges in India
Industries across the nation are trying to adjust to the IoT-led technological advancements that changed the face of operations. However, these adjustments come with their own set of challenges. IoT implementation challenges faced by industries in India have led to the slower undertaking of IoT solutions.
1. Lack of infrastructure
For an organization to depend on IoT applications remotely, if not entirely, a few things must be kept in mind to get its operations flowing. The first and foremost being the bandwidth capabilities of the organization.
Reliable network connectivity is the basic necessity for IoT to operate. In a developing nation like India, the limitations to network speed and quality pose a challenge, especially for facilities located in remote and rural areas.
The need for larger pieces of operational land has led to most warehouses and production facilities located on cities' outskirts. This separation due to geography can hinder the network connectivity across those facilities.
2. Data security
The use of IoT and associated devices has resulted in a continuous flow of data between parties. The lack of a universal security standard for IoT puts the data in transit at a more significant disadvantage. These devices, being primary targets of malware, are vulnerable to third-party intrusions. With many of these devices not being manufactured with their security in mind, it puts the internet of things (IoT) at risk.
In other words, delicate network links and lack of IoT security solutions can put confidential information in outsiders' hands. It makes the recorded data more vulnerable to security attacks.
The high cost of secure cloud storage platforms makes enterprises more dependent on other ways of video retention. The cloud can provide better security with the direct transfer of data from the device to the platform in real-time.
3. Remote locations
Business sites situated at remote locations face network and connectivity challenges during IoT implementation and operation as the internet is still not available everywhere with the same speed. The functioning of IoT devices and solutions is dependent on sufficient internet bandwidth. Due to the lack of reliable internet connectivity in remote areas, it becomes challenging for enterprises to access data and videos captured from the devices at different locations in real-time. Bad connectivity often leads to a system failure that results in extended downtime of machines that poses various security threats.
4. Integration of products and platforms
Indian consumers are very selective in investing in hardware or upgrading their devices with the latest tech. Integrating IoT applications with the right platform is required for a successful implementation. Lack of proper integration leads to various abnormalities in IoT functions, and it fails to deliver efficient values to the consumers.
5. Strategic decisions
Enterprises sometimes are faced with the dilemma of being unable to identify their actual business requirements. With IoT being the current trend, businesses prefer jumping onto the bandwagon without analyzing their use cases. The lack of strategic planning and blind trend acceptance can leave an organization deeper in debt but not any wiser.
Business heads need to identify the use cases and areas in their business that require IoT solutions to integrate their action plans with the right IoT architecture.
6. Interoperability
Several factors such as sensors, analytics, network, and cloud make IoT implementation deliver optimum results. The deployment of IoT without identifying the overall impact leads to a failed system delivery. Due to the lack of skills and vendor support, enterprises are often unable to procure a good IoT architecture as per their business infrastructure.
Conclusion
Organizations today, regardless of industry and size, can make IoT solutions a part of their business to elevate customer experience and efficiency through real-time data and analytics.
Along with the values derived from IoT solutions comes real security challenges that can affect data privacy if not appropriately addressed. Keeping in mind the IoT security challenges and solutions, one realizes that the security architecture is the biggest concern for users while investing in an IoT system. Providing a scope to expand devices and systems' capabilities, selecting features that are compatible with the hardware and network can ensure robust security of data communicated from one platform to the other.
IGZY's intelligent IoT security solution will transform your business functions and add tremendous value to your organization by securing your facility from external and internal threats.
Get in touch with us if you would like to know more about how IGZY is transforming industries across India with IoT security solutions.