IoT Services- A Roadmap to the path of Digitalization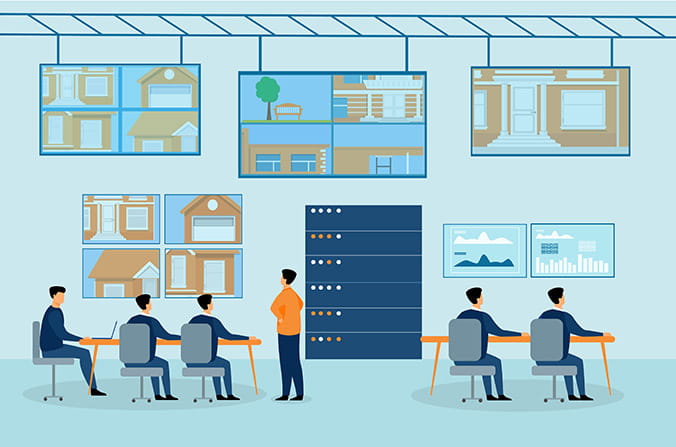 Internet of Things (IoT) has become commonplace in all walks of our life from smart homes to smart enterprises. IoT refers to a broad range of technologies, applications, and use cases that are connected to the internet where they communicate and share data with an IP address. Large and small organizations have realized that 'IoT' has great potential. From innovative consumer products to industrial and commercial hardware– it is clear that IoT will continue to expand and provide an exciting future of how connectivity can improve productivity and efficiency while ensuring that data and personal details are protected. Enterprises are increasingly tapping IoT solutions and services to boost operational efficiency and to transform their business model to a new height. IoT services allow objects to be controlled remotely across existing network infrastructure and create opportunities for more direct integration of existing infrastructure which further improves accuracy, efficiency, and economic benefit.
IoT services can empower enterprises to
Connect and scale with efficiency.
Monitor, interpret, and analyze new devices.
Integrate and streamline business processes.
Faster decision making with augmented intelligence.
Install, deploy, and manage end-to-end IoT processes.
Seamlessly integrate IoT solutions with existing enterprise infrastructure.
IOT SERVICE OFFERINGS
Internet of Things (IoT) enables enterprises to transform their business needs into a competitive advantage by delivering innovative IoT powered solutions. IoT services framework offers customers a host of services including product integration, technical support, deployment, detailed monitoring, remote management, actionable analytics, and comprehensive reporting. Businesses can benefit the most from IoT by integrating, leveraging and enhancing their existing hardware. IoT helps enterprises to adapt IoT technologies while managing risk and optimizing their investments.
PLATFORM SERVICE
The IoT platform service is targeted to offer connectivity management services to their customers. The platform helps businesses secure, control, and manage your devices and application from the cloud.
ANALYTIC SERVICES
IoT services help businesses draw actionable insights from IoT data to make better and more accurate decisions for IoT applications. Analytic services help to improve business with better products and services through unified dashboards.
IMPLEMENTATION AND MAINTENANCE
IoT service framework helps enterprises to develop, test, and deploy IoT product that fits the client's needs. Once the IoT framework has been implemented, the support team keeps a check for managing system uptime, backup and continuity, device software upgrades, and updates.
SYSTEM INTEGRATION
IoT service offers integration of different devices into a single application. With end-to-end system integration, unique sensors and cameras can be added into a device using the same gateway.
MANAGED SERVICES
IoT service empowers your business to gain actionable insights to make faster and more informed strategic business decisions. The approach is to manage your IoT deployment, with strategies that will be unique and crucial to the needs of your enterprise.
IOT SERVICES TAILORED TO THE NEEDS OF YOUR INDUSTRY
BFSI
BFSI industry is enjoying the benefits of IoT services in banking and finance. IoT has increased the security of both the bank and the customer as well. With IoT security and e-surveillance solutions, bank officials can get access to footages remotely or can retrieve the videos to transfer them to the other branch without visiting. It enhances efficiency and ease of operations in identifying any security-related incident.
WAREHOUSE
IoT services are being used in the warehouse and logistics industry to provide better business experiences. IoT solutions integrated with AI and machine learning capabilities backed by a unified platform help in reducing the risk of theft along with ensuring SOP adherence in the warehouse industry. IP cameras with artificial intelligence mark the warehouse area and detect if there is an intrusion. It can also provide meaningful insights into the physical warehouse space such as floor plan usage, equipment maintenance status, and storage temperature.
QUICK SERVICE RESTAURANT
The introduction of IoT has changed the dine-in experience of people. The fast-food industry is also using IoT to improve the experience of their customers. IoT services in the quick-service industry give complete transparency of your restaurant and monitor the cleanliness and hygiene of restaurant premises. It helps businesses to improve operational efficiency and customer experience. Air quality is also maintained by observing a suitable temperature of food items during the storage process throughout.
RETAIL
The retail industry has been changed as a result of IoT. With the introduction of IoT in the retail industry, supermarkets are also altering their approach towards digitalization. IoT-enabled camera and sensors offer solutions like motion detection, real-time notifications, customer journey mapping, remote monitoring, single dashboard, people counting, and unlimited camera additions. They are seeing a radical change and are the best way to detect and deter any threat as a retailer.
ENERGY
The energy sector is also using IoT technology to get better results. The IoT service seems a favorable platform for smart energy management. IoT solutions keep an eye on consumption patterns and provide insights into inefficient areas which in turn help to analyze energy consumption usage and pattern. It also helps in finding out the main causes of inefficiency and areas for improvement.
MANUFACTURING
IoT is not a very new concept for the manufacturing industry. Many manufacturing plants are using machine learning in their manufacturing process. With IoT services, devices can be programmed to work simultaneously to produce outputs on a production line. It can collect data on the status of the environment and equipment that allows us to predict equipment failure and reduce industrial mishaps or hazards. IoT services are used to track assets monitoring thereby, increasing analytics functionality.
PERKS OF LEVERAGING IOT SERVICES FOR YOUR BUSINESS
SMART OPERATIONS
Large organizations always strive to increase productivity and reduce downtime. One can maximize the capabilities of the IoT platform with highly skilled and knowledgeable staff supporting the needs of your business. IoT services can help you protect your IoT investments and keep your systems running to avoid downtime. It can also deliver better insights and predictability through advanced analytics via technology-enabled and automated business intelligence. Streamlining business operation processes to achieve your organizational goals and to enhance efficiency.
EDGE ANALYTICS
IoT solutions provide enhanced insight using business intelligence for evidence-based decision making. Data from all the devices is of no value if not analyzed and IoT provides that platform to monitor and evaluate data rather does itself. Advance analytics add intelligence to this data making it decision-able, enabling real-time alerts, automate optimization, etc. It allows enterprises to gain useful inputs on a real-time basis to enhance efficiency and customer experience.
SECURE ECOSYSTEM
IoT Security services help in maintaining compliance with industry regulations and requirements for securing the IoT ecosystem. It reduces the burden on in-house security staff by allowing the dedicated teams to help their business meet security standards and industry requirements. Artificial intelligence and machine learning-based advanced IoT cameras and sensors help to monitor and keep track of SOP compliances.
PROACTIVE ANALYSIS
The efficiency of IoT services is based on how actively a risk can be prevented. Proactive analysis with the power of artificial intelligence and machine learning enables real-time alerts on any deviation, device failure notifications, and analytics from various sources. Enterprises can easily identify improvement areas and effectively optimize the business process through useful insights. The proactive system notifies escalations about a threat or violation at an access point and prevents them from taking action before time which usually results in the loss of valuable goods.
DEVICE MANAGEMENT
Device Management makes it easy to securely register, organize, monitor, and remotely manage IoT devices extensively. It offers complete control over IoT devices, making them more flexible, reducing operational cost, and maximizing uptime. IoT vendors usually provide comprehensive device management with their solutions.
CONCLUSION
IoT is rapidly transforming the way business work. With IoT services in place, the outcome of any enterprise is strengthened security, reduced maintenance costs, and increased efficiency. It can be adapted as per the business need and aligns easily with business goals to deliver a better view of unproductive areas and gain increased efficiency and revenue enhancement.
IoT system ensures the robust security of your enterprise with several monitoring sites and data from different systems on a cloud platform. It also enhances business efficiency with better analysis and response to data on a real-time basis.