Local Storage Vs Cloud Storage: Everything you need to know before investing in a Video Surveillance Solution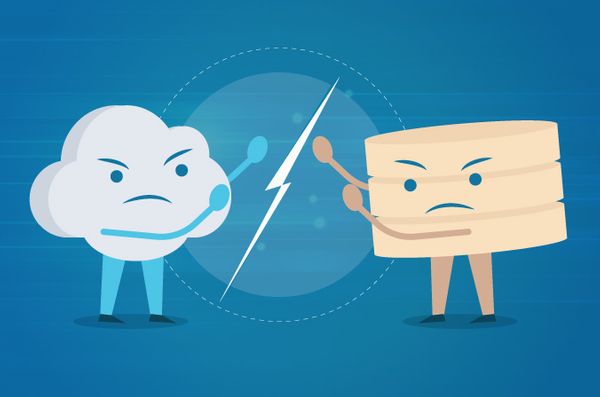 Video surveillance has been around for decades. From large banks and retail stores to the small cafe around the corner, these surveillance solutions have become more widely accepted in recent years. However, the surveillance setup has completely changed over time, especially regarding how the video is recorded, processed, and transmitted. Data that was previously stored on-site, using a video recorder box (DVR), can now be held on the internet (cloud), making the whole system hassle-free and easier to monitor.
Considering all the different systems in existence, let's talk in detail about all the ways to store surveillance footage data, the obsolete, the best selling, the trending, and the one you may need.
Digital Video Recorder: The Obsolete
DVRs are on-site setup boxes that can store data locally and are only compatible with analog cameras. In other words, the cameras are designed to simply record the data and send it to the DVRs via coaxial wires. These DVRs then have to process the data and store it on a hard disk.
Its features have, over time, turned into reasons why it's not in use today. Capable of simply recording and processing the data, it is incapable of detecting anything beyond its scope.
Functions of DVR based Solution
Easy targets to tampering
Incapable of detecting system downtime
Incapable of detecting inconspicuous activities
Easily accessible by anyone on-site
Wired solutions
Facilitate decentralized storage
DVRs are the oldest innovation in video recording and definitely a great one. Though not in use anymore, it has formed the basis for further innovations in surveillance.
Since analog cameras are not a fast-selling item anymore, due to their limitations of functionalities, these have been replaced by IP cameras and their compatible counterparts- NVRs.
Network Video Recorder- The Bestselling
Better technology and more functionalities performed by cameras support NVRs, another type of video recorder that sends and receives data via a local network.
NVRs are connected to IP cameras, which in comparison to analog systems, are much smarter. The internet protocol cameras can record, process, and transmit the data to the NVR on their own, while the video recorder makes the data accessible for real-time monitoring.
These cameras can connect via POE cables for the combined purpose of power and network connectivity. Unlike analog systems, IP cameras can also be wireless.
NVRs can support multiple IP cameras, acting as a combined or centralized data storage unit for all connected devices. The video + audio footage can be stored on hard disks or SIM cards in the NVR, while connectivity with monitors or mobile applications can help monitor the site in real-time.
Functions of NVR based Solution
Easier transmission over POE cable
Scalable solution to handle multiple intelligent devices
Centralized storage
Can detect people, objects, motion, vibrations, fire, changes in the environment, etc.
Sends real-time alerts to escalations
Enables live streaming and local storage
Want to know why NVRs are better than DVRs. Read more .
Cloud Managed Video Recorder – The Trend
The term cloud storage has been going around recently, and for a good reason. Video surveillance data stored on the internet rather than locally becomes marginally safer and easily retrievable.
Similar to NVRs, cloud data storage is also facilitated over IP cameras. These cameras can record and process data, sending it over to the cloud for long-term retention and accessibility over a centralized platform.
But all of this can be facilitated even in the absence of a CMVR. IP cameras can directly transmit data onto the cloud without requiring a video recorder. Then where does a CMVR come into use?
A cloud-managed video recorder facilitates sites that have multiple cameras but require cloud storage for only selected devices. The video recorder provides on-premise storage as well as cloud storage as per the client's requirements.
The solution enables you to add multiple devices, scaling the solution as your needs for surveillance increase.
The CMVRs also perform a multitude of functions to make your experience as precise and accurate as possible.
Functions of CMVR based Solution
Facilitates online and offline recording
Scalable solution for connecting more devices over time
Helps store and monitor all data on-site & on-cloud
Detects issues with devices and sends alerts
Enables scheduled transfer of data from local storage to cloud
Provides security to data by encrypting traffic directly to the cloud
If your brand has multiple stores dispersed across geographies, it is impossible to monitor all those sites manually. In cases of theft, most intruders aim for the DVRs before anything else. Once rid of the surveillance evidence, they can cause greater loss and damage to your business without the fear of getting caught. In situations like these, AI backed cloud surveillance solutions enable you to monitor all your sites proactively. The solution is equipped to send instant alerts when an undesirable situation occurs while storing the footage over cloud for anytime retrieval. This safely put away data can act as your piece of evidence in case any damages are sustained.
Hybrid Video Recorder- The Undertaker
While enterprises that are starting anew or have larger surveillance budgets might find greater benefits with a fully equipped solution of a CMVR and multiple cameras & sensors, enterprises with already existing hardware can find such investments harder on the budget.
With analog cameras already on-site, hybrid video recorders enable you to change your dumb analog solutions to smart ones.
XVRs are video recorders that are compatible with both analog cameras and IP cameras. These have been designed to suit your current surveillance presence while facilitating scalability in the future. Similar to DVRs, these recorders can process data and apply smart analytics onto the data recorded via your analog systems.
The XVR enables you to examine the captured footage and detect motion, objects, people, and other predefined parameters, in real-time.
Functions of XVR based Solution
Support both analog and IP cameras
Support on-site and online data storage
Scalable solution
Centralized storage
Detects anomalies and sends real-time alerts
Simultaneous viewing of multiple cameras
Multiple video recorders are dominating the market, each appealing to a particular set of customers. While one option might seem to be trending or most talked about, it may or may not be the right solution for you.
For customers investing in a completely new setup, requiring intelligent analytics and local storage on a recorder, NVR based solutions seem the most suitable. These enable live streaming, sending real-time alerts in case of any detected discrepancies.
For customers requiring a setup that enables the benefits of an NVR and supports cloud storage, CMVRs are suitable for such requirements. These systems allow you to tune the cloud storage settings, schedule data transmission and even choose particular footage to go on cloud while the other stays recorded on the CMVR.
Customers with an already existing hardware setup and analog systems can find an easy and economical solution by investing in XVRs. These recorders enable you to use your legacy infrastructure and make it smart. You can also scale the solution in the future, adding multiple IP cameras and smart sensors to the solution.
IGZY is an e-surveillance provider offering NVR, CMVR & XVR based solutions. Our innovative solutions are equipped to provide you with end-to-end security solutions from on-premise storage to on-cloud, from IP installations to legacy configurations.
To know more about our products and solutions, get in touch with our product specialist today!