SECURITY SOLUTIONS – A NEW ERA OF TRANSFORMATION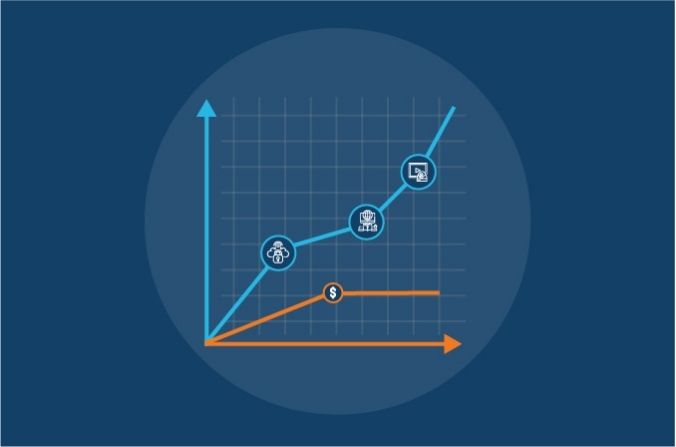 What makes your hardware smart and proactive that can enhance efficiency?
IoT Security Solutions
Internet of Things (IoT) Security Solution forecast to grow to USD 36.6 Billion by 2025, at a CAGR of 23.9%
The radical growth of IoT (Internet of Things) aided enterprises with smarter solutions for safety and security. Enterprises today are investing heavily in IoT-based security and e-surveillance solutions. IoT security solutions provide valuable insights that will enhance the way your business work.
IoT solutions can transform your static and un-actionable hardware into smart & proactive machines for your business to have 100% visibility & transparency of all your sites.
SMARTER IOT SECURITY SOLUTIONS
IoT security solutions can be used in cost reduction and savings to businesses, as well as to unlock new revenue streams and make production processes 100% transparent through the IoT-enabled cameras and sensors. IoT solutions integrated with artificial intelligence and machine learning provide unique solutions and features to improve your business productivity and efficiency.
Real-time Monitoring
IoT solutions integrated with machine learning and artificial learning help monitor SOP compliance within business procedures to improve efficiency.  It helps your business with advanced analytics on your devices to lower costs, boost efficiencies, and reduce environmental impact. It can remotely monitor your assets and receive real-time updates on detailed insights about the condition of the assets and its status.
REMOTE ACCESS
IoT platform allows us to view locations of multiple cameras installed at different sites and get better access to footages. It saves a lot of time in retrieving a video of a former instance by access to the database from a remote location. It enhances productivity and ease of operations in identifying any deviations. The security heads can remotely troubleshoot errors with an automated process.
UNIFIED PLATFORM
Unified platform allows access to security solutions provided by multiple vendors easily. It helps in monitoring several sites, responding to alerts and notifications, analyzing data, and reports. IoT security solutions enhance decision-making and efficiency with single window visibility. It helps you to track and analyze efficiency, safety, and security in daily operations to ensure ease of operations.
PROACTIVE MECHANISM
IoT security solutions with the power of artificial intelligence and machine learning enable real-time alerts and notifications on any deviation, device failure, actionable insights, and analytics from various sources. Timely prevention of threats requires real-time access and quick response to priority notifications. Organizations can easily identify improvement areas, minimize downtime, and optimize business strategies through actionable data.
PLATFORM CUSTOMIZATION
IoT security solutions provide the ability to customize the platform or devices as per the business requirement for greater benefits. The unified platform is often compatible with both wireless and wired cameras, enabling security and transparency along with actionable analytics and insights. One can also upgrade and integrate their existing systems to an IP based solution without additional investment on hardware.
INCREASING EFFICIENCY
With the IoT security system comes the possibility of automation. Active monitoring with an e-surveillance camera gives transparency to multiple sites from different locations. It helps you monitor to protect its valuable assets and information safely and efficiently. IoT solutions can automate repetitive tasks normally held by employees can increase efficiency and free up their time to focus on more complex work.
These are just a few benefits of IoT security solutions. It opens an extensive range of ideas to enhance the quality of life in all aspects. But it is vital for us that we tap on the right spots to make this technology work
COMMON IOT SECURITY CHALLENGES
HIGH INVESTMENT COST
The cost of IoT products and their deployment are high, not only development but support should be considered along with high skill resources. So, the overall cost of IoT application implementation is very high.
SECURITY
To ensure that the data is processed and stored securely after the transmission through different networks is critical for security issues. Putting the data online particularly data related to critical equipment becomes a challenge.
SOFTWARE UPDATES
Updating the firmware running on all the devices and gateways is a challenging part too. IoT security solutions require regular testing and upgrading of software embedded in the device.
DEVICE AUTHORIZATION AND AUTHENTICATION
With multiple points of entries in an IoT system, authorization becomes a challenging and critical factor. The devices have to suffer data security breaches due to weak authorization system.
Although IoT has quite a few disadvantages, its advantages of saving time, efforts, and money can't be ignored. The efforts will have to be made to find ways to battle their disadvantages. Despite the downsides, further digital transformation in IoT is inevitable and will continue to catch and change the landscape of the business environment. Thus, it seems to be high time to look beyond the challenges and embark on the journey to connected devices for smarter words.
A new era of IoT security solution in 2020, one that is defined by change, transformation, and innovation awaits!