SECURITY VIDEO – THE NEW TRENDSETTER FOR A SMART CONSUMER!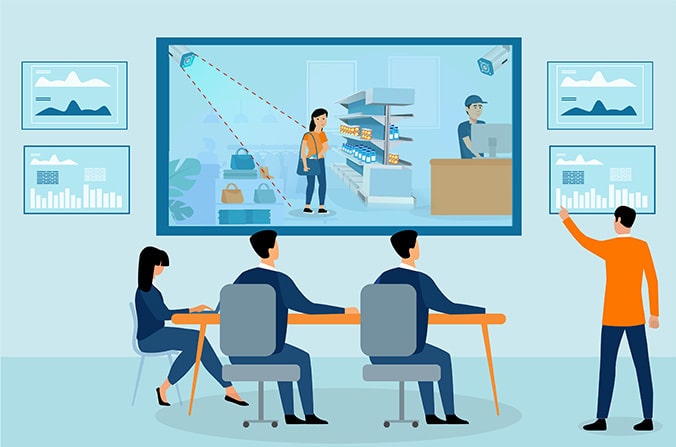 Nowadays, securing your business with video protection has become a necessity for many business owners. Video systems can add next-level security to your company's efforts to deter thefts or break-ins. Video is rapidly transforming the way we manage the world. Using artificial intelligence and machine learning, video analytics can turn high-definition camera streams into actionable data.
Video technology has been around for decades, but improvements in recent years make it even more effective at capturing criminals in the act and bringing them to justice.
The adoption of video solutions has taken a surge in recent times because of some significant benefits such as storing recorded videos for remote access, multi-site integration, and protection of evidence from device tampering.
WHAT IS SMART SECURITY VIDEO?
Smart security video allows you to monitor and record clear video of your property or premises. It improves productivity, ensures safety, and enhances customer experience. It is a system that allows you to keep an eye on what is going on in and around your business premises.
ADVANCED VIDEO SOLUTIONS
From traditional local video storage to cutting-edge IP systems and cloud-based storage options, advanced video solutions can design, install, service, and monitor the right video system for your business needs. The right video solution for your business needs includes the following:
IP and analog camera systems
Live view video system
Alert and notification verification
Cloud video storage platform
Active monitoring for 24/7 security
Advanced video analytics insights, metric representation, and reports
Integration with the existing system
POWERING SMARTER BUSINESS WITH SECURITY VIDEO
If you want to protect your assets, you need to invest in IoT based video solutions. Video solution offers numerous advantages regardless of a small-sized business or a large-sized business. A few of the offerings are shutter below.
INCREASES SAFETY
Security videos positioned throughout the premises helps businesses to reduce thefts, vandalism, shoplifting, control inventory shrinkage, and increase employee safety. IoT enabled cameras and sensors to help to safeguard your business by providing 100% security coverage. IoT solutions help to improve security by detecting and preventing fraud even before they occur.
SECURE STORAGE
IoT security video service relays on-camera recordings to the cloud server and secures footage in the database that can be accessed easily by authorized users from anywhere. It prevents loss of critical footage and evidence due to device tampering or system failure as the videos are instantly secured off-site resulting in no risk of damage to the footage.
LIVE VIDEO FEEDS
With IoT based security video setup, you can view the live video feed from any cameras from around the clock.  Live video system lets you monitor your business what is going on at your business, from anywhere. It allows access to live footage on a remote platform making it an effective choice for businesses.
FOOTAGE RETRIEVAL
It can be challenging to locate video footage when you need it quickly. With the IoT security video system, you can store the video of every transaction with a transaction ID which makes it easy to pull out an instance-based video in minimum time to verify fraudulent transactions or alleged disputes.
PROACTIVE MECHANISM
IoT security video solutions with the power of artificial intelligence and machine learning enable real-time alerts and notifications on any deviation, device failure, and actionable insights from various sources. The timely prevention of security-related issues requires real-time access and quick response to priority notifications. Enterprises can easily identify improvement areas, minimize downtime, and optimize business strategies through actionable data.
CONTINUOUS RECORDING
Active monitoring with IoT enabled cameras based on artificial intelligence and machine learning gives you proper visibility of distributed sites from different angles. It helps you track safety and efficiency in daily operations. The dedicated team also monitors your premises round the clock to detect and deter any threat beforehand to ensure compliance and report on all security-related issues.
INCREASED EMPLOYEE PRODUCTIVITY
It has been witnessed that employees tend to work the hardest when they are being monitored with security video through CCTV cameras. With IoT based security video in place, managers also get more time to work on the critical facet of their work rather than focusing their entire attention on monitoring their workers.
ACTIONABLE INSIGHTS
IoT enabled cameras and sensors with video analytics based on artificial intelligence and machine learning helps to get actionable insights for improving the efficiency and productivity of your business. Video solutions can provide actionable insights and data through continuous monitoring.
SECURITY VIDEO SOLUTION CAN HELP YOU
Respond faster to issues in real-time
Increase efficiency and productivity
Two-way audio communication
Minimize downtime
Identify areas of improvement
Tracking assets become easier
HOW DIFFERENT INDUSTRIES ARE LEVERAGING SECURITY VIDEO FOR THEIR BUSINESS?
Here are some industries that can benefit from video solution in their respective businesses:
BFSI Industry
BFSI industry is one sector where security is of utmost importance. IoT based video monitoring system offers numerous benefits like centralized monitoring, real-time alerts, and scalability along with complete control of the branches without visiting. It enhances efficiency and ease of operations in identifying a security-related incident.
Retail Industry
The retail industry has emerged as one of the most dynamic customer-centric industries. IoT based video solutions are the best way to detect and deter any threat as a retailer. It offers solutions like people counting, real-time notifications, remote monitoring, customer journey mapping, SOP compliance, etc to improve the quality and productivity of the retail stores.
Warehouse Industry
Warehouse industries are investing heavily in security solutions to protect valuable assets and safeguard employees. A smart security video solution helps in reducing the risk of theft and intrusion along with ensuring SOP adherence in the warehouse industry. IoT system with video analytics provides your business with complete control of its security.
Manufacturing Industry
Security has become a critical component of effective management in the manufacturing sector. IoT solution offers the most critical benefits of safety, quality enhancement, and minimizes the threat of theft and wastage of time. It can also collect data on the status of the environment and equipment that allows us to predict equipment failure and reduce industrial mishaps or hazards.
Quick Service Restaurant Industry
For the quick-service restaurant industry, the safety of their guests and property is of paramount importance. IoT based security video gives you real-time alerts in the events of security breach or overcrowding. The solution also proves to be an effective tool for the active monitoring of daily operations, thus enhancing operational efficiency and customer experience.
Energy Industry
IoT in the energy industry seems a useful platform for smart energy management. IoT based security videos through camera and sensors keep an eye on consumption patterns and provide insights into inefficient areas which in turn help to analyze energy consumption usage and pattern. It also helps in finding out the main causes of inefficiency and areas for improvement.
Every industry has the potential to harness the benefits of IoT. The drive to enhance security and safety across different industries is adding to market growth, significantly.
Implementing a security video system is about protecting the assets of your company for smooth business operations. From preventing theft to detecting customer movement patterns, these systems provide your enterprise with numerous benefits.
A good video system is important for almost all the business. After all, it is difficult to be profitable if you cannot protect your assets.