How can SMBs use surveillance systems to future-proof their business?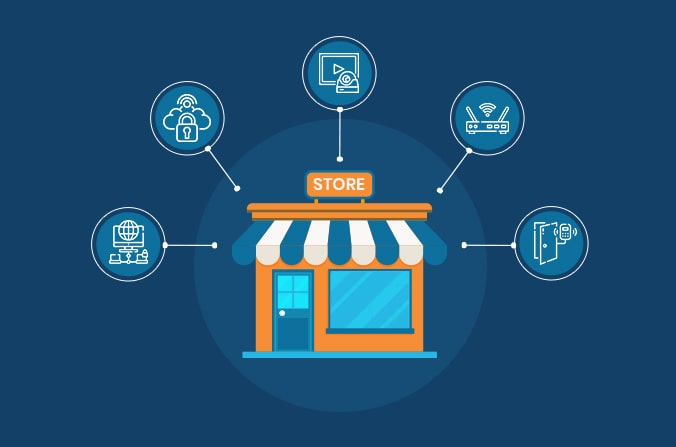 As the owner of a small or medium business, you might have experienced shrinkage firsthand.
Shrinkage is the loss of inventory due to employee theft, customer shoplifting, fraud, and damage. It is among the biggest problems that businesses face, as it cuts into the razor thin profit margins. In the US, retail shrinkage is at about 1.3 – 1.5%. India's shrinkage rate in retail is almost double that number, and in 2008 and 2009, India had the dubious honor of having the world's highest retail shrinkage rate!
These details are relevant to small or medium sized businesses and enterprises, because shrinkage affects Small and Medium-sized Enterprises (SMEs) as much as, if not more than, the behemoths.
SMEs in India have attempted to combat threats to security through two primary means – man guarding and CCTV surveillance. Guards are ubiquitous at the entrance of many stores, banks, or businesses. Enter the premises, and look up at the ceilings. You will probably see CCTV cameras dotted along the periphery, monitoring your every move.
The Shortfalls of CCTVs
CCTVs can be analogue or IP based (Internet Protocol based). Analogue CCTV cameras have fallen out of favor in the last few years, and IP based CCTVs, which connect to the network via Wi-Fi are more common these days. However, even an IP based CCTV installation is only one small step ahead of analogue CCTVs, lulling business owners into an illusory sense of security. The footage captured might be of good quality but it doesn't help much.
The biggest disadvantage of a CCTV installation is that it requires you to be logged into the network in order to monitor and view the footage. Another disadvantage is that the recorded footage stays on the premises. In the event of a fire or tampering, the precious footage recorded can easily be lost, defeating the purpose of recording it in the first place.
Moreover, CCTV footage recorded on tapes can easily be erased and recorded over by anyone with access to them. If members of a security team are in cahoots with one another, evidence of petty crimes may conveniently be hidden from business owners with precious little action taken.
When business owners are physically away from the office space – at night, weekends, or during holidays – the footage can be reviewed only when someone is back on the premises or otherwise connected to the business network. Many businesses that lack the tech savvy to implement smart surveillance systems may fall back on the manual hack – having teams of people monitor the feed 24 X 7. This, in turn, can be an expensive proposition for a small or medium sized business.
A CCTV only records a threat mutely, without providing the business intelligence to affect or prevent it as it happens. A CCTV feed cannot notify your nighttime security guard who is sleeping on the job or otherwise distracted from the action unfolding on the monitors in front of him. It can mean the difference between stopping a crime and letting it proceed unchecked.
Secure e-Surveillance Systems
Imagine that instead of just CCTV cameras, you now have a robust e-Surveillance system in place. These devices can be connected with each other and their feeds can be stored in the cloud. Today's technology provides an enviable suite of Artificial Intelligence (AI) driven value added services. From intruder detection, to familiar face mapping, theft identification and so on, events can be identified and reported in real time. AI driven algorithms prevent the need for security personnel having to monitor feeds by staying glued to monitors or physically being present in the control room.
Business owners can set up rules driven SOPs that can notify multiple points of contact in real time when intrusion or other events are detected. This spreads the responsibility of security, and reduces the dependence of any particular individual. SOPs can also be set up with escalation paths defined, based on the severity of the event identified.
When it comes to notifications, the systems can be set up to notify personnel via phone calls, text notification, emails, or alarms. The options are plentiful.
e-Surveillance systems don't have to be super complicated. For a small business occupying a 400 square foot office space, a simple system of three to four cameras would suffice to get 100% coverage. Coverage can be focused on main traffic areas, as well as areas of interest such as cash registers, entrances, passageways, and so on.
e-Surveillance systems can also be configured to record sound if needed, allowing businesses to monitor sound conversations. The advantages of sound recordings are many. Sound can provide additional context as events take place, such as payment disputes between customers and a shop owner.
Rules can also be set up for how long footage and audio feeds are retained before they are erased. This can help to keep storage costs manageable. In addition, footage can be accessed on demand, and retrieved from anywhere, as long as there is an internet connection, and the viewer has the credentials to view the footage.
Today's e-surveillance solutions also come with detailed analytics dashboards that can be reviewed at any time. If footage review shows false alarms, the business owner can flag it as such, which in turn helps the AI fine tune its algorithm.
e-Surveillance systems do require robust internet connections, as feeds are uploaded in real time to cloud storage. This should not be a major concern in Tier I and many Tier II cities, which enjoy network penetration and high speed internet availability.
Future-proofing your business with IGZY
Here's how you can future-proof your business with smart surveillance technology for 2021.
The need for video analytics, business intelligence and customized solutions has further spurred the demand for intelligent video surveillance systems i.e. IGZY.
IGZY connects your business to the surveillance technologies resources you need powered by a unified Internet-of-Things (IoT) platform, equipped with highly-trained specialists to recognize and prevent crime with real-time and remote monitoring technology, advanced sensors, video analytics and cameras with AI/ML capabilities.
We protect businesses from financial loss or loss of life due to fire, burglaries, pilferage, SOP negligence, vandalism, unauthorized access, and much more.
IGZY has helped simplify surveillance making security and safety affordable to Small and Medium-sized Enterprises (SMEs).
Ask for a demo today.