Office Video Surveillance. Keep Your Office Safe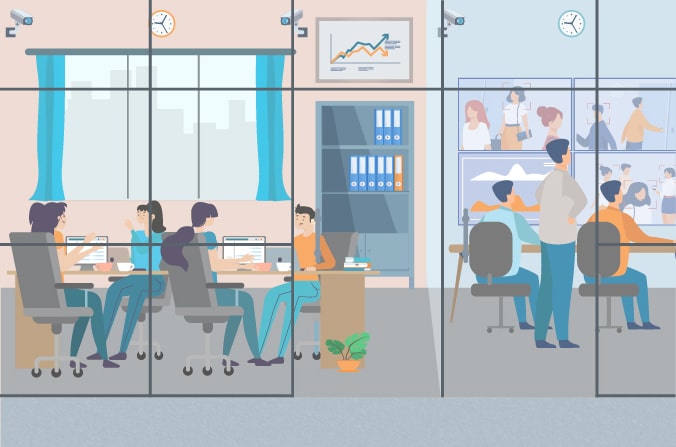 Today, almost every organization uses video surveillance to protect its people and property. With businesses bearing significant losses every year because of their vulnerability to burglary, theft, break-ins, inventory shrinkage, and more, office surveillance is now considered to be of strategic importance.
According to International Data Corporation (IDC), the video surveillance camera market will grow to $44 billion by 2025. This is largely due to the increasing adoption of smart camera systems all over the world.
Reasons Why You Should Install a Camera system for surveillance in your office
Real-Time Monitoring
One of the main benefits of office surveillance is the real-time footage available as and when required for business owners. It has been identified that employees tend to work the hardest when they are being monitored with security video through CCTV cameras. With real-time monitoring in place, any threat or risk to the business gets identified easily, even during non-working hours and can be prevented in real-time.
Cloud-Based
IoT solutions integrated with artificial intelligence and machine learning (AL & ML) provides real-time access to video footage from a remote platform. It automatically relays the videos through a secure network to prevent loss of data. Video recordings are stored on the cloud server and footage in the database that can be accessed easily by authorized users from anywhere. Cloud storage leads you to access the same camera recording from multi-devices, any time.
Proactive Analysis
IoT security solutions with the power of artificial intelligence and machine learning enable real-time alerts and notifications on any deviation, device failure, and actionable insights from various sources. The timely prevention of security-related issues requires real-time access and quick response to take necessary steps. Enterprises can easily determine the improvement areas, optimize business strategies, and minimize downtime through actionable insights.
Actionable Insights
IoT solutions provide enhanced insight using business intelligence for evidence-based decision making. The offices can easily identify improvement areas and optimize the business process through actionable insights. It helps ensure SOP compliance by the employees to maintain efficiency across operations. Advance analytics adds actionable intelligence to this mute data making it decision able, enabling real-time alerts, and optimizing business based on insights.
Single Control Platform
A single control platform helps you to access security cameras and sensors provided by multiple vendors. With this feature, you can also onboard existing cameras and sensors onto a single platform that can be accessed centrally thereby enhancing quick decision-making and efficiency. It helps you track and monitor safety, efficiency, and security in day-to-day activities to ensure ease of operations.
Protect employees and clients
Protecting your employees is just as important as protecting your office. Cameras should be placed at the entry and exit points to create a safer environment for your employees. It is your employees and clients that keep your business running. A video surveillance system in your space is an easy way to keep your employees, clients, and their belongings safe.
Easy to install
IoT cameras can be installed and configured in minutes as they require minimal equipment to run. It can be placed anywhere because it does not require network cables and wiring to run. IoT based camera for office surveillance is easy and saves a lot of time and efforts. It only needs a Wi-Fi connection and a power source to function.
Prevent theft
Many offices often experience problems with thefts or intruders coming in during lunch hours and stealing belongings from desks. By placing security cameras throughout your office's operating area, can help prevent theft, vandalism, or break-ins. IoT enabled cameras and sensors to help to safeguard your business by providing 100% security coverage.
Where to Position Security Cameras in Your Office
Reception Area
The reception area may seem less important in your commercial property, but it is the most popular area with people consistently entering and leaving during office hours. By providing the right security camera, you can keep up to date with customers and staff using the area as a walk-through during office hours.
Entrances and Exits
As a business, keeping track of who enters and exits the premises can be challenging.  Security cameras positioned at the entrance and exit door offer easier tracking of who is entering and exiting the premises along with a clear view of people's faces – which you may need for security reasons.
Work Area
Monitoring the office work area aid you to understand employee work habits. With this information, you can build better decisions and even enhance workforce productivity. If there are any issues such as personal theft, bullying, or any misbehavior; you can identify the problems before they arise and can act accordingly.  In such cases, office surveillance is critical.
Storage Room
Every office has a storeroom, whether it is for storing sensitive documents or storing products ready for distribution. These rooms are very essential for management and in some cases; the access for certain employees needs to be restricted. Positioning cameras at the door to this room give you access to monitor the restricted area, watching who enters and leaves the room, and making a note of any unauthorized attempts to access the room to review the footage later.
If you install office surveillance system you will be able to:
Respond faster to issues in real-time
Remote monitoring
Increase efficiency and productivity
Two-way audio communication
Minimize downtime
Identify areas of improvement
Tracking assets become easier
Tips for an effective surveillance camera system
Things to consider when choosing and installing an office surveillance system to reduce the security risk to your office:
Choose a system based on your business requirement. Proper installation of the equipment and system for smooth working
High-quality cameras with right placement for security and safety
Camera should be visible but out of reach, especially when installed on the windows and doors.
Choose the right vendor for a convenient installation process.
Placing cameras appropriately for monitoring the area
Before installing a camera for office surveillance, it is better to be equipped with complete knowledge about them, as that will enable you to make a strategic decision. Choosing an effective surveillance camera system is crucial for your business.
Business owners might expect that crime or theft will not take place on their premises. However, the absence of surveillance systems in office premises is a potential risk. With so much invested in offices, keeping the business safe and secure should be a top priority for any organization. With managed office surveillance, you can protect and safeguard your office premises against theft or burglary. IoT based solutions for office surveillance keep your premises safe and secure from unauthorized access to sensitive areas, peak hour pilferage, or theft during non-working hours.
As IoT solutions become widely available, business owners will use technology more for streamlining the business process.