Ecommerce Warehouse SOP and Security Challenges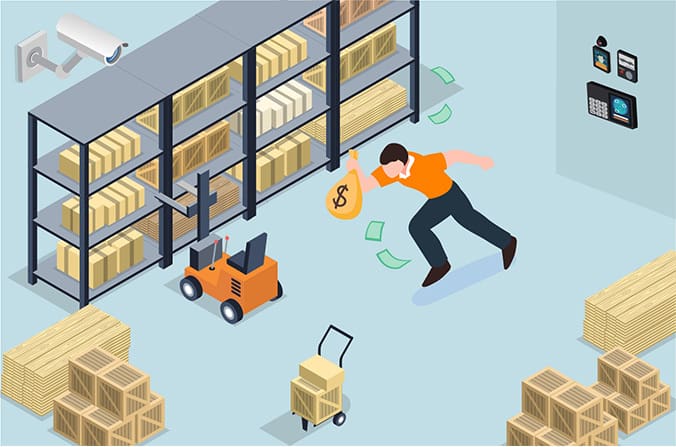 While operating a warehouse facility, one cannot overlook the importance of security and warehouse sop management that are the most important factors to ensure efficient workflow. With valuable assets, employees, and vehicles constantly entering and exiting the premises, the warehouse is a constant hub of activity which puts them into various kinds of threats and risks. Several unknown risks to a warehouse facility can cause huge losses if not prevented proactively. According to Statista, the installed base of IoT devices is forecast to grow to almost 31 billion worldwide by 2020, and it will be 75 billion by 2025. The need for solutions to manage business operations effectively and smartly is driving the growth of IoT in the enterprise space. Smart solutions for warehouses can deter a threat within time to protect assets from any damage. Turning a storage facility into a smart connected warehouse with IoT provides valuable insights from the business that can enhance operational efficiency and productivity.
Ecommerce warehouse SOP challenges 
To meet the high demands and expectations of consumers become a challenge for ecommerce warehouses without the ability to keep a track of daily operations in order to enhance productivity. Warehouses follow a strict set of SOPs to ensure timely deliveries and adherence to safety-related protocols.
Inventory management
Manual method of inventory management comes with various limitations and challenges to it that causes operational inefficiency, human error, loss of data.
IoT-backed esurveillance cameras installed between the inventory storage provides total visibility and accurate updates on inventory pickup. Issues of missing shipments and lack of footage on inbound and outbound package movements are commonly faced by ecommerce warehouses. Esurveillance cameras with a cloud platform, builds a GRN table to record data of shipments after scanning them and provides an efficient solution to manage inventory and have visibility on the packages that are delivered. It enhances the efficiency in the workflow of operations with accurate data on package movements and secure footage that can be easily retrieved to analyze if a shipment goes missing.
Roster management
SOP compliance help achieve daily tasks according to the roster and increases productivity. IoT-enabled solutions that provide real-time updates on SOP deviation that helps warehousers easily identify the cause of delay in the delivery of packages and other improvement areas. Roster management can be optimized as per the insights to enhance efficiency of operations.
Untimely deliveries
Untimely delivers is a common issue in ecommerce warehouses and it becomes difficult to identify the causes. Visibility on SOP adherence through IoT solutions to know if the products are being delivered according to the rooster can improve efficiency. Real-time updates on SOP deviation keeps administration heads informed. Strict adherence towards the handling of goods is another important SOP to avoid any damage or loss. SOP compliance can be easily monitored by esurveillance devices to ensure protocols are being strictly followed.
Security challenges faced by ecommerce warehouses
Fire
Warehouse premises have storage spaces that are generally tightly packed with goods. Even a small fire within the facility can lead to a devastating accident. From fluctuating electricity to the negligence of ground-level employees, there can be several factors behind a fire mishap.
Proactive smoke sensors that can detect harmful smoke particles, generate an instant alert to notify security heads at an initial stage and prevent fire and damage to valuable goods stored inside the warehouse.
Intrusion
Most of the warehouses are located on the outskirts of a city. A large facility with multiple entries and exit points, frequent intrusions can be observed as a common challenge by warehouses for their distributed sites that leads to theft and robbery of valuable goods and items.
IoT-enabled esurveillance cameras powered with AI-based video analytics can be installed at the perimeter, entries and exit points. Any unauthorized person trying to intrude gets instantly detected on camera, along with the alert generated by hooter and floodlights, real-time notifications on remote platform inform security heads and local authorities to ensure the intrusion is deterred within time. Esurveillance monitoring also keeps an eye on every corner inside the premises to ensure any suspicious activity taking place gets detected timely.
A connected and smart ecommerce warehouse increases visibility over common security threats and management that often cause unwanted loss to the warehouse. Access to real-time updates on warehouse SOP and security deviations with IoT solutions enables business heads to prevent a threat within time and analyze improvement areas to eliminate loss of productivity. It enhances business optimization, increases operational efficiency to manage traffic and fluctuations of ecommerce business.