5 Good Reasons to Switch to Cloud Surveillance over Traditional Video Surveillance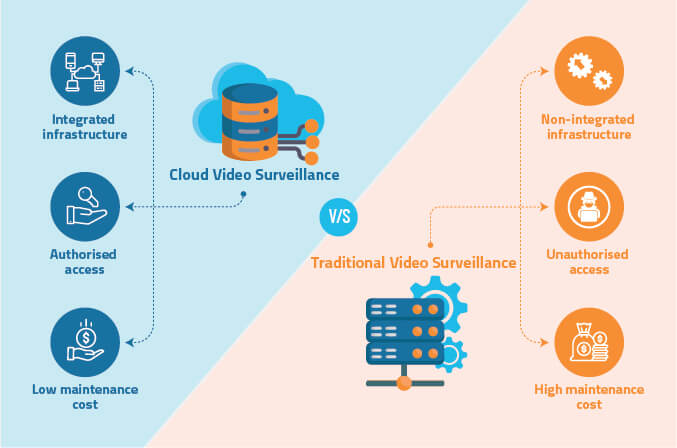 Gone are the days when businesses would rely on traditional security cameras to capture live footage, and there was no scope of retrieving it. Today, firms have revamped their security e-surveillance game to the next level. The cameras come with cloud-based video surveillance that provides numerous benefits ranging from reduced data loss risk to centralized remote access. How great is it to receive an alert or notification through a mobile application instead of security personnel running to your office and giving timely updates every few hours? Not just this, keeping track of such records becomes problematic when the organizations are huge for space, gates, employees, vendors, and customers.
Cloud video surveillance serves as a comprehensive solution for keeping a watch on your premise, workforce activity, operational capabilities, unwanted intruders and any kind of theft or suspicious activity.
When should you switch to cloud surveillance and upgrade your traditional video surveillance?
1. Economies of Scale
Having cloud video surveillance in the organisation automatically saves on workforce/security personnel, backup, applications, power cost, and requires low capital cost. Use this upfront capital cost for other core activities in your business. Save additional costs on purchase of hardware and software drives or support systems for the traditional storage facility. You can also think of redeploying existing areas to generate higher income.
2. Accessibility
Once the cloud storage surveillance is in place, you can easily access it using a shared network. You can even provide authorized access to different stakeholders in the company. It will also ensure compliance and maintain data integrity at all times. Cloud storage surveillance allows you to manage multiple locations from one single site. Especially in manufacturing industries, cloud surveillance can help you to maintain the quality of the goods produced and track raw material timely to avoid last-minute hassles. Storage of this footage over a cloud shared network can even allow authorities to check if there are any quality issues during processing stage of raw materials.
3. Higher efficiency
Cloud storage surveillance has higher efficiency than the traditional security surveillance system. This deployment can help you to decide extra working hours of employees and pay out basis number of extra hours completed. Moreover, if you avail an outsourcing partner for a video surveillance facility; they will help you constantly upgrade your system installation on a timely basis. The best part is that you can even keep saving footage without the network access, which means that the electricity cut wouldn't impact the recording. It also allows employees to work better when they are under constant monitoring through surveillance.
4. Flexibility, scalability, technological evolution
Add or remove cloud IP cameras based on your business needs and speak to your outsourcing provider about it. Allow only authorized access to required officials and have multiple rights of view, download, and save facility available of the recorded video data.
Bandwidth management and technology longevity are some features that you cannot ignore when you plan to replace your traditional camera security. Unfortunately, there is no manual process to change cameras at the site, update them or replace them. However, constant alerts and notifications about your set parameters, such as a note on suspicious activity or hardware/software failure, can go a long run in securing your premises efficiently.
The resolution of the retention period can also be increased or decreases basis your need.
5. Secured Data
Since the cloud storage camera is accessible only to respective authorities, it saves intruders or theft of video footage from being retrieved by unauthorized people. In cases wherein the footage access can have USP for the business processes, especially in manufacturing, application engineering, etc., this can provide you a competitive edge. All the storage available on cloud surveillance platforms saves your footage from being stolen, damaged, or misplaced. If there is a malfunction in any way, the storage footage is still accessible due to an SDR card embedded inside the camera. Secured processes allow you to say yes to clients who are abroad. You can set up your facilities abroad and monitor the premises here only. Centralized remote access is not just visible on desktop applications but also mobile applications.
The future of video surveillance is in the cloud
Now that you understand the benefits of video surveillance, you can say a big yes to upgrading your camera installations to a cloud storage facility. Simple installation and minimal cost through a trusted outsourcing partner will provide you a future-forward strategy in the market. Gain product leadership in the market with cloud surveillance that works 24*7 at a higher camera resolution, valuable insights, documented alerts, and much more.
With proactive monitoring, network checks, alarms, alerts, fraud protection, and more, a cloud storage video surveillance system can be the best option to opt for you and your customers.
Look no further. Read our services here and be in touch with us for an upgraded security system.