8 Hidden Benefits of Cloud Video Security Surveillance for Business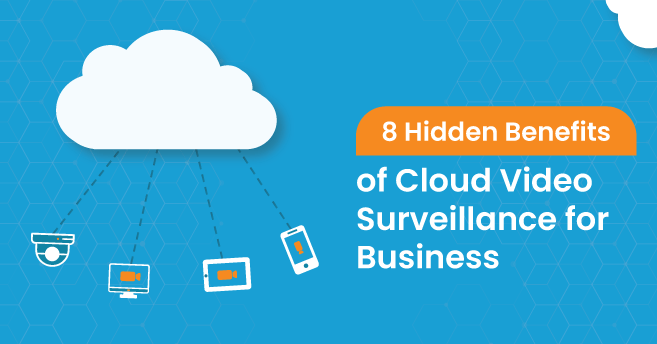 Cloud Video Security Surveillance for Business- Cloud video surveillance is usually the first thing that pops up when discussing a foolproof solution for a surveillance system for business. It is one of the most common surveillance systems companies yield to when it comes to the security and management of your business. 
As the name implies, cloud-based surveillance is one of the most prevalent solutions for businesses. With this form of surveillance, you can maintain total control over all aspects of your technology, including file processing and video streaming.
Here are some of the most important ones listed for you: 
8 Hidden Benefits of Cloud Video Security Surveillance for Business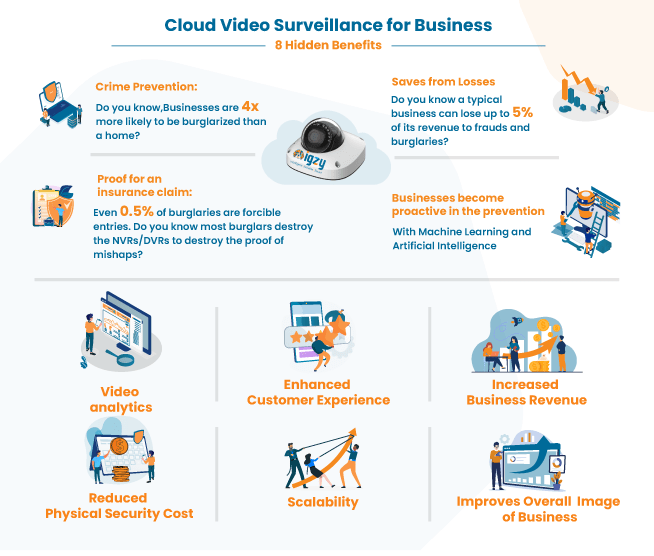 1. Crime Prevention
Do you know, Businesses are 4x more likely to be burglarized than a home?  –The most common reason is that businesses have more valuable items.
Cloud Video Security Surveillance is the best way to protect your business from intrusion or criminal activity. Employing a cloud security camera system, you receive live footage 24X7.
However, the exciting part is that cloud video surveillance cameras are equipped with motion detection and audio recording. It helps prevent burglaries by alerting the owner when someone enters an area they shouldn't be in.
For instance, IGZY cloud video security surveillance lets you filter out video snippets where the cameras have detected audio, objects, humans, and more.  
2. Saves from Losses and lack of proof for an insurance claim
Do you know a typical business can lose up to 5% of its revenue to frauds and burglaries? Even 0.5% of burglaries are forcible entries.
Most of the time, burglaries are "crimes of opportunity" in which the first thing the burglars or intruders do is destroy the cameras, storage processing devices like DVRs and NVRs, or the hard drive where the footage is stored.
Once you lose your footage, it becomes tough for the business owners to show proof of mishaps, and it becomes even worse when it is time to claim insurance for the loss.
However, if cloud-based security camera systems for business, these things can quickly be taken care of. Since the footage is being stored in the cloud servers remotely, it leaves nothing in the hands of burglars to take care of while they do their deeds.
Even if the cameras are taken away, your footage is safe in the cloud servers, proving that burglary or intrusion has happened. 
3. Continuous and real-time monitoring 
Cloud video security surveillance systems are a great way to monitor your business from anywhere 24×7. They provide a high-resolution, real-time view of what's happening inside your business, so you can detect and respond to any changes.
Moreover, If the Camera goes off because someone has tampered with your camera, you'll be alerted immediately. For instance, with IGZY Cloud video security surveillance for business, you can see exactly where the problem is and how to fix it with the predefined escalation matrix.
The best feature of cloud cameras is they're available until it is connected to the internet. This means they can send video footage instantly as soon as it occurs instead of waiting until later, with local hard drives, when it might be too late.
4. Business Become Proactive in preventing
How amazing it would be if your cameras not just recorded what's happening in your business and prevented anything terrible from happening.  Well, that's what cloud video security surveillance for business is used for – Making your business Proactive!
The system is an integrated surveillance & security platform that provides real-time insights, with the help of machine learning and artificial intelligence, which lets businesses detect anomalies and threats in real time.
With the help of cloud video security surveillance, businesses can resolve issues promptly when they occur or prevent problems from happening in the first place. This even helps in reducing the cost of responding to security incidents.
5. Increase business revenue through video analytics
This may sound unrealistic, but YOU CAN INCREASE BUSINESS REVENUE with cloud surveillance – Simply by having a better understanding of customer behavior through video analytics.
( In simple terms, video analytics analyzes video data to gain insights into consumer behavior. The insight gained from video analysis can be used to improve marketing campaigns and business processes and optimize operations.)
Cloud video security surveillance with Video analytics can prove itself as a boon, especially when businesses have direct in-store interaction with customers.
Let's say you own a Retail store. IGZY Cloud Surveillance video security analytics shows how many people are entering your store — male or female. Even you can move the products around to take full advantage of high-traffic areas. And so much more…
Video analytics can help track customer traffic patterns throughout your business. This allows you to move inventory and adjust stocking so that there's always something new for people to buy.
6. Reduce the Physical Security Cost, and Scalable
Cloud video security surveillance is a cost-effective way to secure your business. For businesses planning to expand their physical presence across different locations, cloud-based security systems can prove themselves to be a boon. How?
To monitor multiple locations, you need a workforce. More areas need more workforce, which ultimately increases your human cost. 
However, with a cloud-based security setup for business, you can have all your sites on a single platform, eliminating:
The cost of employing more physical security.

The chances of Human error and Bias
Similarly, Installing traditional surveillance setups is an additional cost in terms of hardware and software. Cloud storage security setup allows businesses to scale up their storage capacity to whatever extent they prefer based on subscription methods. So, there is no need to:
Maintain Stringent Security infrastructure. 

Spend money to maintain multiple servers.
7. Adherence to business security Compliance 
Cloud video surveillance for businesses can take care of security concerns and help with security compliance. 
For example, if you are supposed to store security footage for a particular period ( 90 days), you will have it handy in cloud storage. 
With cloud-based security cameras for business, there is no chance of theft or manipulation. You can easily comply with the standards set for your security requirement.
8. Improves Overall Image of Business
The benefits of cloud video security surveillance go beyond just being able to see what's happening inside your business premises. It also helps businesses improve their image, which is essential in today's competitive marketplace. The real-time analysis of 
– What is working
– What's not for your business
– Where to improve
Creates a sense of security inside your office premise. It gives excellent business visual access and sense since business owners often can only be in one place at a time.  
To Wrap up
In the end, there are some benefits of cloud video security surveillance for businesses that you should consider if you plan to install cameras. They exceed the rest in terms of cost-effectiveness, management, and implementation. 
Cloud surveillance is one of the best modern innovations for today's businesses. Finding the right provider for your business will likely take some time and research, but the benefits you'll experience from a cloud-based security surveillance system are worth the effort. If you'd like to explore the best cloud video surveillance for business, click here and get a free security consultation from IGZY.