How Does A Cloud Based Video Security Surveillance Solution Impact CX & ROI?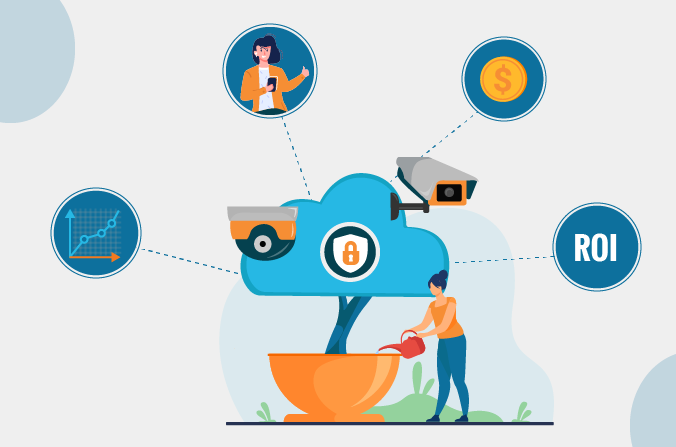 Large global companies worldwide have accelerated their move to the cloud as part of their digital transformations. As a result of this, a number are enjoying significant new capabilities and reaping business advantages. VSaaS, also Video Surveillance as a Service, refers to hosted cloud-based video surveillance. The service typically includes video recording, storage, remote viewing, management alerts, cybersecurity and more. Ninety-three percent of businesses have now adopted cloud solutions. Cloud technology advances and greater bandwidth availability make VSaaS – also called cloud video surveillance – increasingly attractive. Cloud-based video surveillance offers the possibility of almost unlimited coverage and control. Add to that quicker and less disruptive installations, and it's easy to see why the cloud is the future.
Cloud video surveillance, stated, means all your surveillance footage is cloud-based and delivered as a service over the internet. Until very recently, video surveillance systems were mainly used as a crime prevention tool. Today, however, applications are used for much more diverse reasons. These include false claims and fraud protection, proactive monitoring, observation of health and safety protocols, and many more. With the customers' requirements evolving and changing, so should the delivery of video surveillance.
Using cloud storage, an enterprise can remove the need for servers, DVR/NVRs, and hard drives, thereby greatly reducing its hardware footprint. With less hardware, a business will have fewer components failing or need replacing. This saves the organization's time and money on labour and less painful headaches when managing their video security.
The cloud surveillance system is a win-win for both enterprises and their customers.
The following points can be highlighted to show the benefits of cloud surveillance to customers:
1. Convenience
For customers, the main benefit of cloud vsaas solution is its convenience. Users can watch live feeds as well as recorded video directly from their smartphones. They have access to the footage from anywhere and at any time. This is convenient for your customers and reassuring, as all business processes are being monitored regularly. In addition to the easy access to the cameras' footage, cloud video surveillance also allows for easy video playback. Users can replay and even share or download recorded motion events straight from the mobile app.
2. Remote access
COVID-19 has also created new security and business operational challenges that spurred the demand for cloud security solutions. Cloud solves the escalating need for remote access to video and easily download and share footage remotely.
3. Redressal of complaints
In case of any disagreement or complaint with the services provided by a business, the consumer will have an enhanced redressal system, which will not affect the long term image of the business as well. For example, cameras installed in kitchens of restaurants can be trained to identify the presence (mask, gloves, hairnets) or absence (small animals) of different objects, which can help in hygiene maintenance. Any unsatisfactory situation gets notified to authorized personnel via real-time email or SMS notifications, thus ensuring high quality as promised to the customer.
4. Flexibility
Cloud video surveillance systems prove to be more flexible than traditional security systems. For example, if an enterprise requires more storage, it can easily adjust the storage retention period. All one needs to do is upgrade (or downgrade) their storage plan, depending on their requirements. In addition, cloud-based systems don't need extensive on-premise equipment. This makes them inherently more scalable, with no need for complex on-site installations.
5. Employee productivity
Employee monitoring software systems help to build employee productivity in a workplace. With a productive workforce, one is likely to have higher returns on investments. And since one can track productivity metrics, including hours worked, you can use this data when it comes to payment, especially if your company has shifts and overtime.
The following points can be shown the benefits of cloud surveillance to an enterprise:
1. Energy consumption
Managing energy consumption has proven to be beneficial for the enterprise to reduce its cost and the environment. The e-surveillance system notifies employers via a dashboard of the high energy waste points per the energy meter readings. With these daily readings, managers can find weekly or monthly consumption patterns, find problem areas and make amends.
2. Cost savings
Less expenditure on guards, analogue wiring, repairs & replacements- the security cameras and integrated security system proves to be very efficient and helpful in securing an enterprise. The 360-degree surveillance of IP based warehouse security cameras & integrated sensors cannot be executed via manual guarding. The regular device health checks and reduction in hardware & wiring hence lead to minimal repairs & replacements. These technologies have proven to be economical in the long run, therefore giving greater returns on your investment.
3. Inventory management
Inventory is the most important thing while running a business and must be managed in the best possible way. The movement and management of the inventory can improve warehouse operability. Various barcodes and RFID scanners are used to keep track of the inventory. Along with these scanners, smart detection cameras are also used to oversee inventory movement in the warehouse and help manage it efficiently.
The retail industry was one of the early adopters of cloud security surveillance with network video and video analytics to help loss prevention and customer safety. They've also used video to analyze customer traffic and behaviour to improve product placement, increase product sales, and cross-sell related items.
Through integrating network video with point-of-sale terminals to reconcile cash register receipts, measuring check out wait times to increase employee productivity, adding heat mapping analytics to study customer foot traffic patterns, as well as improving the customer experience are just some of the ways retailers have applied the principles of IoT to their advantage. With overlay intelligent building controls, one can see the exponential power of integrating intelligent video with other IoT devices and systems.
Conclusion
With increased security, ease of use, and remote access, cloud video surveillance systems are better than traditional systems. Add to that simple installation and minimal cost, and it's no wonder the future of CCTV is in the cloud. While cost, bandwidth, security and resolution are areas that have seen vast improvements in recent years, the day is not far behind where each enterprise adopts IoT in the security systems both for their organization and a better consumer experience. Get to know more about our VSaaS solution today! Contact our product specialist for a real-time virtual platform demo.