REVISING HEALTH AND HYGIENE PROTOCOLS WITH A FOOD SECURITY SYSTEM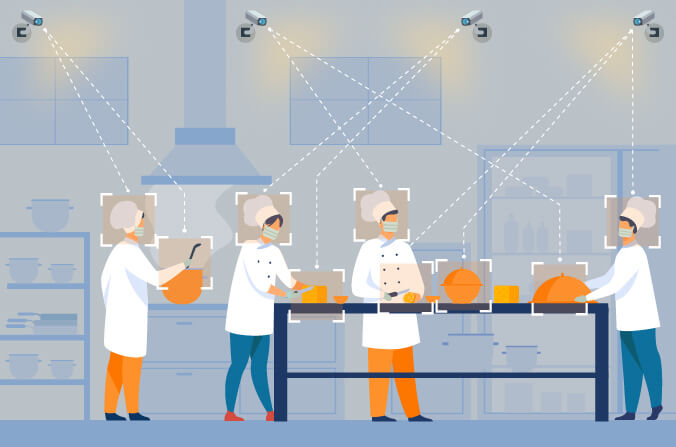 The food industry must pay incredible focus on the health and hygiene conditions of the prep areas and the prepping squad. From clean kitchens to maintenance of personal hygiene, people working in this industry must take extra precautions to ensure the safety of their customers. A food security system equipped with multiple cameras and sensors can put things into perspective. A kitchen surveillance camera with edge analytics allows employers to monitor and appraise employee performance in real-time.
HOW A FOOD SECURITY SYSTEM BOOSTS PRESENT-DAY HYGIENE REQUIREMENTS
What goes on inside the kitchen of an eating joint is often a mystery to the customers. Still, it should not be one to the employer – knowing precisely what is going on and who is doing what can give rightful insights into the facility's management.
Whether a restaurant, a cloud kitchen, or simply a food production/storage facility, employees have to keep in mind the end use of these products, emphasizing the importance of proper maintenance.
A food security system can easily replace a supervisor's daunting presence, acting as a silent spectator if the employee performance is up to the mark. Whether due to negligence or misconduct, any mismanagement can be recorded and notified to the supervisor in real-time.
Some essential activities that can be made easy with the installation of a food security system:
Monitoring regular housekeeping and cleaning of utensils
Monitoring temperature levels in storage units
Keeping records of all inventories, their expiry dates, suitable temperature settings, etc.
Detecting the presence of gloves, caps, aprons, and face masks at all times inside the kitchen or on the production site
Managing sanitized workstations and packaging before food is sent out
A food security system is a complete solution used to monitor multiple sites simultaneously, rather than just areas used for food prep. Nothing short of a comprehensive surveillance package, the system can keep data intact and unbothered for days up to a month for easy monthly appraisals.
HOW COVID HAS BEEN RESPONSIBLE FOR AN IMMEDIATE NEED FOR BETTER PROTOCOL MANAGEMENT
Under its FSSAI protocols, the Indian Government established a framework for all retailers, manufacturers, and distributors of the industry years ago. Even so, with the onslaught of the pandemic in 2020, the industry was caught by surprise. The year threw light upon the limitations of our structure and highlighted the need for more rigorous protocols.
Realizing that the industry was not fully equipped to handle this situation led to an opening for more innovation. Restaurateurs and manufacturers recognized the need to ensure that the food and beverage industry became responsible suppliers for the masses. Traditional supervision was proven ineffective in the wake of the global epidemic, leading to a months-long hiatus in every food industry sector.
Even for the sole purpose of relevance in the industry, a monitoring structure constructed around the idea of mapping every employee's footsteps has fallen into place.
Materializing customer's trust in your services
The present-day customer is very "woke" when it comes to items they consume. The trend is knowing the ingredients, the process, and everything that goes into preparing the final product. They want an opinion into what goes on their pizza, how thin or thick the crust must be, and so on. They are also quick to discontinue any cartel services that do not stand in solidarity with their own opinions.
Maintaining a bird's-eye view of minute hygiene practices with a food security system
The activities inside a kitchen are sacred; they must be performed with utmost devotion, following excellent hygiene practices, and devoid of cross-contamination. A remotely controlled structure of surveillance helps keep this essence intact. With a supervisor's eyes on several kitchen surveillance camera views and an even more sharp camera sense, employees are more prone to stay in line with their instructed route. Minimizing deviations in procedures and following through with SOPs drives facilities towards a more efficiently performing facility.
Apart from monitoring compliance, a kitchen surveillance camera solution is especially beneficial to put out a good word in the market. Restaurants can use intelligent video analytics-based CCTV systems to monitor food production rates, identify production line errors, and monitor wash/decontamination areas.
Brand reputation
Food production scandals can break a business, sealing almost any chance of making it big in the industry again. By having CCTV cameras monitoring areas such as food production lines, food storage units, packaging processes, and decontamination rooms, you can demonstrate commitment to quality and compliance.
Industry legislation compliance
Food contamination is a big issue, especially in the face of the pandemic, when the prime focus is on food quality in transit. Whether in terms of who makes the food or who delivers it, a sense of comfort is attached to knowing that all your employees follow proper procedures. Installing a cloud camera for kitchen surveillance encourages customer confidence and ensures compliance with food production and handling regulations.
Maintaining quality
An AI-based food security system can automatically detect any deviations in the performance of employees. Regularly scheduled recording for protocols like floor-sweeping, hand washing, utensil sanitization, and more enable employees to stay connected to their sites.
Increased productivity
With many manufacturers supplying to the major supermarkets, keeping production costs to a minimum helps meet price-driven demands. Consequently, intelligent video systems can monitor production rates, identify areas of concern and improvement, and automatically spot production line errors.
TRANSITIONING FROM TRADITIONAL RETAIL TO AI AUTOMATION WITH A FOOD SECURITY SYSTEM
Major restaurant chains stepped into the second wave of the pandemic with a little more preparation than last year. They have implemented AI to visualize and monitor their kitchen processes, conduct audits, and create a pool of loyal customers.
An AI-based food security system allows an employer to monitor every step and movement made inside the kitchen, ensure productivity, but not at the cost of hygiene.
The AI system leverages video recording and edge analysis capabilities of IP cameras to monitor the presence or absence of necessities like caps, gloves, face masks, and the like.
By replacing the old methods of contact-based access (thumb or fingerprint-based entry), the kitchen surveillance camera can be trained to identify employees via contactless methods and detect specific components like their employee IDs, facial recognition, iris-scans, voices, uniforms, or any other identifying feature.
Scheduled monitoring to ensure regular cleaning of the floor, utensils, and cooking stations ensures that basic hygiene protocols are followed. How often an employee washes their hands, and how long is another area requiring disciplined monitoring.
LET IGZY LEAD YOU TOWARDS FOOD SECURITY OPTIMIZATION
IGZY has been a leading catalyst in making food security and hygiene optimization a reality in the F&B industry. Our platform has helped many brands strengthen their market presence – from restaurants and QSRs to manufacturing and production sites.
Our food security system enables you to continuously record and review the performance of your employees and ensure the quality of their approach towards instructions and SOPs.
We understand the value of hygiene and regularization in the food industry. IGZY is equipped to put you at ease while enhancing your business's performance, brand reputation, and customer satisfaction.
Want to know how IGZY can help your business?
Get in touch, and we will fix a date to show you how our surveillance platform can help protect and promote your F&B business.