Importance Of Warehouse Surveillance: A Warehouse Surveillance Checklist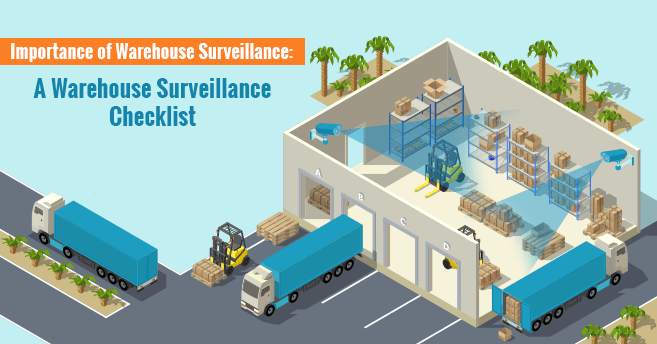 Warehouses are among the most physically vulnerable places on a business' property. For this reason, it is essential to invest in surveillance systems for your warehouse. The Importance of warehouse surveillance systems always results in improved security, peace of mind, increased workplace efficiency, and even increased profits. 
It's essential to find ways to shield your assets from theft and other vandals. On the other hand, it is critical to verify and ensure that the security measures are in place to ensure they're working as expected. By the end of this blog, you will better understand warehouse surveillance best practices & guidelines.
Pinpointing The Threat: The Need for Warehouse surveillance?
The primary threat to warehouses is usually theft. It becomes the responsibility of warehouse owners to ensure their goods are safe from theft. However, Other important things are taken care of by warehouse surveillance systems, such as:
External Intrusions 

Employee theft

Maintaining SOP in warehouse 

Employee safety issues

Detection of break-ins and vandalism

Prevention of lawsuits and other legal matters
Factors for selecting Warehouse Surveillance Systems
There are significant factors that warehouse owners must remember when investing in any warehouse solution. 
The first thing to consider is

where the warehouse is located and the size of the area.

The larger the business, the more critical it is to have a high-quality security system installed in your warehouse. 

You should also consider

the number of entryways and exit

ways in your warehouse. This will help you determine the setup you need to install for access control.

What is the

standard operating procedure for your business

? This will help you decide which security measures to take for your business's safety and efficiency.

The type of storage you might need under the compliance and guidelines.
Learn more about what type of surveillance solution might suit your storage and warehousing facility.
A Warehouse Surveillance Checklist
If you are thinking about installing warehouse surveillance, there are several things that you should include in your system. This checklist will help you determine the necessary features for a successful warehouse surveillance setup.
1. Type of Cameras: Know your Warehouse Security Camera options
Many different types of cameras are available, and each has its purpose and price point. Some warehouse security camera options include:
Network Cameras: These cameras allow you to view multiple cameras from one device or computer. They can be used to monitor your business from a remote location. 
Fixed/ Local Cameras: These are located within your warehouse and only display footage from those locations.
Cloud Cameras: These cameras allow you to keep footage remotely on the cloud. Moreover, they have inbuild motion sensors and audio recorders which enhance warehouse security. Cloud cameras can be deployed on specific security-sensitive areas such as high-value storage goods areas etc. You can also use it as a hybrid model by adding network cameras for the rest of the area. 
Moreover, you can make a note of the questions like:
Can the warehouse security camera system be upgraded?

Does it have long-term storage capabilities?

What kind of image quality does it produce?

How easy is it to install?

Will it integrate with your existing security system?
2. Select the best points for your Warehouse Surveillance Cameras
A warehouse surveillance system is a great way to improve your security, safety, and 
productivity. You can monitor both the interior and exterior of your warehouse.
Select a warehouse surveillance system that fits your needs. Most warehouse security cameras are designed for indoor use only, but you may also want to consider cameras that can be mounted outside. 
Consider where exactly you would like to place your camera. 
3. How many Security Cameras do you need?
Once you are decided on the exact points you want to place your cameras. You can eventually choose how many of them you have. It may also depend on if you cover crucial areas with more than one camera.
For example, if there is a warehouse with an area of 10,000 square feet, then there are about 20 cameras that are needed for the surveillance system. But if it's much smaller than this, then only a few cameras should be placed to cover every inch inside the warehouse.
4. What about Access Control 
If you have more than one entrance, you need to install door access control systems so that only authorized personnel can enter your premises. This will prevent unauthorized entry into your warehouse and protect against security breaches.
For instance, If you have a small warehouse with only a few employees working there regularly, keyless entry systems may be best for your needs because they are easy to install and operate. 
However, if you have many people coming through your warehouse every day and need to lock them out after hours so nobody else can enter without permission during business hours, then an access control system with biometrics or OTP Based would be ideal.
5. Quality Surveillance equipment and lifetime
There are several types of surveillance equipment. Some systems attach to a camera and record the video. These include DVRs, NVRs, and Cloud-based surveillance systems. 
All these surveillance systems have their features regarding life span and cost of replacement. It would be best if you chose surveillance equipment that has a long life and is easy to use. You should also ensure that it has enough storage space to save footage from multiple days and can not be manipulated or destroyed. 
6. Use technology to your advantage through Warehouse Surveillance
There are several features and functionalities that you can opt for to automate your Warehouse facility's daily operations, improve safety and increase efficiency. 
You can use day-in-day-out video footage to identify security issues that may arise daily. You could also utilize the intelligent surveillance solution to streamline the process of making inventory, picking, packing, and shipping orders. Moreover, you can leverage it to achieve SOPs efficiently.
To Wrap Up
The importance of Warehouse surveillance is, without any doubt, has been talked about a lot. Systems can help an organization track and manage its inventory, costs, and compliance. 
It helps establish and maintain inventory control, which means ensuring everything in a warehouse is in its correct place. Ensuring that all aspects of the warehouse are kept up to date and compliant with changes in industry regulations and business needs. 
If you'd like to know more about how IGZY can help you get started with warehouse surveillance for your facility. Reach out to us at [email protected].