IOT & Cloud Platform: How It Works and What it Can Do for You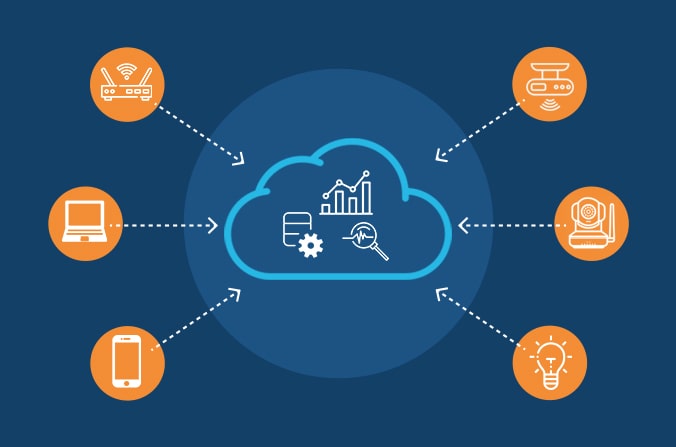 Did you know the global IoT market is growing at an exponential rate?
A Cision PR Newswire report states that the global IoT market was worth $164 billion in 2018, and it will see a CAGR of 38.62% between 2019 and 2025.
WHAT IS AN IOT CLOUD PLATFORM?
An IoT cloud platform brings together the capabilities of IoT devices and solutions to bring forth added value for consumer and business applications alike.  It helps to minimize risk, reduce operational and development costs. An IoT cloud platform facilitates communication, device management, data flow, and the functionality of applications. However, diverse your IOT cloud platform, it integrates hardware to the cloud by using options of flexibility connectivity. IoT platforms provide a huge amount of value to the businesses – allowing them to lower development costs, accelerate launch, and streamline business processes.
ADVANCED IoT PLATFORMS
IoT Cloud platform offers capabilities to help and analyze your enterprise to achieve business-critical needs with increased agility. It provides an end-to-end solution, allowing you to minimize the cost and complexities that come with managing several security vendors.
IoT PLATFORMS HELP
Connect hardware, such as sensors and devices to the cloud
Handle different software and hardware communication protocols
Provide security, reliability, and authentication for devices and users
Monitor, collect, interpret, and analyze data to the sensors and devices simultaneously.
Integrate all of the above with existing systems and other web services of any enterprise.
Benefits of having an IoT cloud platform for your enterprise
Have you ever thought about why so many enterprises are moving towards the IoT cloud platform?
It is simply because there are numerous advantages of IoT cloud platform. It helps in increasing efficiency and productivity, reduces cost among many others. Take a look at these top six advantages of IoT cloud platform:
1. 100% VISIBILITY OF MULTIPLE SITES
Due to the divided ecosystem of security devices and solutions provided by multiple vendors, it becomes difficult for enterprises to achieve total visibility of their sites. To keep a check on all the sites together becomes challenging with disparate security systems on hand. Enterprises can access all IoT security devices and solutions on one platform to ensure ease of operations and efficiency. Total visibility and access to several sites are important to avoid any threat or mishaps.
2. PROACTIVE ANALYSIS
The efficiency of cloud platform is based on how actively a threat can be prevented. Predictive analysis with the power of artificial intelligence and machine learning enables real-time alerts on any deviation, device failure notifications, and analytics from various sources. Enterprises can easily identify improvement areas and optimize the business process through actionable insights. The proactive system notifies escalations about a threat or violation at an access point and prevents them from taking action before time which usually results in the loss of valuable goods.
3. REDUCTION OF OPERATING COSTS
IoT platform integrated with artificial intelligence and machine learning can help firms cut costs and maintain a competitive advantage. IoT devices can be used to monitor equipment and minimize downtime by predicting failures before any mishaps. IoT cloud platform helps you to monitor activity throughout their premises without requiring guards to monitor video feeds, thereby reducing the operating costs while getting all the analytics. Enterprises can update their existing security solutions to an IP based solution at the minimum capital expense. With IoT platform, your business could improve the productivity of every process and make them more effective.
4. HIGHER SCALABILITY
IoT cloud platform has great space availability along with scalable, enhanced security for your data. It also has the provision for real-time alerts and insights of the devices connected anywhere around the globe at any time. This allows for easy collaboration and sharing among users in different locations. A platform to view locations of multiple cameras installed at different sites and get better access to footages. It is an extremely scalable platform, claiming to be able to support billions of connected devices, and the interaction between them.
5. ADVANCED ANALYTICS
IoT platform based on artificial intelligence and machine learning can get actionable insights from the business. It helps ensure SOP adherence by the employees to maintain efficiency across operations. Advance analytics adds intelligence to this data making it decision-able, enabling real-time alerting, automate optimization, etc. IoT Cloud platform develops the ability to identify, analyze, and interpret this very important data for monitoring and helps in improvement areas to take better actions towards building a quick decision-making process.
6. IMPROVE OPERATIONAL EFFICIENCY
IoT cloud platform supports a wide variety of embedded operating systems, works seamlessly, and provides out-of-the-box support for devices. Maximizing productivity and efficiency is a high priority for all enterprises to ensure profitability. IoT platform helps you monitor and protect valuable assets and information safely and efficiently. By using IoT cloud platform, your business could improve the productivity of every process and make them more effective.
COMMON SECURITY CHALLENGES
IoT Cloud platform offers a single application to connect all the security devices and solutions for better visibility. Despite being the core strength of some businesses, IoT cloud platform also faces some challenges:
1. SECURITY OF DATA
Due to the limited capabilities of storage, processing, and memory in network-based video recording, devices are not capable of supporting encryption and other processing functions to transfer data securely from one platform to the other. To ensure that the data is stored and processed securely after the transmission through different networks is critical for privacy issues. As you transfer essential details of your business to a third party, you need to ensure you have a cloud management and security system. The cloud platform can provide better security with direct transfer of data from the device to the platform in real-time.
2. INTERNET AVAILABILITY
A greater challenge is the issue of connectivity. IoT platforms are dependent on the network speed and quality for seamless operations. In an infrastructure like India, where the systems are still in development phase, network connectivity in remote areas is still an issue for enterprises. Due to the lack of established bandwidth connectivity, there are huge chances of devices experiencing network failures that lay a risk for the security of the data. Therefore, it is a crucial aspect for IoT companies to carefully scrutinize their connectivity providers and to decide upon a reliable provider that has a strong record of innovation and service.
3. LACK OF KNOWLEDGE/EXPERTISE
Every organization does not have sufficient knowledge about the implementation of the IoT cloud platform. They do not have expertise personnel and tools for the proper use of cloud platform.  It is challenging for the enterprises to provide information and teaching their staff about the process and tools of the IoT cloud platform is a very big challenge in itself. It is difficult for any enterprise to shift their business to cloud-based technology without having proper knowledge. Experts' suggest training the existing staff to pace them up to speed with the technology.
4. COMPLIANCE REGULATION
One of the challenge that IoT cloud platform faces is compliance regulation – A consistent issue for anyone using the services of cloud storage or backup. Whenever a company has moved data from internal storage to the cloud, it faces compliance with industry regulations. Enterprise should make sure that IoT platform must adhere to the industry standards and global regulatory requirements. Many organization needs to hire a data protection officer to oversee data privacy and security that will help them to meet any legal obligations.
CONCLUSION
It's no secret; IoT cloud platform is revolutionizing the way businesses work. It ensures robust security of your enterprise with monitoring sites and data from different systems on a cloud platform. It also enhances business efficiency with better analysis and response to data in real-time basis.
There are some common problems regarding the IoT cloud platform in real life. But the benefits of IoT cloud platform are beyond these hazards. So you should find the perfect solutions and avail the huge benefits of IoT cloud platform in your business. It can take your business to the new heights!!