5 reasons why you should move video surveillance to cloud?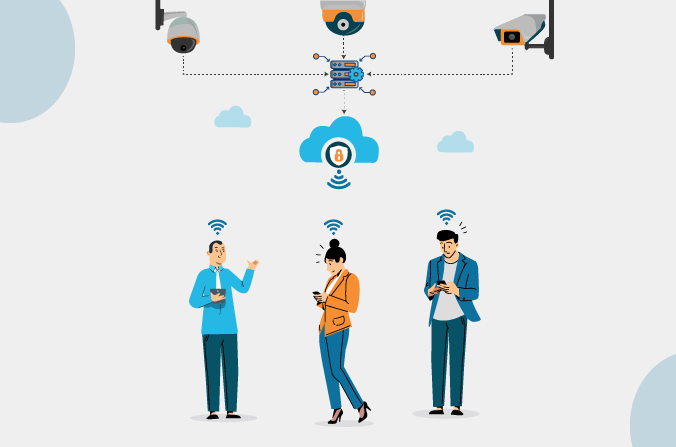 Video Surveillance to Cloud as a service is the term widely known in the cloud surveillance industry. This service typically includes video recording, storage on cloud, remote viewing, proactive management alerts, and cyber security. VSaaS – also called cloud video surveillance is growing at a rapid pace across industries. With such expansion, VSaaS is basically becoming an upgrade to traditional forms of recording and storing video footage through digital video recorders (DVR).
The reason behind this growth in video surveillance to cloud is because of its digital and proactive approach to surveillance. While making its way towards being an integral part of several kinds of businesses, video surveillance to cloud can offer a multitude of benefits. Let's explore a bit of them:
How does Video Surveillance to Cloud?
Cloud is basically a remote server where the camera footage is stored or uploaded and can be accessed for later use along with live streaming capabilities. These services are becoming popular because you need not to worry about storing files or any crucial information/footage being deleted or corrupted through malicious activities. You can have all that information stored over the cloud for a longer time. Video Surveillance to Cloud can be used for:
Protecting facilities by setting off the alarm during the perimeter intrusion of the property
Loss prevention such as taking care of assets and essentials that need tight surveillance.
Vandalism deterrence wherein anyone harming assets or property can be identified with facial recognition camera capabilities
Monitoring day to day operations and monitoring staff to streamline operations
Employee safety and compliance management in regards to adherence and civil proceedings
Other monitoring like traffic monitoring, parking safety to prevent vandalism of vehicles, video surveillance for big or small events
Outdoor perimeter security like people on patrolling, pedestrian gates and intrusions in unauthorized places.
We have seen what video surveillance has to offer and some of those benefits have been discussed above. Now is the time to see how video surveillance to cloud can do wonders for your business. And how moving to the cloud in your video surveillance initiatives is a good idea!
Here are 5 reasons for you to understand the idea better:
5 reasons to move video surveillance to cloud
1. Seamless hardware installation
Deploying a traditional video surveillance can be a complex process especially when you have to deal with hardware installation. It not only includes a lot of manual effort and time but requires installation of operating system software, configuring routes and cameras and then the application. A video surveillance to cloud has on-demand deployment capabilities. In this, you can auto-configure your cameras and set-up on-premise bridge appliances. Once the initial wiring is done, video surveillance to cloud dashboard shows camera status with instant alerts on security or any connectivity issues.
2. Efficient storage system
A traditional DVR or NVR based surveillance will store the video on site where storage retention is rigid and you only have to rely on hardware capacity. The time you want to increase the resolution or retention period of your cameras, you have to buy additional hardware or replacement ones. Advanced cloud systems like cloud video surveillance offer a flexible combination of on-premise and cloud storage with smooth access to video recordings and storage. It also provides the benefit of instantly increasing resolution without having to modify or replace your current hardware.
3. Useful insights to incident based detection
Video Surveillance to Cloud compared to other alternatives or any other options in the market, promotes easier firmware and security updates. It offers high-level encryption for live streaming and stored footage. Live streaming makes it easy for us to detect and understand the incidents appropriately. Cloud video surveillance encourages an overall culture of risk avoidance while providing an effective way to keep the cameras rolling, footage streaming and trust that the enterprise is as updated and protected as possible.
4. Costs maintenance
The operational or extra expenses associated with experienced IT personnel, including other employment costs, are more than the cost of hardware and software you enable for video surveillance. In cloud video surveillance, the service providers' IT staff support a shared infrastructure where they take care of everything from hardware, maintenance & streaming with proper training. Thus, it can get easy for your business to cut down on extra expenses by enabling video surveillance to cloud platform providers.
5. Convenience and reliability
Conventional methods of video surveillance have highly variable redundancy levels. Moreover, internal IT staffing is required to maintain those redundancies. In DVR or NVR based video surveillance, the duplicate servers are often idle, adding to the overhead expense. Cloud video surveillance data centers offer reliability in overcoming this challenge. Advanced video surveillance to cloud systems provide on-premise storage as a backup, even when the internet goes down and help with proactive alerts.
Summing up
The primary benefit of video cloud storage or VSaaS is its functionality drivers that include rapid technology evolution, cyber security, staff accountability, people security, retention flexibility & smooth remote access while covering additional expenses.
IGZY's video surveillance as a service offers businesses to pay only what they need in their platform with visibility to real-time streaming of footage. It aligns businesses with security that is promised with proactive support, storage and convenience. Therefore, moving your video surveillance to E-surveillance or video surveillance to cloud will save your business on many factors and safeguard your customers too.
Contact us today to know more about our cloud video surveillance solution and how it can help your business achieve security & efficiency.