A practical guide to buying security cameras for your office in 2023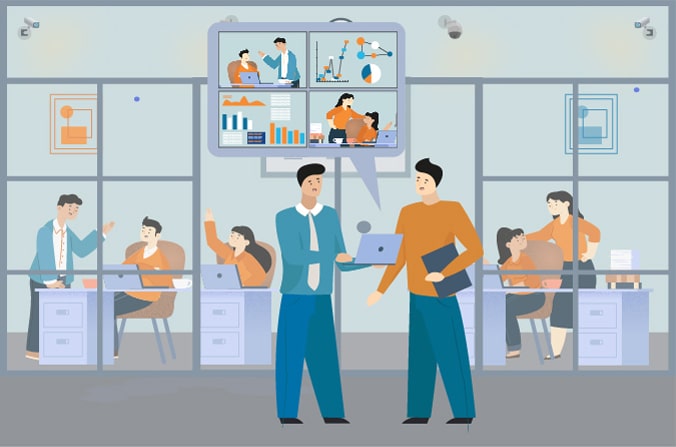 Many businesses still think investing in a video surveillance system is unnecessary if they don't have costly inventory in stock or sensitive supplies on-site. However, significant advancements in video surveillance technology have made security systems more powerful, efficient, and affordable than they've ever been in the past, and they can perform a vital role in improving safety and security in your office.
Most businesses don't have the means to employ security guards throughout the building or office, and even if they did, it's not possible to keep an eye on everything at once. That's where video surveillance steps in.
Today's video surveillance systems are more intelligent and effective than ever before offering special functions and features, i.e. motion or smoke sensors, automatic mobile notifications, and real-time alerts. Some surveillance systems automatically contact the nearest police department instantly. There are plenty of features available from video surveillance systems and CCTV cameras in 2021, from night vision, smart motion detection, pan/tilt/zoom (PTZ), facial recognition, and much more.
You need to evaluate which features your business needs and select the right CCTV cameras and video surveillance system accordingly. For example, if you need to monitor your office at night, you should choose a video surveillance system with strong night vision and motion sensors with alert notification capabilities.
Security cameras can help shield your business against things like theft, intrusion, fire, flood or burglary and significantly increase your peace of mind.
Many people believe that burglaries are simply crimes of opportunity. However, statistics show that most burglaries are forcible entries, i.e. breaking windows, picking locks, kicking in doors, etc. A security system, including surveillance security cameras, can be an excellent deterrent for these types of crimes.
With all the video surveillance systems and CCTV cameras on the market, how do you know which is right for your office? You've worked hard to build your business now it's time to protect it.
Fortunately, IGZY made it easier for you with this practical guide. After all, your security is our priority.
Benefits of an intelligent video security camera system
Safety and security should always be a prime concern for your office. The right way for you to protect yourself is to consider a video surveillance system for your office that helps deter crime, prevent harassment, and even improve your organization's productivity.
When many people think of video surveillance, they think of CCTV cameras to catch people committing crimes. While it's undoubtedly one of the critical functions of video cameras, they also help prevent crimes from happening in the first place.
When you install a surveillance system, you're taking steps to protect your business. And with this protection, you gain peace of mind. Your employees can freely work without concern of infractions and theft, which lowers stress throughout the office. Your employees are also less likely to worry about harassment and other issues due to the surveillance system's evidence, allowing them to feel safe in the workplace.
Crime deterrence
Even if you don't have any high-value tangible assets, you still have a lot to lose if a burglar or corporate spy breaks into your office. Today, a single stolen laptop can do unimaginable damage in the form of stolen confidential information. CCTV security cameras discourage likely offenders or thieves from trying to sneak into unauthorized areas and deter them from criminal activity just by making them aware that all of their actions are being recorded. Also, when employees know that there are live cameras for office security, it can help them feel safer in the workplace.
Reduce insurance costs & fraud prevention
Security cameras can even help prevent insurance fraud. People can't falsely claim that they had an accident on your property if you have a record of their actions and whereabouts. Unforeseen events or serious incidents happen without warning. Having security camera recordings as forensic evidence can potentially prevent you from being held liable and help in avoiding expensive lawsuits.
Some insurance companies may also provide you with a discount on your premiums if you've invested in a video surveillance system for security and safety.
Improve productivity
It's a fact that when employees know that they're being recorded, they tend to waste less time.
According to The Productivity Institute, 20% of the average workday is spent on essential things, while 80% of the average workday is spent on items with little or no value. You can detect any glaring time-wasting events caught on camera and take action. At the same time, if an employee goes out of their way to do something good, you can reward them. The video recording footage of either of these events is valuable for training and HR purposes.
Reduce harassment at work
Not every case of harassment is reported. Video surveillance systems provide irrefutable proof of events, complete with timestamps and recorded video footage. Depending on the surveillance system, they also have the capability of recording audio. If any problem were to be reported to your HR department, i.e. a physical quarrel or harassment case, you could review the video footage to get an honest look at what happened. In turn, that provides your HR team concrete evidence that allows you to close the cases decisively.
Improve storage & accessibility
The old analog surveillance systems used tape recorders to store video footage, decreasing the volume of video footage stored and ease of accessibility to those video recordings. Digital video surveillance systems store all the video footage, your cameras capture on DVR or NVR systems with scalable storage space with on-site, offsite, hybrid, and cloud storage options that enable your security team to store more surveillance footage with digital than they can with analog technology.
Remote access
Modern video surveillance technology enables you to check on your office without the need to be there physically.
Instead of being confined to your office monitoring security footage for hours, digital video surveillance systems provide you and your security team with the flexibility of secure, remote login via a mobile phone, tablet or laptop. CCTV cameras can help your staff assess any suspicious activity or potentially dangerous situation from anywhere, enabling them to respond effectively.
Now, whether you have a remote office site under surveillance or out of the country, you can securely log in from any remote location to view security footage of your office.
Not only can video surveillance cameras deter criminals and help the police quickly arrest them, but these systems can also increase answerability among your employees. It helps you monitor productivity, and may even decrease your insurance premiums. While the initial costs of installing a video surveillance system may seem costly, the long-term payoff and the peace of mind are well worth the investment.
Where do I install security cameras in my office?
From your office's entrance/exit points to storage rooms, you need to ensure you have every inch of your workplace covered. It is crucial to know exactly where you want to install your CCTV security cameras, and why. For example, suppose you need to keep an eye on your entrance and exit points. In that case, you'll probably want a weatherproof outdoor camera with PTZ functionality, or if you're going to monitor your office at night, you should look for cameras with infrared technology for night vision functionality and motion sensors.
Various types of cameras have different capabilities in regards to how much area they can capture. Some cameras are built to provide 360-degree views, while others are more restricted in their optical scope. Some video cameras can zoom in and out automatically or manually, and other cameras will remain within their original focus settings. Some cameras have a high enough frame rate to capture fast-moving objects, i.e. cars, but other cameras won't. What type of cameras you look for will all depend on your office's unique requirements.
Before selecting any surveillance system, you also need to consider your plans for growth and expansion. Suppose you plan to scale your business up to include more entrances, more buildings, or simply more areas that need monitoring soon. In that case, you should invest in a system that can effortlessly scale up to manage those increased demands. That way, you won't have to completely renew your security system in the middle of that planned growth.
How to select the right security cameras for my office?
Over the last few decades, video surveillance has evolved from the wavy, grainy systems operating on analog technology that needed complex wiring and relied on VHS tapes for storage. Today, digital video surveillance offers you high-resolution security cameras and software with facial recognition technology, video analytics, real-time alerts, Artificial Intelligence (AI), Machine Learning (ML) and cloud storage making the workplace more secure.
Today, the two main types of cameras for video surveillance systems are the Analog and Internet Protocol (IP) cameras. Analog cameras have now been replaced much higher-quality IP cameras, which offer more features and capabilities.
IP cameras are networked devices that can capture images in a higher resolution and frame rate, have wireless options, fewer limitations on the number of cameras connected. They also enable automatic alerts, video analytics, and much more to track various measures of employee attendance and performance.
Digital Video Recording (DVR) systems are generally used by most small businesses requiring one or two cameras. However, for those businesses that need more, the Network Video Recorder (NVR) offers an even more versatile solution powered by servers designed to accommodate constant reading and writing, more generous storage, more cameras, and numerous users.
Rising security concerns need for an intelligent security system, and increasing consumer awareness towards safety has fuelled the demand for Video Surveillance-as-a-Service (VSaaS) market in India. Traditionally controlled by hardware-based surveillance systems, the country is now shifting towards surveillance as a service. Growing demand for VSaaS can be credited to its cost-effectiveness and maintenance, which is done at the service providers' end.
Do I need a video surveillance system in my office if the building has CCTV cameras or security guards?
If your building offers security guards, you might not need to hire more guards. But that doesn't mean it's not a good idea to install your video surveillance system or security cameras in your office.
Most commercial building security systems can include physical guards, 24/7 video monitoring, access controls, etc. In this case, buying a surveillance system for your office may not be necessary. However, it would still be beneficial if for no other reason than giving you remote monitoring capabilities.
On the other hand, your building's security system could consist of nothing more than a couple of old cameras that only monitor hallways and elevator entrance points. Businesses with this building security should consider installing their own CCTV security camera set up to provide sufficient protection for their employees and office premises.
With an intelligent video surveillance system, you can use your camera's motion detectors to identify any suspicious activity and prevent theft before and after business hours. You can record employee attendance, detect unauthorized visitors and avoid loitering. You can also check-in via your mobile device after closing time to make sure your office is locked up or if your staff opened it on time in the morning. You can even monitor and reduce energy usage by ensuring all unused devices are switched off after working hours, i.e. lights, desktops, printers, fans, air conditioners, etc.
Remember, everyone at your office must understand that security is taken seriously in your workplace. Everyone in your company has a role to play in keeping the office safe and secure at all times.
IGZY – simplifying surveillance for all businesses
Ultimately, installing your own video surveillance security system offers you peace of mind, and you can't put a price tag on that.
When people know they're being watched, they tend to behave themselves. By installing clearly visible security cameras in open areas, you help reassure employees' safety and tell your staff (or intruders) that you take security seriously, which can help reduce the theft of personal belongings, physical assets, or essential information in the office.
IGZY will protect you and your employees with our intelligent video surveillance system that connects you to your entire office. Our video surveillance solutions are highly reliable, scalable, and flexible and can be tailored to fit your office sites' security and safety needs across India.
We can help give you the confidence to know that your business is safe and secure – day and night.