Upgrade Your Business Security with Cloud Video Surveillance-As-A-Service (VSaaS)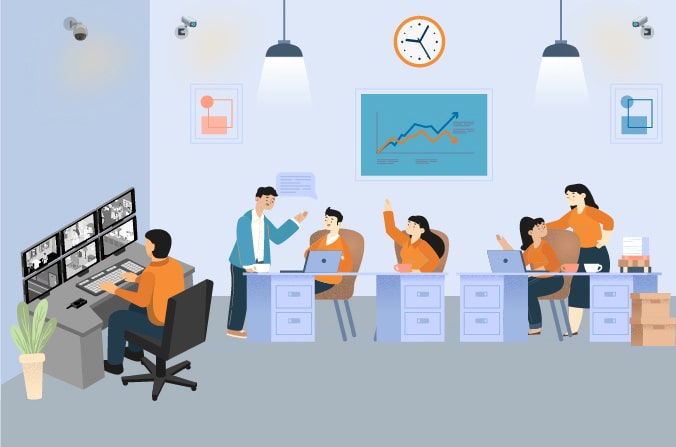 Cloud Vsaas – It's a given that video surveillance is a game-changer in security, especially for small and medium businesses. Investing in surveillance infrastructure and equipment might seem like major capital expenses. Cloud Video Surveillance-as-a-Service (VSaaS) is an alternative model you can consider if you want to secure your premises with a video surveillance system without a high upfront investment.
Rising security concerns need for an intelligent security system along with increasing consumer awareness towards safety has fuelled the demand for Cloud Video Surveillance-as-a-Service (VSaaS) market in India. Traditionally controlled by hardware-based surveillance systems, the country is now shifting towards surveillance as a service. Growing demand for VSaaS can be credited to its cost-effectiveness and maintenance, which is done at the service providers' end.
VSaaS in India has registered considerable growth in various markets primarily across the government, transportation, retail, BFSI, and education sectors.
Basics of Cloud video surveillance-as-a-service (VSaaS)
A CCTV setup, in which video is captured and stored on the premises, are a staple in many businesses these days. These setups typically use analog cameras.
By contrast, in the VSaaSmodel, the video footage is captured via IP (Internet Protocol) cameras, which converts the feeds to digital format, and stores the videos in the cloud.
This service provided by a Cloud VSaaS company includes storing and managing the video files. As a business owner, you decide which areas or locations in your business need monitoring, which in turn defines how many cameras you need. You do need a robust internet connection and a reliable provider of VSaaS services.
You can set up files to be deleted after a certain period of time, e.g. after 7 days or 30 days. Some top VSaaS companies offer Artificial Intelligence (AI) and IFTTT based value-added services such as identifying potential threats without human intervention and notifying members of your security team. Businesses can set up alert escalation plans in accordance with their Standard Operating Procedures (SOPs) – who all need to be notified, or how many devices can monitor the incoming feeds. Similarly, you can specify how personnel is notified – by alerts, emails, or both, and an escalation plan, based on your security operation procedures to your smartphone, an email address, or both.
The advantage of using a managed service is that you don't have to worry about equipment or software upgrades. As long as you're signed up to a Video Surveillance-as-a-Service (VSaaS) plan, updates can be done in the background, typically during off-peak hours.
Benefits of Cloud video surveillance-as-a-service (VSaaS)
1. Flexibility
A Cloud VSaaS system is very flexible to your business needs. Most VSaaS providers offer multiple plans to choose from, and you can choose one that suits you. Top VSaaS companies can also customize a solution and work with you to set up something that is specific to your situation. These services can also be quite budget-friendly. Some provide pay-as-you-go options, which might be more expensive than a long-term agreement, but it allows you to test the service without committing to a few months' worth of subscription.
2. Cloud-based storage
As a Cloud VSaaS solution is cloud-based, your security team can log in from anywhere and view footage on-demand, including on weekends or holidays, when foot traffic is light, but premises still need to be monitored.
3. Easy retrieval and sharing of footage
The VSaaS software provided by vendors often allows you to search by specific keywords such as "Service Entrance" or by date and time stamp. You can decide what to do once footage gets old, though this might be dictated in part by the plan you choose.
Sharing footage is also easy, unlike with analog or even DV videos where you may have to digitize the content before sharing it.
Video surveillance as a service in India
India's VSaaS market is definitely on an upward trajectory. According to a May 2017 report by 6WResearch, VSaaS growth in India was projected at a very promising 22% CAGR from 2017-2023.
A more recent report by Valuates Report puts it at about 12.5% for the 2019-2026 forecast. Major factors driving VSaaS market size are low cost of investment, rise in demand for real-time surveillance data, and flexible scalability offered by VSaaS. Furthermore, the presence of several camera manufacturers and the availability of low-cost video surveillance systems and services drive the growth of the VSaaS market size in India.
The commercial vertical is expected to lead the Video Surveillance as a Service market during the forecast period due to the increasing adoption of VSaaS in retail chains, residential apartments, small businesses, healthcare organizations, banks, government buildings, city surveillance and manufacturing sites, among others.
Even if you go with the more conservative projection, you might have seen evidence of how seriously business owners take security and surveillance when you enter malls or supermarket stores. Businesses that have not invested in video surveillance are the exception and not the rule. The growth is driven by awareness and need, as well as the cost-effective nature of VSaaS solutions.
Choosing a reliable Cloud VSaaS partner
Video surveillance solutions, especially subscription-based services, are here to stay. As a key decision-maker tasked with business security, it falls on you to choose a reliable video surveillance vendor.
There are plenty of Cloud VSaaS vendors in the market and competition is heating up. The flip side is that many vendors have not been in business long enough and lack the much-needed expertise and a proven track record.
You certainly don't want to choose a relatively unknown vendor who offers you a good deal or lower pricing, only to find that the company lacks the infrastructure and resources to scale with your growth demands or has shut down a few months or years later. Also, keep in mind that this is a decision that you will not often take. Once you've decided on a vendor, you will stick with them for at least a few years, so it is important that you select the right partner at the outset.
A top Cloud VSaaS provider in India such as IGZY will help you with all your video surveillance needs and much more.
IGZY's Cloud VSaaS solutions are highly reliable, scalable, and flexible, and can be tailored to fit the security and safety needs of every industry.
Leveraging our specialization in the field of Internet of Things (IoT), Artificial Intelligence (AI), and Machine Learning (ML), IGZY offers small and large businesses a state-of-the-art Cloud Video Surveillance-as-a-Service (VSaaS) platform in a connected ecosystem with smart devices, business intelligence and analytics solutions for every type of industry i.e. BFSI, Logistics, Warehousing, Manufacturing, Retail, QSR, etc.
IGZY's state-of-the-art ISO 27001 certified command center monitors over 1.5 million square feet of real estate.
There are several case studies on IGZY's website which authenticate our client success stories.
Are you ready to empower, protect, and scale your business?
Talk to a surveillance expert at IGZY today.