Strengthening ATM security with AI Solutions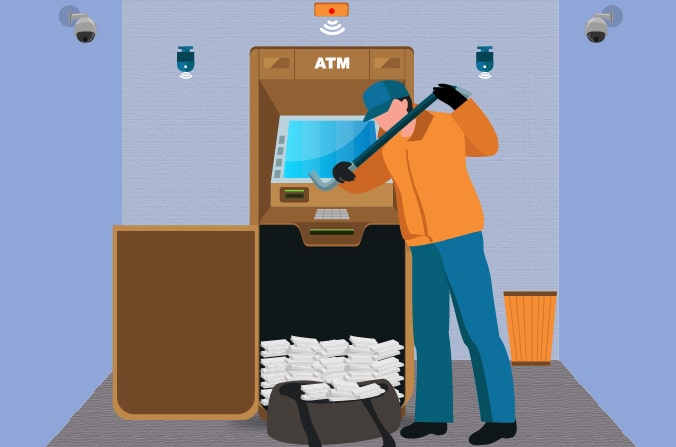 The banking, financial services, and insurance industry (BFSI) has witnessed a rapid change of lane, turning from personnel-driven industry to an automated industry with machine learning and artificial intelligence. With the growth in criminal activities faced by financial institutions, the adoption of AI-based surveillance solutions has brought an advanced character to the organizations; providing security while also improving the way they function.
ATM security and threats
The BFSI industry has always been the most vulnerable to threats, dealing with monetary and valuable assets of people, it presents the perfect opportunity for delinquents to dive into their one-stop pool for a tidy sum.
With the growing developments in technology, one needs to be accustomed to the growing threats faced by the financial institutions. While banks and financial institutions are high-risk areas, the large number of employees, monitoring devices, security personnel, and security layers provide it with some level of protection, at least during the daytime. ATM units, however, fall short of any dependable security with their small fragile units located remotely with no operating staff and sometimes not even a guard. These ATM outlets prove to be areas of interest, leading to high risk of thefts and vandalism for lone standing units.
In December of 2020, 4 men responsible for replenishing cash into the ATM machine were caught for only refilling it with half the cash, manipulating internal reports to cover up the shortfalls as well as vandalising the property. (source)
Even with the CCTV system installed, no appraisals were filed, until a complaint was registered by the company providing payment services to replenishment firms on behalf of the bank.
There are a bunch of reasons leading to increase in ATM threats and vulnerabilities.
1. Regular cash replenishment
ATMs need to be replenished with cash on a regular basis and in accordance to the bank's requirements. That however means that some personnel have constant access to the money stored inside the ATM's vault. While these may be trusted employees, one is always apprehensive when it comes to the huge sum of cash these employees deal in. This daily access to the ATM's vault can accustom (familiarize) dishonest employees with the loopholes of the machine.
2. Restricted surveillance personnel
With the sizes of ATMs being generally small, especially in standalone units, they usually only have one guard to overlook all activities taking place in or around the unit. Often time even a single guard is missing and the machine is left unattended and unprotected.
3. Limited security layers
With ATM units, there is a single door between an outsider and the automated teller machine, making it vulnerable to foreign intrusion. Sometimes even missing this layer, the ATM machine is directly accessible to anyone at any point of time. Even with its own mechanisms, the fragile infrastructure doesn't pose much of a hardship when it comes to breaking it open. While the lower part of the ATM machine has a strong build, the upper part of the infrastructure gives easy access to the money, also allowing people to attach skimming devices.
AI solutions for maintaining ATM security
Just the presence of a CCTV system is no longer enough to deter criminals; there is need for a more active surveillance system to dissuade these types of activities. The installation of a secure AI enabled solution, equipped with smart sensors and IP cameras in and around small ATM units has become the rule of thumb.
1. Face Detection
IP cameras installed around Banks and ATMs must be equipped with face detection abilities, making it possible for authorities to use that information while finding responsible culprits in face of a crime ensued.
2. Vibration sensors
AI solutions equipped with vibration sensors detect any slight unwanted movement or vibrations around the unit, especially on the ATM machine. Any unwarranted touch or movement of the kiosk sends real-time alerts to a centralized command center for review.
3. Tampering detection
In the past, people could enter an ATM outlet, paint over the camera to block its view or mess around with the wires, take out the cash or destroy the machine, only for the authorities to realize that an incident has occurred the following day. However, with AI solutions for bank and ATM security, the downtime or blocked vision of any device is registered onto the platform immediately. This leads the surveillance team to check other devices installed nearby to verify the presence of intruders or send security personnel for an on-site clearance check.
4. Thermal cameras
An IP camera has the ability to perform a bunch of different functions with the right deployed commands. These cameras can detect body heat of customers inside the ATM unit, realize the presence of more than one person and take required actions.
5. Glass break sensors
Most ATMs around us have glass enclosures, and for good reason, allowing complete visibility of operations while still securing our personal information. To ensure the security of an ATM outlet, AI solutions equipped with glass break sensors allow surveillance authorities to be notified in case of any vibration or noise detection resembling the breaking of glass.
6. Object detection
Similar to facial recognition, IP cameras can be trained to detect out-of-place objects inside the outlet. These allow authorities to proactively prepare themselves for the situation before it even arises. The detection of any suspicious object or activity gets sent over to authorized personnel via email or SMS along with snapshots and clips of the footage.
7. Speedy response time
A major drawback when it comes to bank and ATM security has always been the delayed response time. According to the news article shared previously, it took a few days and a few lakh for the bank to realize the presence of some fishy activities taking place in their premises. The installation of AI solutions-based surveillance system, on the other hand, would enable authorities to be notified in real-time, leading to speedy response.
9. Remote data management
How well a Banking or ATM security solution can function depends greatly on how often and easily a surveillance officer can peek into the operations of the premises. Surveillance systems incorporating AI solutions allow users to review the stored footage at any time, from any place, overcoming all geographical restrictions.
10. Single screen solution
With the establishment of AI solutions in ATMs and Banks, authorized surveillance personnel are able to play video footage from multiple devices simultaneously, grouping selected or all camera views together or establishing a sequential change of camera view w.r.t their focus areas. The AI solutions allow users to receive notifications from all cameras and devices directly onto the unified web-based dashboard, aiding simultaneous maintenance.
Conclusion
The BFSI industry with its employment of AI solutions to maintain security and surveillance in their branches and ATM vestibules can retain ever scaling benefits. From securing the premise from any foreign intrusion, or suspicious activities to monitoring control over security guards and other employee activities, scheduled to maintain premise cleanliness and cash replenishment. Banking surveillance infrastructure powered by AI solutions enable authorized users to monitor an eagle-eye view overall operations of the institution, streaming live footage on an on-site monitor or remotely on any device with a secure network and platform access.