Challenges and Solutions to Manage Bank and ATM Security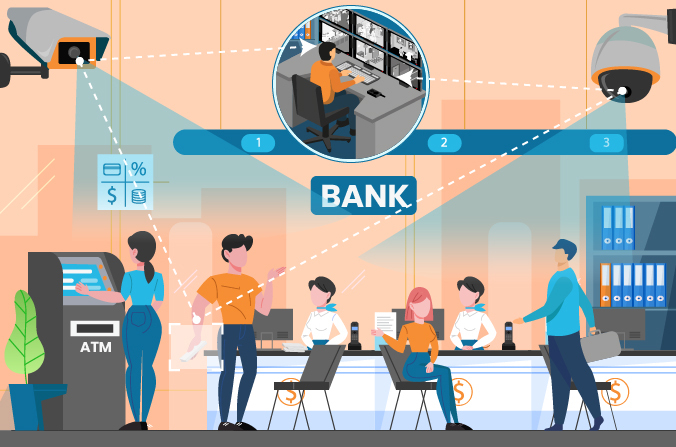 Since the beginning of the Covid-19 pandemic, it was not easy for banks to safeguard their premises. Masks posed another challenge to detect criminals. Sanitizing ATMs, keeping physical distance and scheduling customer appointments were some of the measures banks agreed upon to minimize pandemic health risks.
ATMs have always been a subject of thefts related to cash and machines. However, BFSI is a regulated sector, and banks try to adapt to new policies when announced.
Although such measures were enough for covid prevention, it wasn't enough for the bank's security measures.
Camera surveillance couldn't detect criminals/robbers accurately, with everyone using masks to cover their faces. It was, now, crucial for the camera to be of high-tech built analytics to note any suspicious activity. It was the need of the hour that these e surveillance cameras capture accurate results.
WHAT KIND OF CHALLENGES DO BANKS AND ATMS SECURITY SYSTEM FACE?
Securing safety at ATMs and banks has always been a significant challenge, and mentioned below are a few of them:
1. Criminal activities
Criminals may rob someone once they have withdrawn cash from an ATM branch or force them to initiate a transaction that is not legitimate. Thieves can also tap into machines to break them or debit through cards, usually forgotten by ATM users. In addition, thieves can skim cards with dummy duplicates containing a magnetic chip. Usually, PIN shield screens and certified keypads are used in banks to tackle this issue. For this reason, Japan installed 80,000 biometric ATMs to identify fingerprint recognition in 2006 itself.
2. Fragmented landscape
ATMs are hacked from time to time because the banking landscape is a fragmented industry. Information sharing over a cloud network possesses a massive risk by showing visibility across bank's devices. Carefully consider costs and staff resources while deploying more personnel for security. If you have centralized management in place, it becomes easier to secure banks. Also, they should understand the whole IT infrastructure before they manage it.
Instead of adding personnel to your team, adding video surveillance systems to provide an extra edge to security sounds like a long-term strategic plan.
3. Footfall tracking
Analyzing the number of people who enter and leave the branch can enable a demand-driven staffing mechanism and quickly identify stores requiring attention. With this, you can enhance the banking customer experience and track customer movement. It can also predict popular zones, determine staffing needs and optimize resources at various branches. IGZY delivers the best of IoT services and helps them gain deeper insight into customers on a real-time basis. Use GPS sensors to check the real-time movement of goods. It makes you future-forward in the banking landscape and boosts your revenue in the long run.
4. Access control
Bank locations that require branch authorized access on track and footfall prevent integrity and confidentiality issues. Send real-time notifications on intruder attacks to branch managers or senior management to protect businesses 24*7. CCTV cloud storage can enable real-time and historical footage for validation purposes. Visitor management, unauthorized access, intruder thefts, lack of guards are areas wherein access control can wad off any threats.
5. Hardware integrations
Controlling multiple sensors from different places along with no proper routing of cloud storage may be pretty tricky. Networks integrated over a common cloud station can monitor activities of all branches in one go. All the ATMs not near any branch can be under security surveillance and control all the devices. The advent of technology has made reaching out to outstation branches and informing them of any new policies or practices easy. Also, the internet used during such footage retrieval can be of high importance. Ensure you have a good internet speed and the right camera installation equipment in place.
What solutions can overcome security challenges?
The intrusion of such activities clearly shows loopholes in the banking system and could break trust amongst your prospects. Therefore, banks need to secure their branches and ATMs through potential solutions.
Develop high-technology surveillance may prevent such activities, and the following are some of the possible solutions that banks can refer to:
1. Bank video surveillance camera
Retrieve and man guard your premises to maintain bank security systems through a bank video surveillance camera. Store data over the cloud and monitor all the locations in one glance to make it highly reliable. It would monitor the in-house and outside premises, including ATM branches and parking, and detect suspicious activity. For example, if someone is in the ATM lot for more than ten minutes, a trigger notification can be sent to the branch head or respective management authority. Also, detect suspicious vehicles standing for a long time near your branch at odd hours.
2. Cloud storage needs
Cloud video surveillance such as recording, on-spot detection of intruders, and suspicious activities can go a long way in preventing thefts. A recording for 90 to 180 days based on RBI guidelines can go handy in retrieving visitors and their count. The higher the camera resolution, the better it will be to capture footage and several hundred long storages. It is up to banks to determine how much storage they might need and what their government rules permit them.
3. Alarms & detectors
The safety of a bank and customers has been taken care of around the clock. Perimeter guarding, ATM branches, doors, back entrances, and vaults should raise alarm when suspicious activity is detected. Cover every potential point you could think of to protect against physical damage and access. Your on-duty personnel alone may not be enough to record round-the-clock activities. Such alarms will not just intimate the bank management but also warn the intruder. Install two-way audio cameras to talk to the branch to ensure complete safety and security from one single chosen location.
4. Role-based access & bulletproof glasses
With swipe cards, the employees can enter specific areas only. Give access to specific personnel for authorized and critical regions. In addition, a silent or audible alarm should be available near the bulletproof glass ceilings near the teller windows. It will allow employees to raise the alarm if suspicious activity is detected and provide them extra protection.
Conclusion
Traditional security staff on-ground combined with proper surveillance measures will prevent banks from constant, vigilant happenings and respond timely to unwanted incidents. Integrate advanced high-tech security tools to track crime with event-based and real-time notifications. Advanced e surveillance service with a camera and IoT sensors, each customized based on business needs, will enhance customer trust, improve security, and provide your bank credibility in the market.
Curious to know more? Contact us here and we'll tell you all about our solution & much more!