IoT Banking Solutions for a Safer Tomorrow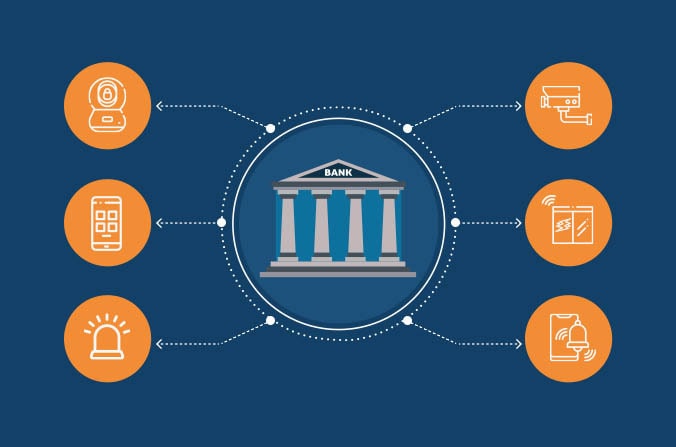 Banking and Finance is a major globally growing industry, which even in the midst of a global crisis, only seems to be expanding. The expansion of the industry, however, also invites a plethora of threats. To ensure the safety of assets and lives, IoT banking solutions provide the best course of action. The division of this industry that requires the highest level of security is that of currency chests and ATMs.
ATMs and currency chests, being equipped with large amounts of cash at all times, are one of the most vulnerable sites for theft, robbery, and burglary. That being said, constant vigilance and surveillance of these sites at all times is a key. In case of intrusion in these premises human guards prove to be of little benefit, either not being equipped with the right weapons, being outnumbered, or just sleeping on the job. The probability of injury to the security personnel makes it an even more wasteful expenditure on part of the banks and financial institutions. Mindfulness while deciding the type of security system used by banks in and around ATMs and in branches that support currency chests can be a huge deciding factor towards the safe and smooth working of these institutions. Thus, in times like these, where money heists and robberies are at an all-time high, it is an absolute necessity for banks to invest in an efficient high-security surveillance system that not only provides them with real-time video monitoring but is also equipped with smart cameras and sensors that can send notifications and alerts in case of threat detection.
Security Concerns for Currency Chests and ATMs
As per the RBI, a branch must be equipped with an area of the strong room/ vault of at least 1,500 sq. ft to act as a currency chest. These branches seem to run into constant security threats from potential intruders and robbers. They are at an all-time risk of being broken into or attacked by armed intruders. In situations like these, it is a crucial requirement for these branches to be equipped with the best security system at all times. Very often, we come across news articles regarding bank branch intrusion or theft at an ATM. The most common similarity in these cases is the absence of a smart surveillance system.
Physical attacks on ATMs always seem to be a major issue for banks and financial institutes. Along with the fact that ATMs, very often, are not attached to a bank but are singular units with minimal security, makes ATMs vulnerable to constant threats like backhoes. While backhoes are a common threat to the machines, they aren't low profile and can be caught with security cameras. However, traditional security systems only provide video recordings of a prior date without any proactive sensors, in other words, the crime is caught hours after it has been committed.
IoT Banking Solutions for a Safer Experience
Gaining access to a branch is the start of the security process. The technology provides flexibility and ease for allowing access when it is needed, while still preventing unauthorized entry. Keyless entry, branch opening & closing, user identification, system interoperability are some of such facilities.
The IoT bank solution not only provides an enterprise with smart cameras and sensors; but also 24*7 real-time video surveillance and round the clock monitoring. Artificial intelligence and machine learning-based advanced analytics help in transmitting data across the internet in a faster and more reliable manner. That is to say, when the cameras or sensors detect any faulty or suspicious activity, they automatically send alerts and notifications to the security personnel. In addition to ensuring the timely correction of faulty systems it also reduces the threat posed to property and life.
The smart bank security system provides cameras equipped with the abilities to detect the presence of any foreign substance that should not be carried into the bank's branch or ATM slot. This could be any weapon that an intruder might be carrying with an aim of causing destruction or tampering the security system.
In the case of tampering of the camera or any other security device, an alert is sent to the personnel in charge, who can decide whether the alert invalid or not. This instant notification ensures that the premise remains guarded at all times, even during the night.
The system can sense the presence of a person and monitor the lights accordingly. In the absence of any personnel, the lights can be dimmed down low while in their presence it ensures there is sufficient light to protect customer safety and video quality from associated cameras.
A bank may manage ATMs across a large geographical area. To ensure the safety of all these branches and ATMs, the IoT solution provides a unified platform for easier monitoring of all the security systems installed across an area. The cloud platform makes it possible for authorized people to review the activities inside a bank or ATM and provides complete remote management. It enables banking and financial organizations real-time, at a glance control of all branches, ATMs, and corporate offices.
The cloud platform is the perfect multi-site security management platform, providing integration between access control, alarm monitoring, video surveillance, building automation, and many other building services into a single, remotely accessible solution at your fingertips.
The surveillance security system enables remote monitoring of any number of ATMs. Upon detection of a fault, the system can identify the type of fault and help ensure that the deployed technician is properly equipped. This extends to ATM internal devices, such as seismic/ vibration sensors, where self-test failures are reported automatically. These capabilities can dramatically reduce the amount of time required for fault diagnosis and resolving any problems.
It is vital that the status and service activities are known in real-time. The security software supports authenticating service technicians in a number of ways. This could be as simple as entering a pin on a local keypad or a more sophisticated process involving a remote operator using a combination of video and audio before remotely disarming the ATM.
Research shows that approximately 98% of alarms are falsely triggered. These unnecessary expenses can be reduced, for example, by integrating video and audio technologies, which lowers the risk and improves responsiveness. The solution enables video to be intelligently linked to alarm events and automatically transmitted to a command center to assist with verification and false alarm dispatch prevention.
The security and safety of both staff and customers are critical to the successful operation of any financial institution. The security solution has been specifically engineered to operate within a banking environment to ensure this safety and security. In fact, many of these features have been engineered to complement existing banking security routines.
Conclusion
The more valuable the assets, the greater their vulnerability. As an enterprise, you should not be responsible for monitoring your security system at all times. Rather a more effective method is to employ a smart surveillance system that would do it for you.  IoT Banking Solutions provide an integrated ecosystem to solve all security threats by a great margin. This smart surveillance system has proven its ability of efficient and secure management time and again. Equipped with smart cameras and sensors, a cloud-based unified platform that makes your premises smart, safe, and secure.